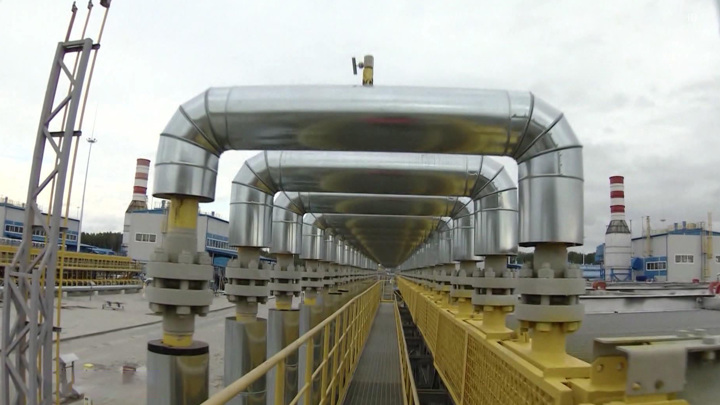 At one of the stands, the forum participants were reminded of how energy was born and what path humanity has traveled. As in the XXI century it came to the most acute energy crisis in Europe, there was no visualization, everything was already before our eyes. However, this does not prevent many politicians in the West from blaming Russia for what is happening.
"There is no need, as they say, to shift from a sore head to a healthy one, as we say, as some of our partners try to do. Sometimes you listen to what is being said about this, and you just wonder. It's just amazing. As if they don't see the numbers, they don't see reality, they simply cover up their own mistakes. Over the past decade, step by step, systemic flaws have been laid in the European energy sector. They led to a large-scale market crisis in Europe. Let me remind you that while nuclear and gas generation were in the leading positions, there were no such crises. There was nowhere for them to come from, "Vladimir Putin stressed.
The EU's blind faith in green energy and the invisible hand of the market, as well as the desire to abandon long-term contracts with Gazprom at all costs – this is exactly what led to exorbitant fuel prices. Although in Europe they claim that it is, they say, Russia is holding back deliveries.
– Is Russia using it as a weapon?
– Russia does not use any weapons at all, if you paid attention. As for the economy, this is completely out of the question. We are increasing supplies to Europe even in today's difficult conditions for us. I would like to draw your attention to another circumstance, that supplies of, say, American LNG sailed from Europe to Asia when the corresponding price conjuncture developed. Half of the total volume of falling volumes of LNG supplies to the European market is approximately undersupplied by the US operators. So who is using these energy tools for any of their own purposes? Moreover, we are increasing in the direction of Turkey, along the Blue Stream. According to the "Turkish Stream". We are increasing supplies to the Balkans. We even increased supplies through the Ukrainian gas transportation system. The increase in excess of our contractual transit obligations will be approximately 10%. But you can't increase it there anymore. Everyone is hinting to us: increase more supplies through Ukraine. It is dangerous to enlarge. The GTS has not been repaired there for decades. There, if you increase the pressure, it will burst altogether, Europe will completely lose this route. And you are talking about accusations of Russia on the use of energy resources as a weapon. This is complete nonsense, nonsense, politically motivated chatter, which has nothing serious under it, no grounds, – said Vladimir Putin.
Heads of foreign mining companies are in touch. And to them – the same question: so why Europe does not have enough fuel and where did the "gas of freedom", as Donald Trump called the American LNG, evaporate?
"The Russian president is absolutely right. We are the second largest producer of liquefied natural gas, but this year, due to a surge in demand in China, almost all LNG from the United States was sent to China. This is the main reason why there is less gas in Europe now: less not from Russia, but from other sources. All gas markets are interconnected, "stressed Patrick Pouyanne, CEO of Total.
The market knows about another miscalculation of the EU – they did not pump the required volume of gas into underground storage facilities on time, their filling level is now 75%. Before winter, this is extremely small. And therefore manipulations have already begun.
"Part of the gas is stored in Ukrainian underground storage facilities, approximately, I may be wrong, there are no exact data, but about 18 billion cubic meters of gas, a little more, has been injected into the Ukrainian underground storage facilities. But a significant volume of this injected resource belongs not to Ukrainian operators, but to European ones. But we know, and our Western partners know what is happening in the energy sector of Ukraine today. In 2008 we could not raise the gas available there – ours, Russian. With Ukraine in 2008? They do not belong to them. And what are we seeing now? A gradual pumping out of underground gas storage facilities in Ukraine by all private operators, including foreign ones, has begun, "Putin said.
At the end of the week, the price of gas on the EU exchange went up sharply again – over $ 1,250 per thousand cubic meters. A killer price for European energy sales companies and not at all good for Gazprom, as some Western media are trying to portray.
– Gazprom does not receive this money. Neither two thousand per thousand cubic meters, nor 1500, nor 1225, as it is today. He sells under long-term contracts pegged to oil prices. It seems that Gazprom is even losing. If I sold on the spot, I would receive 1200 per thousand cubic meters. And he gets 250-300. But the manufacturer is nevertheless interested in this stability. Why? Because he knows that he will sell a certain volume at a certain price. And then he builds his investment policy accordingly. And this is beneficial for both the supplier and the consumer, "Putin said.
– What is the fair price for Russian gas if oil costs so much now?
– I told you. This fair price is not regulated by directives. It is regulated by the oil market. But our oil has dropped, respectively, gas prices fell immediately. And "Gazprom", of course, as our people say, got to the supply. Oil prices went up little by little – its income went up. But it does not get from speculative spot prices in Europe. I want you to hear this.
The market situation would have been much worse if Russia had not been developing new fields in Yamal in recent years and laying new pipelines. But the construction of the Nord Stream-1 was also opposed.
"Such our main consumers as Germany, let them bow low to Gerhard Schroeder in the legs for the fact that now Germany receives not 1000-1500, but 300," – said Vladimir Putin.
Germany has had decades to appreciate the benefits of an affordable and reliable Russian gas supply that won't go anywhere.
"We have seen for over 50 years that this is really not a threat," said Matthias Schepp, chairman of the board of the German-Russian Chamber of Commerce.
This applies equally to all of Europe.
"We are on the same continent. Tell me where Europe can get gas as easily as not from Russia? Therefore, we have no choice, and this is not dependence, this is complementarity – we are in the same boat. Now we see an increase in energy prices. Russia is very important here and has a strategic character, "says Jean-Pierre Thoma, President of Thomas Vendome Investment.
An example of a correct strategy is Nord Stream 2, which, despite unprecedented political and sanctions pressure, has been completed. And now it can contribute to stabilizing the situation
At the same time, the same theory is in use in the West that Russia builds all its "streams" solely in order to bypass Ukraine.
– Look, this is just another rubbish. Soft-boiled boots, as we say, – said Putin.
– After 2024, are you ready to extend your obligations to pump gas through Ukraine?
– I have already said that we will increase the volume of pumping by 10% this year. Beyond our contractual obligations. Let "thank you" at least say. Instead, only one swearing at our address is heard. To pump, you need to bring this system to a standard state. We also need to understand how much we can sell. This is a very important question, and I spoke about this to Mrs Merkel. She puts this question before us all the time. If Europe is moving away from hydrocarbons and, ultimately, from gas, how can we today take upon ourselves obligations to increase transit through Ukraine if Europe will not buy from us? Tell us how much you buy, contract by volume. Then we will understand how much we can pump along the northern route, along the Turkish Stream, how much we can leave or add along the Ukrainian route. We need to understand the size of the market. And when Europe tells us that we are cutting, we are moving away from hydrocarbons, but at the same time, after 2024, it is not yet known how much. To pump through Ukraine for a hundred years. Out of your mind or not? Let's sit down, lay out, put the cards, open them, put them on the table, count everything. Are we ready or not? The answer is yes: ready. You need to count everything.
Russia is already preparing for changes in the global energy balance, according to one of the scenarios, the share of hydrocarbons – primarily coal and oil – in a quarter of a century will decrease from 80 to 60%.
It is a fact that the global economy is targeting green energy. The question is how quickly it is necessary to switch to it and in what proportions the usual sources of energy will remain.
The role of gas as the most environmentally friendly "transitional" type of fuel, according to experts, will only grow in the coming decades, including in Europe, where by 2035 they intend to completely abandon cars with an internal combustion engine and switch to electric vehicles.
– Many say that Russia is not doing enough to become a carbon-free country. Greta Thunberg recently said "blah blah blah" about the efforts that a number of countries are making.
– You spoke about Russia's readiness to increase energy supplies to Europe. So do you want us to increase or not? If you want, then we have to get it. Or not? Electricity is not drawn from the outlet. We need a primary source of energy. We must extract it to meet the growing needs of Russia itself and the global energy market. Now let's look at the reality. We have the cleanest hydrocarbon energy balance today. And we continue to work further to reach zero altogether by 2060, – said the Russian president.
In Russia, 21% is accounted for by nuclear generation, which is cleaner than solar in terms of carbon emissions, 26% – by hydropower, 40% – by gas. As a result, in terms of the cleanliness of the energy balance, Russia ranks first in the world, ahead of the United States and Germany. All this is the result of systematic work. But in the EU, the situation is different with predictability in the fuel and energy sector.
– I recently learned that, say, in the Netherlands, a court made a decision in relation to Shell. What decision did you make? Curious. Shell is ordered to cut CO2 emissions by 45% by court decision. Look, this is a precedent. If people, completely unprepared professionally, make such decisions, then surges in world markets are inevitable. You know, in the Middle Ages, in my opinion, the Dutch, when the weather was cold, the climate was more severe, skated along the frozen rivers and canals, and they still have a well-developed speed skating sport. If this continues, then in Holland they will return to such a means of transportation, they will go to visit each other on skates, because it will be expensive to travel by cars, including electric ones. They will ride not only in order to get from point "A" to point "B", but in order to warm up. Today's market just suggests that such a danger exists. It is necessary that professionals make decisions in this area, – Putin is sure.
One such example is the OPEC + agreement. Amid panic, when oil was trading at $ 37 per barrel due to the pandemic, the participating countries managed to stabilize the market. The President spoke about this on the sidelines of the forum. "We argue with each other. We defend our positions. But until now we have found balanced solutions acceptable to all parties," Putin said.
Europe has such an approach so far in a severe deficit, as well as gas.