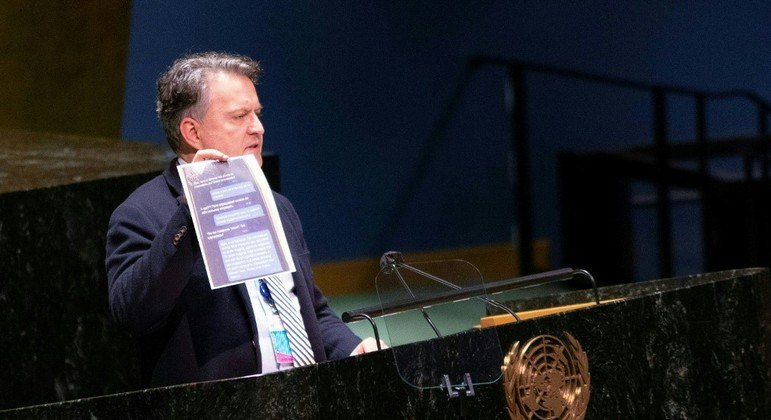 During the United Nations General Assembly, at the special emergency session on Monday (28), Ukraine's ambassador to the UN, Sergiy Kylskysya, read messages that a Russian soldier sent his mother before he died in battle on Ukrainian territory.
"I am in Ukraine. There is a real war going on here," the soldier told his mother, according to the ambassador. "They said the civilians would welcome us, but they won't let us through, they call us fascists, that's so hard," he added. Kylskysya said the man died shortly after the exchange of messages.
The ambassador also stressed that "global security is at a level similar to that of the Second World War". He said the fact that a military power had launched an offensive against a smaller country drew familiar parallels with the conflict.
"As we came to the assembly, there were bombings on residential cities in Ukraine," he denounced. "The general assembly must demand that Russian forces be withdrawn immediately from Ukraine."
"The time to act is now. It is time to help Ukraine, which is paying the ultimate price for security. If Ukraine doesn't survive, peace won't survive, the UN won't survive. It won't be a surprise if democracy doesn't survive." ", he added.