News
Superyachts: What are the floating palaces of Russian oligarchs and other billionaires like?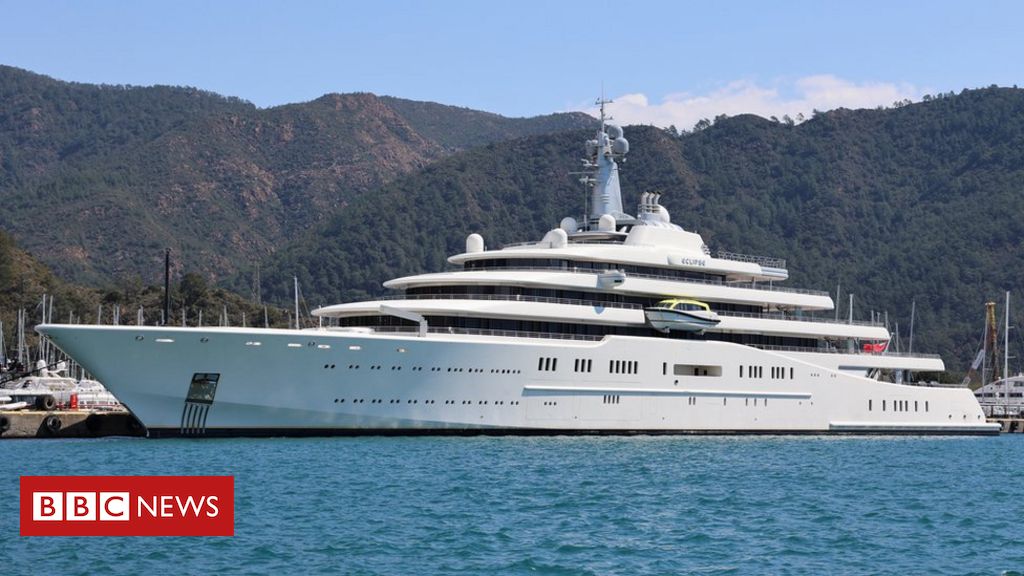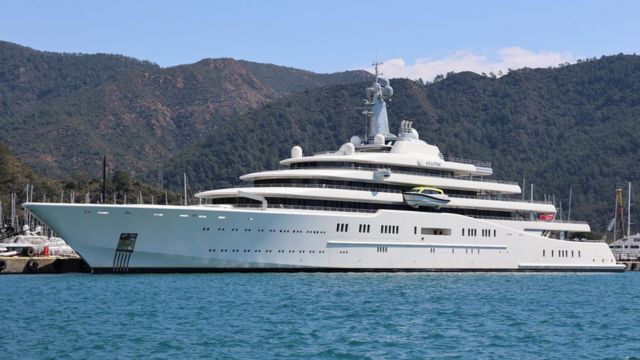 Several superyachts owned by Russian oligarchs have been seized or may soon be, but Putin's billionaire friends aren't the only ones enjoying this luxury. But what exactly is a superyacht?
Imagine yourself looking at the sunset, far from any coastline, with nothing but the sea in front of you… And a vast deck behind you with a helicopter, a golf course and a private swimming pool, along with a gourmet restaurant. quality food available whenever you feel like eating.
This is just a glimpse of what billionaires can enjoy aboard their superyachts.
This luxurious marine lifestyle is on hold for several sanctioned Russian oligarchs whose superyachts have been seized or may soon be seized.
There are believed to be around 10,000 superyachts in the world, and while we mostly hear about Russian-linked ships, other owners range from Gulf royalty to American tycoons.
But what differentiates a yacht from a superyacht?
There is no simple answer to this – the term is largely a reference to the more expensive, more luxurious and larger yachts, which are typically custom-made and professionally crewed.
Technically speaking, the traditional range given for superyacht lengths is between about 80 feet (24 meters) and 590 feet (180 meters). The bigger the boats, the bigger the terms to describe them – some now speak of megayachts and gigiats.
The price of superyachts ranges from hundreds of millions to over a billion US dollars.
These floating palaces offer a unique leisure experience and complete privacy away from prying eyes, which makes them desirable for the rich and famous who don't want to expose themselves.
The biggest superyacht in the world
Since 2013, the record for the largest private superyacht in the world has been held by a 180-meter vessel called Azzam. The research and expedition vessel REV Ocean, launched in 2019, is three meters long, but its main purpose is not recreation or sports.
The owner of Azzam is the President of the United Arab Emirates and Emir of Abu Dhabi Sheikh Khalifa bin Zayed al Nahyan. Its estimated construction price is US$600 million.
According to data provider MarineTraffic, it is currently docked in the Persian Gulf.
The construction can accommodate up to 36 guests very comfortably and has a crew of around 80 people on board.
The yacht's interior layout and furnishings are kept under wraps, but a 29-metre long open-plan main saloon, swimming pool, cinema, gym and two helipads are some of the well-known features.
most expensive superyacht
With an estimated development cost of over a billion dollars and an estimated price tag of $700 million, the Eclipse, linked to Russian oligarch Roman Abramovich, is currently considered the most expensive yacht in the world.
Eclipse has a nightclub, beauty salon, swimming pool and gym, but is also known for its safety. It is equipped with a submarine, three helicopters and an onboard missile defense system.
Eclipse is also supposedly a paparazzi-proof yacht. According to various yacht magazine reports, the technologically advanced vessel has a system that detects the use of digital cameras and acts as a 'laser shield' to interrupt possible shots with the help of infrared lights.
It is currently docked in one of Turkey's most popular holiday destinations, Marmaris.
The $600 million Abramovich-linked superyacht My Solaris (also moored in Turkey at Bodrum) is yet another luxury hideaway and, like the Eclipse, has a radar-controlled missile detection system, bulletproof windows and armored protection. In addition, there is an outdoor beach club.
Biggest pool on a superyacht?
Other big and expensive superyachts of note include the $400 million 162-meter Dubai owned by Sheikh Mohammed bin Rashid Al Maktoum, ruler of Dubai, and the Dilbar owned by sanctioned Uzbek-born Alisher Usmanov.
It is unclear whether the Dilbar was seized, but maritime traffic data records show that it is at anchor in Hamburg.
Dilbar is considered one of the largest superyachts by volume. It features larger entertainment and recreation spaces compared to many others and includes a 25 meter swimming pool, one of the largest pools ever installed on a yacht.
Putin's Scheherazade?
Another large and expensive superyacht is the Scheherazade. Russian dissident Alexei Navalny has linked the superyacht with Russian President Vladimir Putin. Moored in the Italian town of Marina di Carrara, the yacht's ownership is being examined by US authorities.
Speaking to the New York Times, the ship's British captain denied any connection with Putin, saying: "I've never seen him and I don't know him." Some reports claim that its owner lives in the Middle East.
According to yacht magazines and websites, Scheherazade is 140 meters long and worth about $700 million.
The mysterious ship is said to have a helipad, a large swimming pool, a cinema, entertainment areas and a "drone collision system".
celebrities on board
Yacht holidays are common getaways for many celebrities. A frequent destination for many is the Rising Sun, a superyacht owned by American media mogul David Geffen.
The 138-meter-long superyacht cost more than $200 million to build.
According to American W Magazine, the superyacht's guests include Julia Roberts, Oprah Winfrey and Steven Spielberg.
The superyacht has a wine cellar, a basketball court and a cinema. Maritime traffic data records show it is currently moored in the Caribbean Sea.
Another superyacht that made headlines in 2014 was the A+, formerly known as the Topaz. The controversy involved the ship's guests: American actor and climate activist Leonardo DiCaprio and his friends.
Worth over $500 million and 145 meters long, the superyacht is reportedly owned by another Emirati politician and royal billionaire, Mansour bin Zayed al Nahyan.
Few details are openly available about this yacht, but she is equipped with luxury features such as a swimming pool, helipads and Jacuzzi.
When eco-conscious DiCaprio chartered this superyacht in 2014, it sparked criticism around the contradiction between his activism and the yacht's carbon footprint.
According to environmental news website Ecowatch, activists estimate that a superyacht (with permanent crew, helipad, submarines and swimming pools) emits around 7,020 tonnes of carbon dioxide a year – as much as around 1,500 typical family cars.
Have you watched our new videos on YouTube? Subscribe to our channel!