Sports
União Cruzmaltina wins access to the Silver Series of Carnival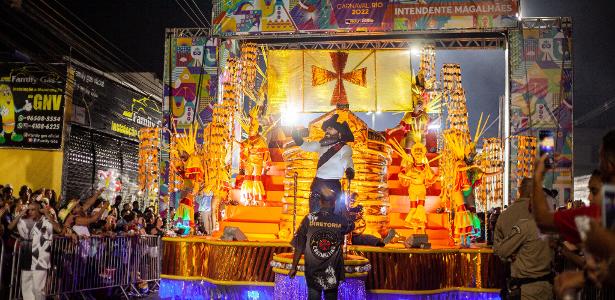 União Cruzmaltina, a samba school inspired by Vasco, took second place in the Bronze Series and won access to the Rio de Janeiro Carnival Silver Series, and is now just one step away from parading at Marquês de Sapucaí.
The determination took place today (3) and the champion of its division was Arrastão de Cascadura, which was just two tenths above the Vasco club. Guerreiros Tricolores, linked to Fluminense, "hit the beam" and occupied seventh place. Six schools went up.
Now, in 2023, União Cruzmaltina will be in the Silver Series, the last stage of the parades on Estrada Intendente Magalhães, a place that houses the associations of the lower divisions. In Sapucaí, only the schools of the Gold and Special Series parade.
"We receive this access with great satisfaction and joy. We started our trajectory in 2020 with a seventh place [na Série de Avaliação], and today, in 2022, we finish our project in second place. This is a sign that we are making less mistakes, managing to adjust, align the best angle for our association", he told UOL Esporte the president and founder of União Cruzmaltina, Rodrigo Brandão, who added:
"We know we make mistakes. As I said in 2020, we have to learn from our mistakes. The school has been learning from its mistakes and it will make fewer and fewer mistakes until we reach the ideal framework, where the school will be 100% aligned".
And União Cruzmaltina does not want to stop there. The goal is to reach Marquês de Sapucaí, the Rio Samba Walkway.
"The school will continue improving the framework of its segments, of all its sectors to, in fact, win our first championship and seek access to Sapucaí, which is part of our first great objective", declared Brandão.
(function(d){ var js, id = 'twitter-script', ref = d.getElementsByTagName('script')[0]; if (d.getElementById(id)) {return;} js = d.createElement('script'); js.id = id; js.async = true; js.src = "https://platform.twitter.com/widgets.js"; ref.parentNode.insertBefore(js, ref); }(document));
(function(d){ var js, id = 'facebook-script', ref = d.getElementsByTagName('script')[0]; if (d.getElementById(id)) {return;} js = d.createElement('script'); js.id = id; js.async = true; js.src = "https://connect.facebook.net/en_US/sdk.js#xfbml=1&version=v3.2"; ref.parentNode.insertBefore(js, ref); }(document));
(function(d){ var js, id = 'twitter-script', ref = d.getElementsByTagName('script')[0]; if (d.getElementById(id)) {return;} js = d.createElement('script'); js.id = id; js.async = true; js.src = "https://platform.twitter.com/widgets.js"; ref.parentNode.insertBefore(js, ref); }(document));
(function(d){ var js, id = 'facebook-script', ref = d.getElementsByTagName('script')[0]; if (d.getElementById(id)) {return;} js = d.createElement('script'); js.id = id; js.async = true; js.src = "https://connect.facebook.net/en_US/sdk.js#xfbml=1&version=v3.2"; ref.parentNode.insertBefore(js, ref); }(document));