Health
Positive Covid-19 tests rise from 8.4% to 13% in three weeks, laboratory data show | coronavirus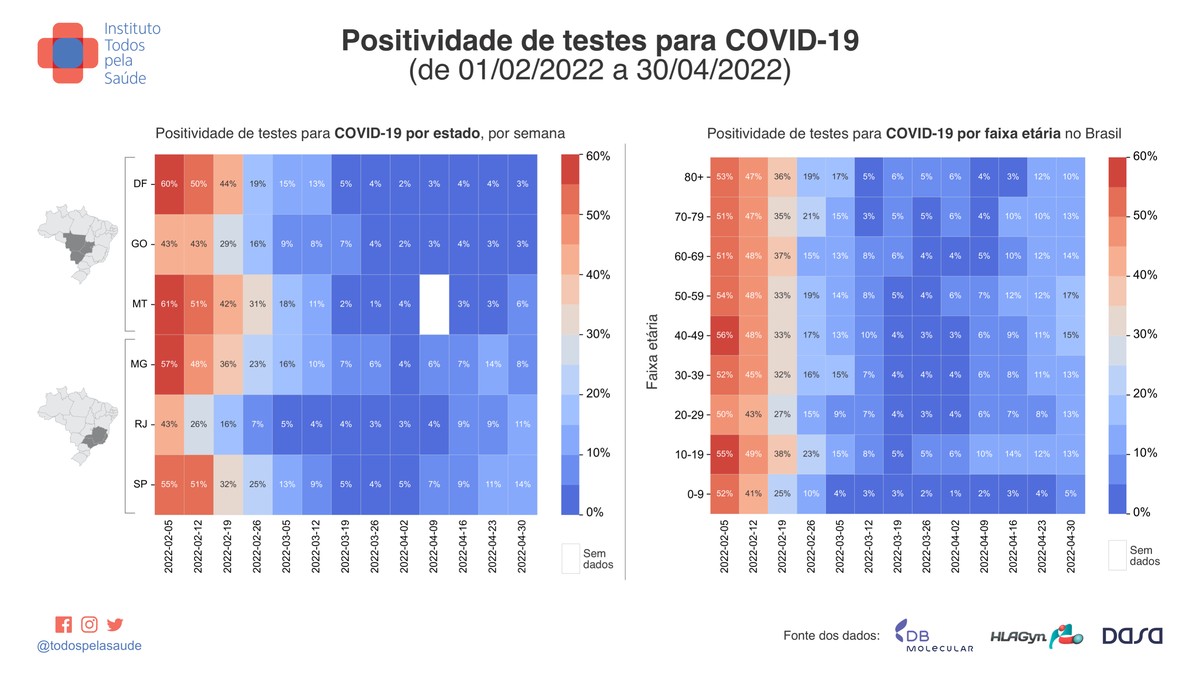 The new survey by Instituto Todos pela Saúde (ITpS) showed that the positivity of tests for SARS-CoV-2 in laboratories went from 8.4% in the week of April 10 to 16 to 13% in the week of April 24 to 30. month. The institute analyzed 195,123 molecular tests carried out between February 1 and April 30 this year.
Positive tests for Covid-19 increased by 82% in a week, says Abrafarma
According to the ITpS analysis, the Southeast and Midwest regions concentrate 95% of the samples collected. São Paulo is the state with the most positive tests (14%). Then comes Rio de Janeiro, with 11%:
14% – São Paulo
11% – Rio de Janeiro
8% – Minas Gerais
6% – Mato Grosso
3% – Goiás
3% – Federal District
In the analysis by age group, the highest percentage is in adults between 50 and 59 years old (17%). The smallest was registered in children aged 0 to 9 years (5%). The ITpS data are based on 195,123 molecular tests performed by the Dasa, DB Molecular and HLAGyn laboratories.
Prevalence of Sars-Cov-2
Of all positive tests in the week of April 23-30, over 94% were SARS-CoV-2, 4.6% RSV (Respiratory Syncytial Virus) and 0.5% Influenza A or B. 9 years are the most infected with RSV.
According to ITpS, in relation to VSR, the positivity rate has fallen in recent weeks, from 21% to 17%, but remains at a high level.
"After the high number of flu cases in January, today Influenza A is less frequent. RSV has increased in frequency since March and has been the leading cause of respiratory infections in children. In April, the prevalence of SARS-CoV-2 increased in the 0-9 age range," said virologist Anderson Brito, ITpS scientific researcher responsible for analyzing the data.
Scenario in pharmacy tests
Positive Covid tests more than double in a month, warn pharmacies
The increase seen in the laboratories also appeared in the pharmacy tests. According to the Brazilian Association of Pharmacy and Drugstore Networks (Abrafarma), there was an 82% increase in the total number of Covid-19 cases registered in establishments.
According to the survey, between April 18 and 24, more than 15% of all pharmacy tests registered by the association were positive, about 10,307 cases. Between April 11 and 17, the percentage rate of positive tests was 9.65%, with 5,677 positive diagnoses.
According to Abrafarma, the survey points to "a clear upward bias" that coincides with measures to relax health restrictions against Covid, such as the end of the use of masks in several places in several states and the end of the health emergency in the country. parents.
Most viewed videos from g1 in recent days