News
Amber Heard Claims Depp Sexually Assaulted Her While Filming 'Pirates of the Caribbean' | Pop & Art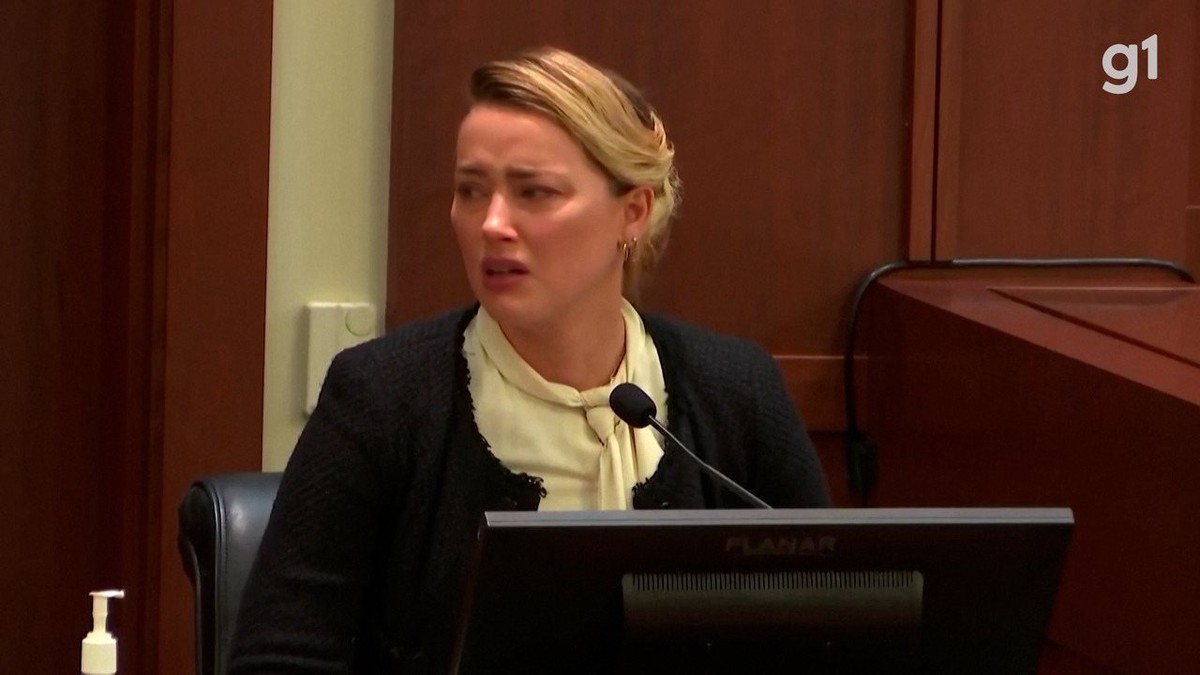 Actress Amber Heard said her ex-husband Johnny Depp sexually assaulted her and threatened to "cut" her face with a broken bottle during a heated argument a month after their wedding in 2015.
Amber Heard vs Johnny Depp: 10 shocking facts we discovered in court fights
Johnny Depp ends defamation deposition, says ex-wife left him 'destroyed'
The "Aquaman" actress, 36, reported several cases of alleged physical and sexual abuse by the "Pirates of the Caribbean" protagonist in her second day on the witness stand at the ongoing trial outside Washington on Thursday. thursday (5).
Heard gave his version of an incident that would have occurred in March 2015 in Australia, where Depp was filming the fifth installment of the successful franchise.
Depp had testified at trial that an "angry" Heard was the aggressor in the argument and cut the tip of one of his fingers with a bottle of vodka.
However, the actress said she confronted Depp over his drinking and he challenged her to take a bottle from him.
"I picked it up and threw it on the floor between us," she said. "It really pissed him off," she said, adding that Depp hurled cans and bottles at her.
"At some point he put a broken bottle on my face, in the throat area, in the jaw line and said he would cut my face," he recalled.
In a choked voice, Heard claimed that Depp had ripped off his clothes and sexually assaulted with a bottle. "Johnny put the bottle inside me," while threatening to kill her, he said.
According to her, the next morning, she discovered that Depp had used her blood, food and ink to write "incoherent" messages on every surface in the house.
At the hearing in Fairfax County, Virginia, Heard also accused Depp on Thursday of slapping and kicking her on a plane while he was drunk, after accusing her of having an affair with actor James Franco.
"I felt ashamed," Heard told the jury. "It was the first time I had gone through something like this," she added, on the verge of tears.
Johnny Depp's ex-wife shows video of actor slamming kitchen doors in court
"He was mad at me for taking the job with James Franco," said Heard, when reporting the incident on the plane, which occurred in May 2014.
"I hated, hated James Franco and accused me of having a secret affair with him in the past, ever since we did 'Holding On' together," he added, referring to the 2008 film he worked on with Franco.
"He called me a whore," said the actress.
Depp, 58, is suing Heard over a December 2018 Washington Post op-ed in which the actress described herself as a "public figure representing domestic abuse".
Heard didn't mention Depp in the article, but the actor sued her for insinuating he was an abuser and asking for $50 million in damages.
The actress counter-sued, asking for $100 million and claiming she suffered "physical violence and rampant abuse".
During the four days he spent giving testimony, Depp denied physical aggression and assured that his ex-wife was the violent part of the relationship.
The actress gave details about the actor's ongoing drug and alcohol use and his recurring efforts to stay sober during their relationship.
He said a security guard once had to carry an unconscious Depp in his arms "like a baby" to his rented house in London.
"I remember thinking this had to be it. I was excited to feel that we were in a new chapter, that Johnny had finally hit rock bottom," she said.
But despite "a million promises to get clean and sober," couples therapy and rehab efforts, Depp kept returning to drinking and using marijuana and cocaine.
Depp's lawyers brought in experts who testified that the actor lost millions due to the abuse allegations, including $22.5 million for the sixth film in the "Pirates of the Caribbean" franchise.
The actor started a lawsuit against Heard in the US toafter losing another defamation case in London in November 2020, which he filed against the British tabloid The Sun for calling him a "wife rapist".
Three-time Oscar nominee Depp and Heard met in 2009 on the set of the movie "Diary of a Drunken Journalist" and were married in February 2015. Their divorce was finalized two years later.
Pop Week shows 10 facts revealed in the legal fight between Johnny Depp and Amber Heard