News
'Are you a fan or a hater?': young man reaches the top of the charts with a fake record – 05/06/2022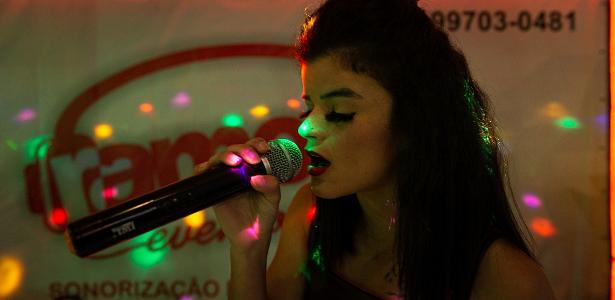 It was on a Monday in April that Valéria Almeida reached number one on iTunes, among the best-selling albums and songs on the platform. For a day, she left behind Elton John, Harry Styles and Anitta, appeared on the list of the most commented topics on Twitter and ended up on the big screen of the program "Meeting with Fátima Bernardes", which usually echoes the subjects of the social network.
Completely oblivious to her achievements, the artist began another week of hard work and folded clothes in a store at Polo Shopping, in Indaiatuba (SP), when her cell phone started to vibrate non-stop. There were messages and notifications with the good news: her debut album, "Secrets", was among the most talked about and listened to — even though she had never recorded a single song.
Valéria thought it was a meme — it would be just one of the many montages with her photos that have been running around digital for at least two years. Went to check on Spotify. There, her small face (shaped like a superimposed butterfly) appeared on the cover of an album she never imagined releasing, but which would reach, that week, more than 100 thousand listeners, a number that many independent artists struggle to reach.
The store stopped. The team was also in disbelief. "I was very shocked. I only believed it when I saw it with my own eyes. I thought, 'Oh my God, what do you mean? I really became known,'" she says. At the food court, at lunchtime, the clerk made a stories to its little more than 20 thousand followers. She was more happy than intrigued: "I'm blown away so far," she said.
The mysterious album yielded numerous quotes on gossip sites and blogs asking: "Who is Valéria Almeida?". Fiction did the rest. A flurry of posts and montages imagined the "revelation" living in situations worthy of a pop diva: at the album launch party, at the Grammys, on the shelves of major record stores. There were even those who analyzed the work seriously: "Unexpectedly experimental, very cohesive in its style", says youtuber Zane, on the "One Take Reviews" channel, when he noticed the record's good rating on Rate Your Music, a collaborative database that catalogs and evaluates albums from around the world.
Despite the reviews and the apparent seriousness, the "album" was made by default. The tracks aren't really songs, but vignettes that mix generic beats, familiar samples and Valéria's muffled voice, taken from her stories and videos. It was a joke by her "fans", an anonymous group dedicated to keeping Valéria's name alive in virtual circles, manipulating her tracks on the internet – not always in a positive way. Even a "Valéria Almeida Portal" was created to generate noise.
In fanfic time, the episode reveals a story of love and hate that begins in 2020, when Valeria ascended to Twitter's memetic Olympus as a kind of doppelganger of American singer Selena Gomez. Since then, she began to "live" with people who accompany her online and in real life, without ever understanding her intentions. "It seems that there are two personalities, one moment he's a fan, another moment he's a hater. I still don't understand", she vents to the report of TABLE
Two lives
"Let's talk quickly, I have to go soon", says Valéria, on her cell phone. Two weeks after the media explosion, the 24-year-old's routine remained the same. She had exactly half an hour to get dressed and get on the bus to the mall where she works — before, she worked at a fried chicken fast food joint; now in a menswear franchise.
Off only on Thursdays. That's when she usually goes to karaokes in Indaiatuba and the region to "train", always with makeup and hairdo. "Since I was a child, my dream has been to be a singer," she says. Those who attend are aware of the fame as a look-alike of Gomez, who began his career as a child. "They think I'm famous, I'm very happy."
The videos in which she dubbed songs by the American went viral on TikTok because of such similarities. "People started to comment that we were similar and I thought: why not take advantage of that?", she says. "When I was younger, I looked a lot more, I had a puffier face, let's say."
As for the gogó, she is aware of her own limitations. "I call the fuck. I think about Pabllo Vittar. At first, she didn't sing at all and today the cat is like? Wonderful. I'm a fan of hers and I have her as an example."
As a good meme, it's hard to explain why Valéria went viral, but at the time, even actress Bruna Marquezine reposted the "impersonator" video explaining, in English, her passion for Gomez. Gradually, groups and profiles dedicated to the cover artist emerged, simulating fan clubs. The album is the icing on the cake in the construction of this parallel reality.
Valeria's parents don't quite understand what all these messages and posts mean. Her mother, she says, is the most worried. To this day, the so-called "portals" and "centrals" make comments that mock her body and appearance. Often, they publish photos that distort her face. Other images worthy of paparazzi, seem to have been made on the sly, in the mall's food court. They are always accompanied by amazing stories. In recent weeks, an altered nude has been used in publications: "Look! Our diva at OnlyFans!", read one post.
Some messages affect her. When this happens, Valeria deactivates her social media profiles.
'Are you a fan or a hater?'
"There are two types of people who consume it. There is a group that is there for the meme, they find it fun, and the story, unusual. But there is a very large organized group that is there to make fun of the most negative way you can. imagine", explains Kaerre Neto, community leader for agencies and brands.
This synergy works on WhatsApp and Telegram forums, communities and groups and often brings together 20-somethings interested in pop music, celebrity news and chart positions. There, it doesn't matter whether you speak well or speak badly. "To be famous is to have a subject," explains Kaerre. "Organically they create subjects by firing things in sync in a short amount of time."
This powerful engagement is seen as gold for brands, companies and artists like Anitta, who placed "Envolver", a real song, at the top of the most listened songs globally on Spotify thanks to the work of her fan club. "Spotify is mass consumption, people insert the meme into this culture and create a musical career for it, for that: become a topic."
Kaerre notes, however, a trend: demeaning and misogynistic comments have become commonplace in these spaces. "Whoever has the power to turn this in her favor is the person herself", she defends. He gives the example of the singer Pepita, who went viral with memes about her appearance. At the time, the fanbase also created fictional music. Today, she launches her content in streaming and has become a digital influencer. "She took control of her image and is an icon."
Valéria says she doesn't know the names of the members of this "fan club" in reverse: the profiles are really anonymous and don't show their faces. Today, she speaks without regret (and false modesty). "The person behind the social network can find one thing or another, everyone has their opinion. I think I'm wonderful", she explains. "Even Selena Gomez doesn't have the patience, why should I?"
Your concern now is with copyright. Even if it is not a real album, for a song to integrate a streaming platform it is necessary to register production and composition credits. The clerk's name appears there, although she did not receive any money for the reproductions of the songs. "They made fun of me and I still haven't been able to find out how much you earn. It was a joke, but I should be getting paid for it."
After questioning about possible profits, Portal explained that the disc was, yes, a lie, but the bases are by another author. "She herself knew this and understood that, if there was a profit, the distributor would revert in 45 days", reads the message on Twitter. THE TAB tried to contact the Portal, without success. Spotify also did not respond to the report.
Since then, the group has decided to break up with Valeria, stating that she doesn't accept "being remembered for being a meme". Therefore, the most listened to album on that April 11, will be gradually removed from the platforms. "Many people asked to [nos] dedicate to another subceleb/meme, but our intention at the moment is to disable it completely!"
Antes de encerrarem as atividades, fizeram um "exposed" com mensagens antigas de Valéria no Twitter, com cunho racista e de apoio ao presidente Jair Bolsonaro — conteúdo inaceitável pelos seguidores. She defends herself: "I'm very different from the Valeria of the past."
The fact is that now she wants to release her own record. "I've already written the first lyrics, it's about my story, about overcoming and self-love, but I know I need to grow up doing covers first", she explains. For that, she says she counts on the help of a friend with business acumen. "He was looking to get me on the Mouse."
Until that day arrives, she lives small flashes of unexpected fame, but fears the effects on her mundane routine. "Some fans go there at work. There are those who call the store to talk to me, it's a boring situation. The manager has already come to talk to me about it, she doesn't like it", he says, before hitting the clock in another day of work.