Sports
Conmebol multiplies fines and provides for games behind closed doors as punishment for cases of racism | international football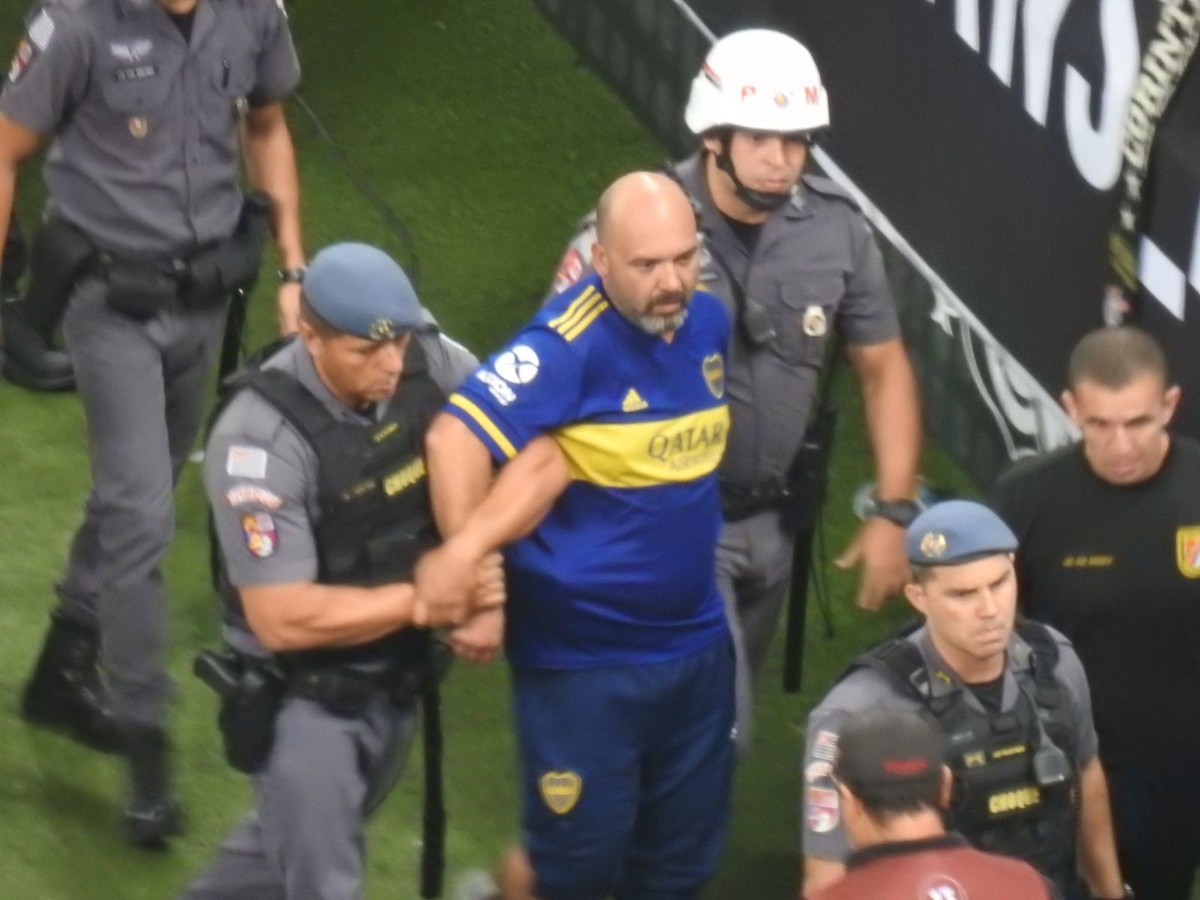 Conmebol proposed a reform in its Discipline Code to increase rigor with cases of racism in its competitions. In the last few weeks alone, there have been at least five episodes in Libertadores, all with fans of Brazilian teams as victims.
Boca Juniors fan is detained in the game against Corinthians – Photo: Bruni Cassucci
The minimum fine imposed on clubs would be increased to US$100,000 (R$500,000), instead of the current US$30,000 (R$150,000). In addition, the punishment may include one or more games with closed doors – or with closed sectors of the stadium. This last feather is not part of the current version of the code.
This was Conmebol's response to the consecutive cases of racism registered in the South American stands. Only in recent weeks have there been racist acts by River Plate fans against Fortaleza, Emelec against Palmeiras, Boca Juniors against Corinthians, Estudiantes against Bragantino and Universidad Católica against Flamengo. The confederation had promised harsher punishments.
Racism in football: Argentine consulate pays bail, and Boca fan is released
In Argentina, the Justice announced this week punishments for fans of River and Boca involved in cases of racism. Gustavo Sebastián Gómez, a River fan who threw bananas at Fortaleza fans, will not be able to attend games in the Argentine capital for four years. Boca supporter Leandro Germán Ponzo, who imitated a monkey towards Corinthians fans in the game between the two teams at Neo Química Arena, is banned from going to Buenos Aires stadiums for two years.
The proposal for stricter punishments was sent to the ten national football associations this week. They have until next Monday, the 9th, to answer whether they agree or disagree with what was proposed. To take effect, the change must be approved by all the countries that make up CONMEBOL.
Until the publication of this report, three associations had already voted – all in favor – but the CBF had not yet formally positioned itself.
Precisely for this reason, at Conmebol headquarters, in Luque, Paraguay, the fact that the president of the CBF, Ednaldo Rodrigues, have spoken publicly that he expects tougher punishments from Conmebol.
In an interview with ge, the president of CBF stated:
– The club needs to suffer a sporting punishment. I want the team of the fan identified committing a racist act to lose at least one point in the championship table. Only then do I believe that we will pacify the stadiums.