Sports
Cuesta bets on a good game for Botafogo against Flamengo and says that details will be decisive | botafogo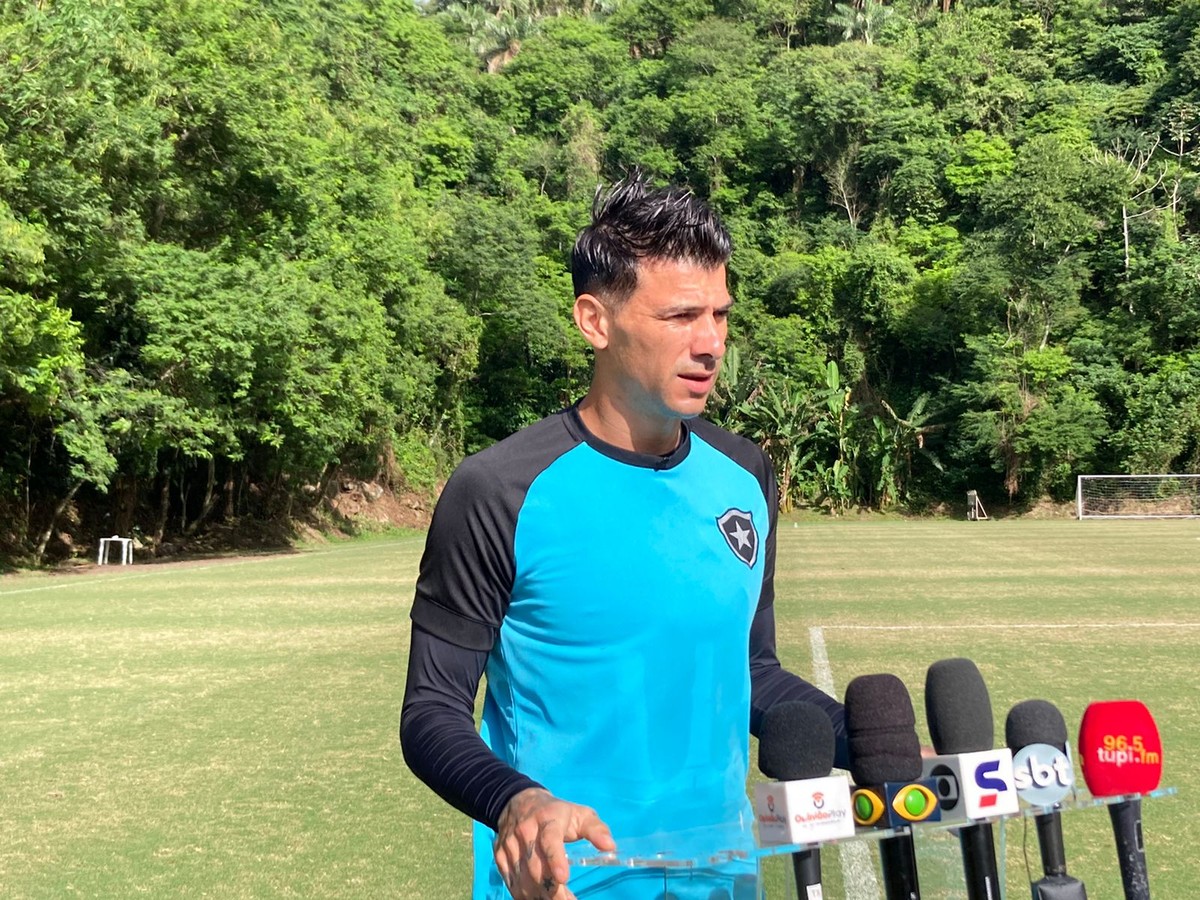 Botafogo faces Flamengo this Sunday in Brasília, in a game valid for the Brazilian Championship. On the alvinegro side, there is a lot of expectation for a good performance when the ball rolls, from 11 am (Brasilia time). Argentine defender Victor Cuesta made it clear that it is a special moment to be able to play in the derby. And he said the details should decide the duel.
Victor Cuesta, defender of Botafogo — Photo: Thayan Leiras
– Everyone waits for this game. The week has been well worked and we still have two days left. We will be prepared for a close game, between two teams that will play to win. Whoever is focused on the details will have a better chance of winning – he said in a press conference this Friday.
Despite the 1-1 draw at home with Juventude in the last round, in front of more than 30 thousand fans, Cuesta points out that Botafogo is evolving, but remembers that Flamengo has a team that has been together for longer:
– The team comes in a good growing. We are getting to know each other, we have a lot of new players and we need time to work. The Flamengo team has been together for a long time. But every game has a story, we will fight hard for those three points.
With five points in four games, Luís Castro's Botafogo occupies the 13th position in the Brazilian Championship. Check out the full competition schedule.
Check out more excerpts from Cuesta's press conference:
Pressure to win the classic
– Claw and will can never be lacking. But we train in a way and we will respect that when playing. When you lose the ball, everyone has to donate. The mister knows what he does for us to come out with the victory.
Cuesta in Botafogo x Juventude — Photo: André Durão / ge
– Flamengo is very qualified, the squad is very strong. Every game is decisive in Brazilian football. We will prepare in the best way to get the two points we left at home against Juventude. We are preparing even stronger.
Will you be a starter in the classic?
– I still don't know if I play. We have two days of work with the mister, he will decide who is better. We always work to be available.
– I'm here to compete, to feel what it's like to play this classic. The classic of the South (Grenal) is very important, but Botafogo and Flamengo are also very big teams. I'm looking forward to doing my best.
Sequel to Luís Castro's work
– We have to focus on what we've been doing, which is to work hard to assimilate our idea of ​​the game. Regardless of the rival's situation. Our focus is Sunday's game.
Luis Castro in Botafogo x Juventude — Photo: André Durão / ge
– Everyone is training to assimilate the idea, high line, pressure all the time. Everyone is working really hard.
– There's no favorite for a game like that. Of course their team is very good, but we trust what we are doing on the pitch. We are on a growing trend and we hope to show this new face of the team in this game against Flamengo.
+ Want to turn your football knowledge into cash prizes at each round of the Brasileirão? Access Cartola Express!
+ Botafogo signings for 2022: see who arrives, who stays and who leaves the club
+ Read more news from Botafogo
Let's go Brazilian! The biggest offer of games for a price that gives game. Subscribe to Premiere!
The ge Botafogo podcast is available on the following platforms
🎧 Globoplay – click here to listen!
🎧 Spotify – click here to listen!
🎧 Google Podcasts – click here to listen!
🎧 Apple Podcasts – click here to listen!
🎧 Pocket Casts – click here to listen!
▶️ Hit play!
Watch: all about Botafogo on ge, on Globo and on sportv