Sports
director celebrates debt reduction and explains balance sheet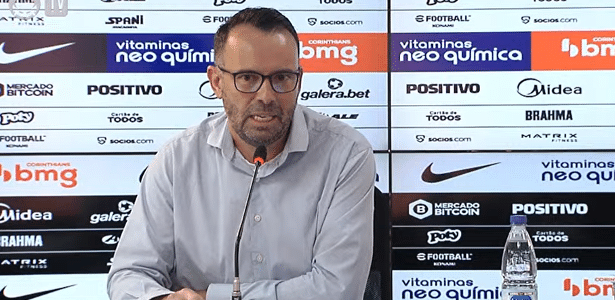 Responsible for the financial department of Corinthians, director Wesley Melo, accompanied by Frederico Gama Gondim, partner and head of Falconi's Service and Technology Unit, attended the press this afternoon (6) to break down the numbers of the recent balance sheet released by the club. — referring to the year 2021. According to the parameters adopted by the club, Alvinegro managed to reduce its total debt by 4% compared to 2020 and ended last season with a surplus of R$ 5.7 million.
"We achieved last year's financial results. We worked on a mentality, a change in culture, to stop the growth of the debt. We would like to have an operational and final surplus and we achieved that. We still have a lot to do, the war continues, but We are confident in the result", began the financial director of Corinthians, projecting good numbers also throughout 2022.
"The level of indebtedness fell, the operating profit came out of the red and went to almost R$ 6 million. We see a significant evolution, the goals are being worked with the club. An excellent evolution in terms of the club's management maturity", he reiterated. Frederico Gondim when citing the debt at R$ 912 million, according to the parameters adopted by the club.
In an interview with UOL Esporte granted last week, economist César Grafietti — a specialist on the subject — disagreed with the figures presented by Alvinegro and, according to data published in the balance sheet, priced the debt at R$ 973 million. Therefore, higher than that presented in the balance sheet of 2020, the last of the administration of President Andrés Sanchez.
Also according to the financial director of the Parque São Jorge club, it is not possible to predict what the debt numbers will be at the end of this season, since several variables make up the number. However, expectations are the best possible, as Corinthians projects revenue of almost R$ 600 million throughout this year and the maintenance of the management culture.
"Debt fell by 4% in 2021 and we expect it to drop a lot now in 2022. Debt reduction will depend on what is left over at the end of the year and also on the short and long term classification, so there are some variables. what we want is to continue reducing this debt throughout the year", he explained.