Sports
Gil do Vigor has fun being compared to Benzema in a belt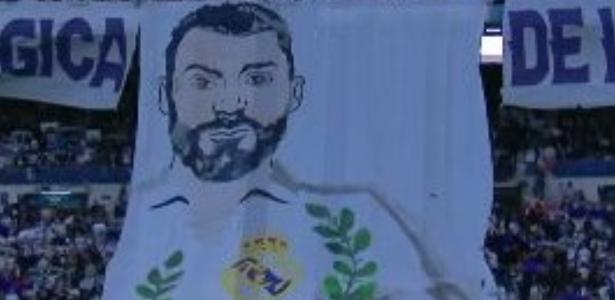 In a spectacular comeback, Real Madrid beat Manchester City 3-1, yesterday (4), in extra time, and secured a spot in the final of the European Champions League. Before that, however, something else caught the attention of Brazilians who saw the game: a banner at the Santiago Bernabéu that paid tribute to striker Karim Benzema.
In the opinion of several netizens, the drawing of Benzema made by Real Madrid fans left something to be desired, to say the least. Among the jokes, many said that the traits were more similar to another famous character here: Gil do Vigor.
The joke reached the former BBB, who was amused by the comparisons, reposting the photo of the poster at the Santiago Bernabéu on his social networks.
"I love it! Hahaha. Awesome!" wrote Gil.
Justifying the homage
On the pitch, Karim Benzema showed why he is one of the most beloved players in the current Real Madrid squad. After losing, the Spanish team turned around with two goals from Rodrygo – one of them with a pass from the Frenchman. In extra time, shirt 9 was responsible for converting the penalty that took Real Madrid to the final.
See the reactions of netizens to Benzema's banner at the Real Madrid stadium:
(function(d){ var js, id = 'twitter-script', ref = d.getElementsByTagName('script')[0]; if (d.getElementById(id)) {return;} js = d.createElement('script'); js.id = id; js.async = true; js.src = "https://platform.twitter.com/widgets.js"; ref.parentNode.insertBefore(js, ref); }(document));
(function(d){ var js, id = 'facebook-script', ref = d.getElementsByTagName('script')[0]; if (d.getElementById(id)) {return;} js = d.createElement('script'); js.id = id; js.async = true; js.src = "https://connect.facebook.net/en_US/sdk.js#xfbml=1&version=v3.2"; ref.parentNode.insertBefore(js, ref); }(document));
(function(d){ var js, id = 'twitter-script', ref = d.getElementsByTagName('script')[0]; if (d.getElementById(id)) {return;} js = d.createElement('script'); js.id = id; js.async = true; js.src = "https://platform.twitter.com/widgets.js"; ref.parentNode.insertBefore(js, ref); }(document));
(function(d){ var js, id = 'facebook-script', ref = d.getElementsByTagName('script')[0]; if (d.getElementById(id)) {return;} js = d.createElement('script'); js.id = id; js.async = true; js.src = "https://connect.facebook.net/en_US/sdk.js#xfbml=1&version=v3.2"; ref.parentNode.insertBefore(js, ref); }(document));