Sports
Santos wins Universidad at the end in Ecuador and is disenchanted with Bustos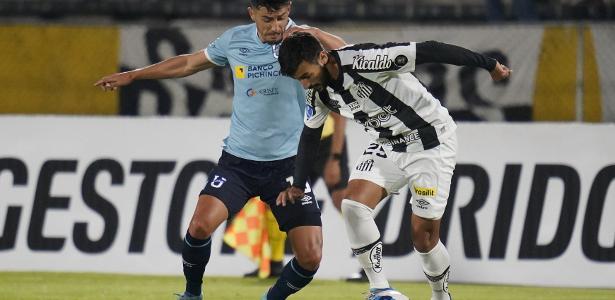 Santos' reserve team beat Universidad Católica-EQU 1-0 today (5), at an altitude of 2850 meters in Quito, for the fourth round of the Copa Sudamericana group stage. The goal was scored by Rwan, in the 45th minute of the second half. This was Peixe's first victory as a visitor under the command of coach Fabián Bustos.
With the victory, Santos goes to second place, with seven points, and now inside the classification zone for the round of 16. Universidad adds four and the bottom Banfield, three. The leader is Unión La Calera (CHI), with eight.
Bustos knew the risk of losing without his starters, but he was worried about physical wear and tear and Ecuador's return with three fundamental points. Santos will face Banfield and Unión La Calera in Vila Belmiro to try to advance and it's up to you. Only the first in the group will qualify.
Rested, Santos will return to the field to face Cuiabá on Sunday, in Vila, for the fifth round of the Brazilian Championship. For Sudamericana, Peixe's next match will be against La Calera, at home, on May 18.
LIVE FROM SANTOS WITH GABRIELA BRINO AND MAURICIO BARROS
Who did well: Eduardo Bauermann Camacho
Bauermann was safe and saved a goal over the line in the last minute. Camacho scored well and missed a few passes. Sandry and Gabriel Pirani also had regular performances. Rwan came on in the second half and got everything wrong, but he finished perfectly in stoppage time to secure the three points.
Who was bad: William Maranhão and Bryan Angulo
Maranhão, again, showed a lot of technical difficulty even for short passes. Angulo, a striker with few touches, had to leave the area and also missed a lot.
Santos game: strong defense
Peixe's reserves were well organized on the field and suffered little, but they ran into the technical limitations of some and created little in Quito until Rwan opened the scoring when the match was heading for a draw.
controversial bid
In the 15th minute, Ismael Diaz scored for Universidad, but the referee noted offside. The bid was well adjusted. As there is no VAR in the Sudamericana, the assistant's decision was confirmed. In the final part, it was Rwan's turn, offside, to swing the net. The Santos striker was in fact ahead until he scored his legitimate goal.
end of wait
With captain João Paulo spared, John returned to Santos after almost a year. The goalkeeper underwent two knee interventions and had not played since June 20, 2021, against São Paulo, in Vila Belmiro.
Back home
Fabián Bustos is Argentinian, but he worked 12 years in Ecuador before taking over Santos. The coach claims to be "almost Ecuadorian" and was again in his second country this evening.
DATASHEET
CATHOLIC UNIVERSITY 0 x 1 SANTOS
Date: May 5, 2022 (Thursday)
Schedule: 21:30 (from Brasilia)
Local: Atahualpa Stadium in Quito (EQU)
Referee: Gery Vargas (BOL)
Assistants: Jose Antelo and Edwar Saavedra (BOL)
Yellow cards: Mosquera (University)
Goal: Rwan, 45 minutes into Q2
CATHOLIC UNIVERSITY: cuero, anangono, Mosquera, Caicedo and Cortez; mindFacundo Martinez (Cevallos), Alzugaray and Diaz (Rivas); Christian Martínez and Clavijo (Challah). Technician: Miguel Rondelli
SAINTS: John, Auro, Emiliano Velázquez, Eduardo Bauermann and Felipe Jonatan; Willian Maranhão (Lucas Pires), Camacho (Vinicius Zanocelo), Sandry and Gabriel Pirani (Rwan Seco); Lucas Barbosa (Lucas Braga) and Bryan Angulo (Marcos Leonardo). Technician: Fabian Bustos