Sports
UFC 274: Uncalibrated scales would have disrupted Charles do Bronx weigh-in | combat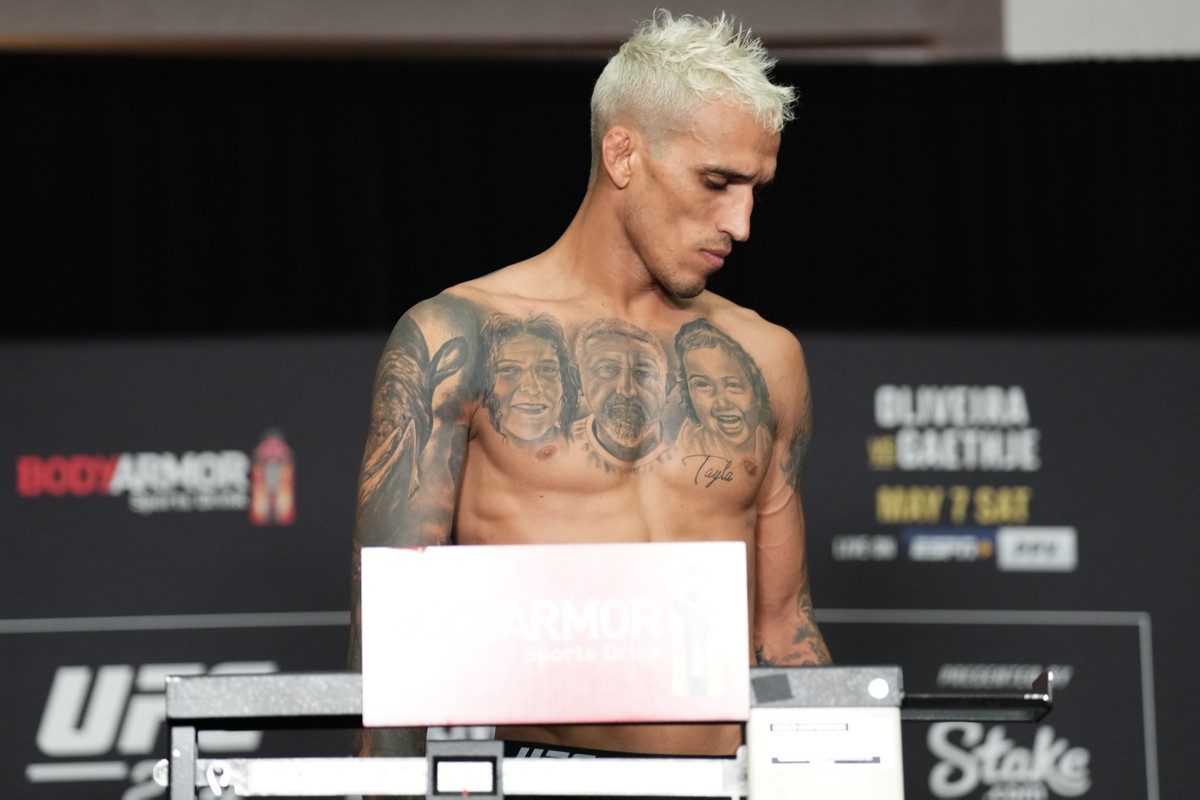 Charles do Bronx desolate after failing to break the lightweight limit for title fights at UFC 274 weigh-in — Photo: Getty Images
The scale was recalibrated this Friday morning and, according to the athletes, there was a difference between 200g and 300g in relation to what was recorded the day before. This meant that many fighters had to restart their weight cuts and race to hit the limit of their divisions within the two-hour window given by the athletic commission.
According to a source close to one of the athletes scheduled for UFC 274, but who asked for confidentiality, a UFC employee reported the error in the scale, which would have remained wrong only during the early hours of Thursday to Friday.
– When it was this morning, early in the morning, we were told that the scale had been moved and that it was marking wrong, and that now it had been corrected and the balance was marking right. I even asked the UFC employee: "So she was scoring wrong all week? We weighing wrong?" He said: "no, it was only wrong this morning, that someone tinkered with the scales". (…) By my count, I thought it was half a kilo of difference to more (after it was settled), but I couldn't be sure (…). But it could be that he's been wrong all week, I can't tell.
Strawweight Ariane Sorriso warned on social media about the incident. Flyweight Kleydson Rodrigues and coach Rafael Vinícius, who will be in Melissa Gatto's corner, confirmed the information.
– Yes, there was a problem, we weighed her yesterday (Thursday) and when we arrived today to weigh her, it was 300g less, she was below the weight we had established. We even thought we could drink some water, but, just in case, we decided not to. Then the UFC production team arrived, told everyone to wait, checked the scale, changed it, recalibrated it and returned to normal weight, which was what she had weighed yesterday – Rafael said.
Charles do Bronx is 226gr over the lightweight limit at UFC 274's first weigh-in
Diego Lima, Charles' head coach, assured that the fighter went to sleep last night with his weight beaten, according to him checked on the UFC conference balance. To his surprise, when he went down to the weigh-in, at the conference he saw that he was over the allowed limit.
– We went to sleep at the weight, we checked the weight on the scale that the organization leaves downstairs, all OK. When we went this morning, I was overweight. We even posted yesterday (Thursday) that he went to sleep with weight, because that's really what happened. You are witnesses of this, Charles never stopped hitting the weights after he went up to 70kg. Even when it wasn't the belt, he beat underweight, didn't use the pound of tolerance. If I'm going to keep talking, they'll think it's an excuse, but the truth is, we posted yesterday that he hit the weight well. He hit the weights and went to sleep.
Besides Charles, Brazilian Norma Dumont was the only other fighter to be overweight, also by 0.5lb (200g). She said that she was also affected by the problem with the scale and said she was not the only one.
– F*** everyone. My scale in my room, last night, was reading 5lb and I was going to do another cutting session, but I went down to check the UFC scale and it was only 3lb left. I said, ok, my scale is wrong, I live traveling to Brazil and sometimes it gets out of balance. But this morning, I went to do the weight cut, I went downstairs and the same thing happened, it was 6 am. It was 7 am, the UFC doctor knocked here in the room and warned: "Look, they changed the scale, we had to recalibrate it and it went up 2lb". Two pounds is almost a kilo. We took as much as possible, it was the first UFC where I saw so many people coming down to weigh 10:30 and everyone was really bad, because people thought they were 1kg under.
Norma Dumont didn't make weight at the UFC 274 weigh-in and was fined 30% of her purse — Photo: Reproduction / Youtube
– We make a whole plan of leaving 1 kg just to take it off in the morning, because the body is already weakened, and suddenly it's 2 kg. Picked up everyone. It was the first UFC where I saw a lot of people weighing in naked and at the last minute, I arrived at 10:30 am and there was a line, usually everyone weighs 9 hours. It did a good job," added Dumont, who was given an hour to lose the excess weight, but had to stop the process because he had cramping pain.
THE Combat broadcasts UFC 274 live and exclusively this Saturday from 18:10 (Brasilia time). THE combat.com broadcasts "Aquecimento Combate" and the first two fights at the same time, as well as the SportTV 3 it's the Combat YouTube. The website follows the event in real time.
Check the weights of all athletes:
MAIN CARD
* Lightweight (up to 70.3kg): Charles of the Bronx (70.5kg) *** x Justin Gaethje (70.3kg)
* Strawweight (up to 52.2kg): Rose Namajunas (52.2kg) x Carla Esparza (52.2kg)
Lightweight (up to 70.8kg): Michael Chandler (70.8kg) vs Tony Ferguson (70.5kg)
Light heavyweight (up to 93.4kg): Maurício Shogun (93.2kg) x Ovince St. Preux (93kg)
Lightweight (up to 70.8kg): Donald Cerrone (70.5kg) vs Joe Lauzon (70.5kg)
PRELIMINARY CARD
Welterweight (up to 77.6kg): Randy Brown (77.3kg) vs Khaos Williams (77.1kg)
Featherweight (up to 66.2kg): Macy Chiasson (66kg) x Norma Dumont (66.4kg)**
Welterweight (up to 77.6kg): Francisco Massaranduba (77.3kg) x Danny Roberts (77.3kg)
Flyweight (up to 57.2kg): Brandon Royval (56.9kg) vs Matt Schnell (56.9kg)
Heavyweight (up to 120.7kg): Blagoy Ivanov (115kg) x Marcos Pezão (117.3kg)
Welterweight (up to 77.6kg): André Fialho (77.3kg) x Cameron VanCamp (77.1kg)
Flyweight (up to 57.2kg): Tracy Cortez (56.9kg) x Melissa Gatto (56.7kg)
Flyweight (up to 57.2kg): Kleydson Rodrigues (56.9kg) x CJ Vergara (57.2kg)
Strawweight (up to 52.6kg): Ariane Sorriso (52.4kg) x Lupita Godinez (52.2kg)
Bantamweight (up to 61.7kg): Journey Newson (61.5kg) x Fernie Garcia (61.5kg)
* Fighters without the right to tolerance of one pound (0.454kg), for disputing the belts of their categories. All other athletes on the card were entitled to the benefit.
** Exceeded the weight limit by 200g and, for being a repeat offender, was fined 30% of her purse, with the amount being reverted to her opponent.
*** He didn't make weight by 200g and had his belt removed, in addition to being fined 20% of his purse, with the value being reverted to his opponent.
UFC 274: Charles from the Bronx takes on Justin Gaethje. Live, only in Combat! — Photo: Infoesporte
UFC 274: Charles from the Bronx takes on Justin Gaethje. Live, only in Combat!