Sports
UFC: Do Bronx counters provocation by "Flamenguista" Gaethje: "It will never reach the feet of Corinthians" | combat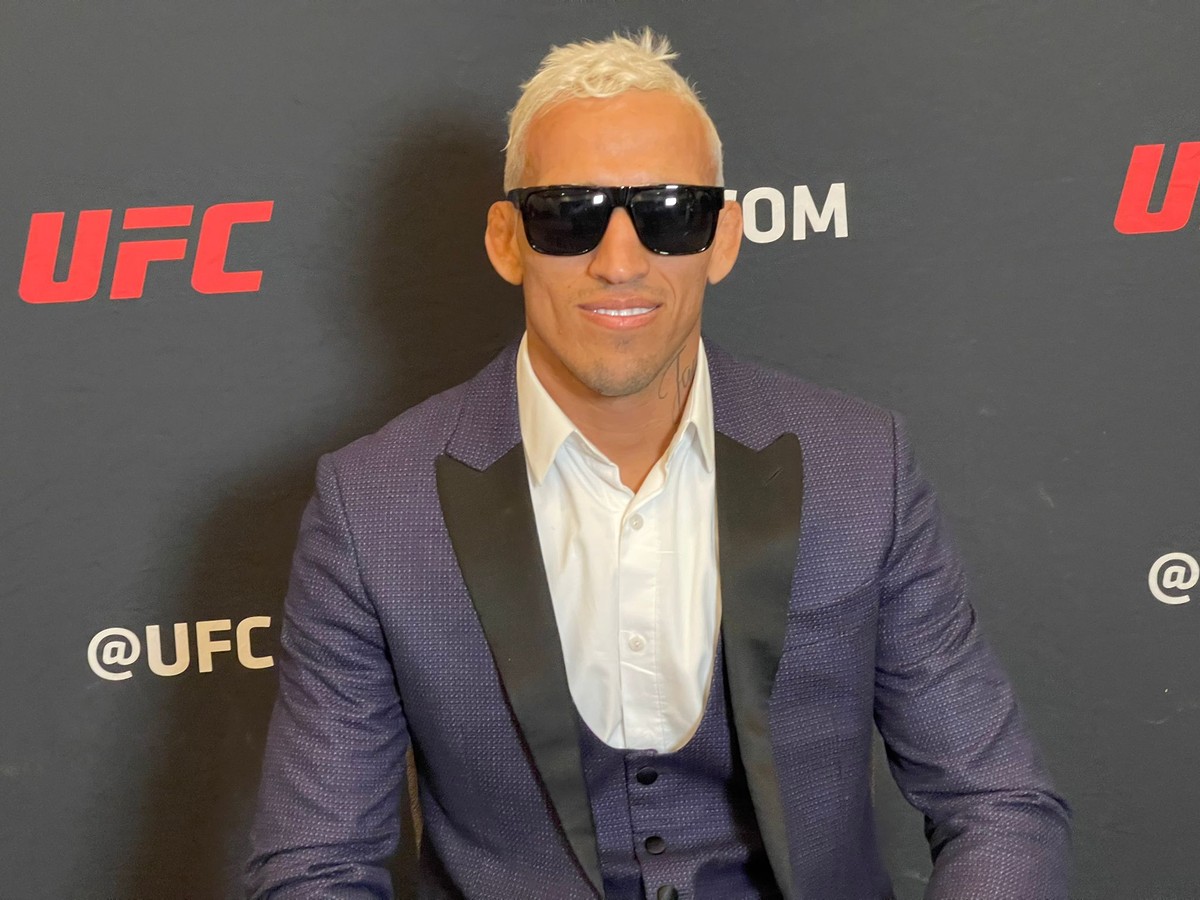 In a suit and sunglasses, Charles from the Bronx arrived to talk to the Combat last Wednesday in Phoenix, Arizona, and showed an unusual tranquility for someone who is going to defend the belt in one of the most disputed categories in the UFC. The Brazilian lightweight champion (up to 70.3kg) did not hide the religious spirituality that accompanies him and that leaves him calm to enter the cage, but at the same time his opponent Justin Gaethje was not without answers. Especially after wearing the Flamengo shirt to try to provoke the Corinthians ambassador.
– He put on the Flamengo shirt, which is a really great team in Brazil, but that will never reach the feet of Corinthians. I'm Corinthians, I'm for real. My spirit is Corinthians, I am a Corinthians ambassador. Fools are the people who believe he is a flamengo player because he put on a Flamengo shirt to provoke me. He put on the Flamengo shirt to provoke me and it hasn't changed a thing, I'm just happier because I can see that he's trying to get into my head somehow, like saying I'm going to "go through hell", I've never even come close to that . The man upstairs takes care of me and he never let me get anywhere near that.
Charles do Bronx UFC 274 exclusive pre — Photo: Evelyn Rodrigues
At 32 years old, 14 of them with a career in MMA, the fighter from Guarujá knows that Gaethje's attempt is to destabilize him, as he said before that Charles would be a coward for having given up in some fights. In a word, the champion.
– They want to get to me to somehow get into my mind. They talk about my past, they talk about my present, they try to talk in some way, but really, it's like I said: they won't understand. They said that I couldn't take the pressure, that I would give up, that I would pass a round and just take the bag to get in the ring and go home. I take a knockdown, I bleed, I get up, I move forward, I make it happen, I'm losing, I turn the fight and I win. They have nothing more to say. Two fights in a row that I got knocked down, got up and made it happen – he said, referring to the fights in which he beat Michael Chandler, for the vacant belt, and then in the last fight, when he defended the title against Dustin Poirier.
But despite Gaethje's attempt to discredit him before the fight, this time the audience seems to have understood the value of the Brazilian. For the first time in recent fights Charles do Bronx arrives as a favorite in bookmakers.
– Arriving here for the first time at the bookmaker as a favorite is very rewarding. But it doesn't change anything, we have to keep working in the same way, focused, looking ahead in search of our dream, which is to increase this legacy, make history and come out with this victory, raise our arm, and that we can grow and evolve, not only Charles but all this gigantic team.
Charles do Bronx and his team in Phoenix for UFC 274 — Photo: Evelyn Rodrigues
From the Bronx, he comes on a streak of ten straight wins in the UFC, where he hasn't lost since December 2017. Justin Gaethje, 33, became interim champion exactly two years ago, beating Tony Ferguson, but in October 2020 he lost the unification to the then linear champion Khabib Nurmagomedov. After that, the American only fought in November last year, when he won a three-round battle with Michael Chandler.
– He is a very tough guy, who walks forward, as I also walk forward. He's a guy that everyone says has good wrestling, a good hand, but I see the other side. What is the other side? His name is Charles Oliveira, he is an MMA fighter, a complete guy, both standing and on the ground. My mind is armored, my spirit is armored, I am entering once again with God.
Bonus record holder alongside Donald Cerrone, with 18 extra prizes each, and record wins by submission (15) and fast track (18), Charles believes some of those numbers could increase on Saturday.
– I believe too much in the knockout, I believe too much in my hand! I believe I have many more weapons than he does. But I'm an MMA fighter, I don't waste an opportunity, and whatever comes along, we'll make it happen. The important thing is to see my team happy, me happy and my arm raised.
THE Combat broadcasts UFC 274 live and exclusively this Saturday from 18:10 (Brasilia time). THE combat.com transmits the "Combat Warming" and the first two fights at the same time, as well as the SportTV 3 it's the Combat YouTube. The website follows the event in real time.
UFC 274
May 7, 2022 in Phoenix (USA)
MAIN CARD (23:00 GMT):
Lightweight: Charles do Bronx vs Justin Gaethje
Strawweight: Rose Namajunas vs Carla Esparza
Lightweight: Michael Chandler vs Tony Ferguson
Light Heavyweight: Maurício Shogun vs Ovince St. preux
Lightweight: Donald Cerrone vs Joe Lauzon
PRELIMINARY CARD (18:30, Brasília time):
Welterweight: Randy Brown vs Khaos Williams
Featherweight: Macy Chiasson v Norma Dumont
Welterweight: Francisco Massaranduba vs Danny Roberts
Flyweight: Brandon Royval vs Matt Schnell
Heavyweight: Blagoy Ivanov vs Marcos Pezão
Middleweight: André Fialho vs Cameron VanCamp
Flyweight: Tracy Cortez vs Melissa Gatto
Flyweight: Kleydson Rodrigues vs CJ Vergara
Strawweight: Ariane Sorriso vs Lupita Godinez
Bantamweight: Journey Newson vs Fernie Garcia
UFC 274: Charles do Bronx defends his lightweight belt against Justin Gaethje. Live, only in Combat!