Sports
After the repercussion of the meeting with Jorge Jesus, Kleber Leite criticizes Landim and apologizes to Mister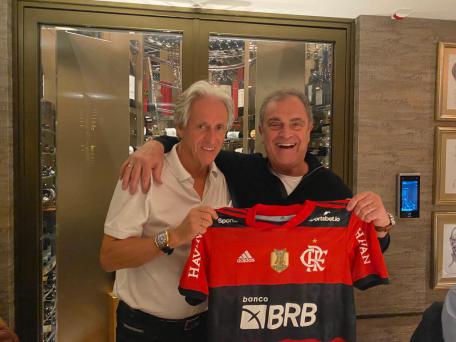 After the "big noise" caused by the statements given by Jorge Jesus and published by Renato Maurício Prado, at UOL, Kleber Leite spoke again this Friday. The former president of Flamengo classified the repercussion of the case as "unbelievable" and criticized Rodolfo Landim and to Paulo Sousa's businessmanamong others.
In a text published on his blog, Kleber Leite reported the visit of Jorge Jesus and Renato Maurício Prado to his residence, where they watched the 2-2 draw between Flamengo and Talleres (ARG), by Libertadores. Regarding Mister's statements, the ex-mandatory said that nothing he had heard in the conversation "represented news" for him.
– Like, for example, being sure that he would love to return to direct Flamengo. In the same way, that this would not be simple at this moment, because after the 20th, unlinked from his commitment to Benfica, he would have to take care of life, earn the livelihood of his family.
Anyway, in the chat, rigorously, I said the obvious, with absolute sincerity, I would even say, childish, without any malice – he wrote.
Kleber Leite also reported that, after the report was published, Jorge Jesus called him worried after TV Globo employees had contacted him "annoyed", according to the former president, because Mister had given an interview to the program "Bem, Amigos", which will be shown next Monday. Journalist by training, Kleber Leite classified as "naivety" someone "to think that some news can stay on the shelf, for a week, without being pierced".
– Did anyone have any doubts that Jorge Jesus nourished the desire to one day manage Flamengo again? Does anyone have any doubts that, after the 20th, completely free and unimpeded, Jorge Jesus will be in some club, because he needs to work to support his family? – questioned Kleber Leite in a text published on the blog, this evening.
Regarding President Rodolfo Landim's stance, Kleber Leite stated that the president "preferred to add fuel to the fire, unfairly criticizing Jorge Jesus". Finally, the former president said that "if he could go back," he would not meet with JJ again.
– I am deeply sorry for what happened. If I could go back, I would give up education, the obligation to repay a kindness, which ended up being a vehicle for all this absurd misunderstanding, to be a rude rude, however, without having to see a friend and idol wronged and hurt. . Jorge Jesus is deserving of some apologies. Mine is registered! Anyone else qualify? – concluded Kleber Leite.