Sports
City's elimination leaves many lessons for Guardiola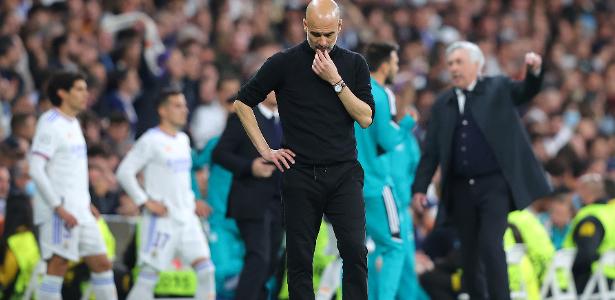 After coming close to winning a Champions League again last season, when he was beaten by Chelsea in the final, Pep Guardiola once again stopped in the way with Manchester City and in an unexpected way, conceding two goals after the 45th minute of the match. second half when they had two goals ahead and seemed to guarantee the classification, when on the other side was Real Madrid, which in previous clashes had already overcome adversity.
In the Posse de Bola #225 podcast, Mauro Cezar Pereira says that the defeat to Real Madrid leaves lessons for coach Pep Guardiola, especially in relation to the assembly of the squad, citing the fact that the coach invested heavily in hiring Jack Grealish, who gave little with the Manchester City shirt.
"Rodrygo and Vinícius Júnior together cost 90 million euros, Rodrygo was decisive in this game, Vinícius at other times, is the team's starter, the two boys give an absurd technical return to Real Madrid. And here comes I think the big mistake of Pep Guardiola, he buried 100 million pounds, which gives more than 100 million euros, in Jack Grealish, then you can't pay that fortune for a player who enters the decisive moment of the game, has the ball in the classification and gives a weak kick", says Mauro Cezar.
"How does Guardiola believe he is going to make a decisive player in a Grealish season, which he never was? He is an indolent, individualistic player, it has nothing to do with it. I think that maybe Guardiola traveled there a little, thinking that ' He's going to play too much with me.' And then you have Sterling on the bench in a bad phase, players who don't have any conditions to change the scenario", he adds.
While pointing out the absence of players that could unbalance Manchester City's bench, the journalist cites that exactly the opposite occurred at Real Madrid and that this will be another lesson for Guardiola in his next attempts to reach the title that he has not won since 2011. .
"I think there are a lot of lessons for Guardiola in this game as well, especially with regards to squad building and the need to have players who can pull him out of the water at the extreme moment. I don't think he had to defend, he had to attack and kill the game, that's what he did, the team continued attacking, but lacked quality, lacked capacity, lacked decision-making power, that guy who goes to solve it, didn't have it", he concludes.
Ball Possession: When and Where to Listen?
The recording of Ball possession is scheduled for Mondays and Fridays at 9 am, always with live transmission through the UOL or on the profiles of UOL Esporte on social networks (YouTube, Facebook and tweetr).
From noon, the Ball possession will be available on major podcast aggregators. You can listen, for example, on Spotify, Apple Podcasts, Google Podcasts, Amazon Music and Youtube – the latter also on video. Other UOL podcasts are available at uol.com.br/podcasts.