Business
Interest rates worsen debts and weaken economy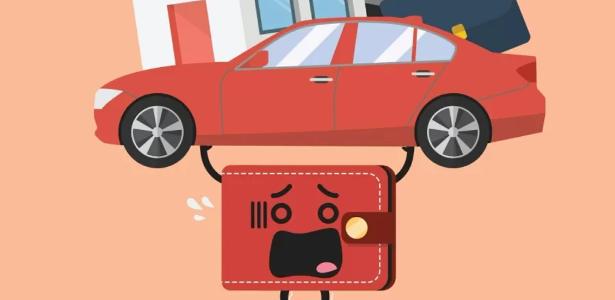 The tenth consecutive increase in the basic interest rate, decided by the Monetary Policy Committee (Copom), of the Central Bank, on Wednesday (4), will accelerate indebtedness and default in the country in the coming months, hindering the resumption of growth. in the second semester, say economists from retail, industry and the financial sector heard by the UOL.
The cycle of hike in the basic interest rate, which went from 2% in March 2021 to the current 12.75%, has been increasing the number of indebted people in the country and worsening indicators of overdue accounts and income commitment of families with debts.
Each increase in interest commits more of the income to paying off debts. Thus, there is less money left in the budget for the purchase of goods and services.
As about 60% of the Gross Domestic Product (GDP) in Brazil depends on household consumption, people's lower purchasing power should also hamper the recovery of the Brazilian economy in the second half of the year, experts say.
Inflation and unemployment erode income
Economists say having debt is not necessarily bad for the economy. Credit allows people to consume more and companies to expand their businesses to meet more demand, creating more jobs.
The problem appears when the income of families and companies fails to cover day-to-day expenses and debt commitments.
This is what is happening in Brazil right now, says economist at the National Confederation of Commerce in Goods, Services and Tourism (CNC) Izis Ferreira, responsible for the Consumer Indebtedness and Default Survey (Peic), carried out monthly since 2010.
Inflation reduces people's purchasing power, but the weak economy cannot generate employment and improve household incomes so that the household budget can keep up with the economy's prices.
Izis Ferreira, economist at CNC
See below for some price variations between March 2020, when the pandemic started, and last March.
Basic food basket in São Paulo: +46.8% (source Dieese)
IPCA: +18.2% (source IBGE)
Minimum wage: +16%
Brazilian average income: -4.2% (source IBGE)
Emergency credit to supplement income
With the budget increasingly tight, families start to seek credit as a way to supplement their income, say economists.
The problem in this situation is that people are turning to emergency loan modalities such as credit card, overdraft and pre-approved personal loan. Just the most expensive ways to borrow money.
People are taking credit to pay in installments for day-to-day consumption, and not to purchase durable goods or long-term life projects, says Nicola Tingas, chief economist at the National Association of Credit, Financing and Investment Institutions (Acrefi). .
Increases debts of people with emergency forms of credit, in 12 months until February, according to the BC:
Total (all categories): +23.7%
revolving credit card: +55.6%
credit card in installments: +49.7%
Overdraft: +27.2%
Vehicle acquisition: +9%
non-consigned personnel: +43.2%
consigned personnel: +15.6%
People are facing a cashier stranglehold. After the card limit is exceeded, they look for other lines, such as overdraft. The result of this is that defaults increase. We have an economy that is living on bridges.
Nicola Tingas, chief economist at Acrefi
Higher interest rates and more defaults.
The Central Bank's default indicators point out that Brazilians are finding it increasingly difficult to honor debts and that the worsening is stronger in emergency credit modalities, such as credit cards.
Average delinquency of families
Jan.2021: 4.1%
Dec.2021: 4.4%
Feb.2022: 4.7%
Families default on credit card installments
Jan.2021: 5.3%
Dec.2021: 6.1%
Feb.2022: 6.0%
Non-payment of households revolving credit card
Jan.2021: 30.5%
Dec.2021: 35.7%
Feb.2022: 35.1%
Default rates were well behaved in 2020 thanks to special rules launched to facilitate debt renegotiation during the pandemic and government income programs, points out economist Flavio Calife, an expert at Boa Vista Serviços, a credit information company that gathers data. and registration of more than 130 million consumers and companies across the country.
But this situation changed throughout 2021, when delinquency began to rise again. In the Boa Vista database, the total number of bad debt records increased by 9.2% in the first quarter of this year compared to the same period last year.
If we look at the increase in delinquency only at the beginning of this year, we see that the growth is already higher than that accumulated in the whole of 2021. With higher interest rates, debt payment takes up more space in income.
Flavio Calife, economist at Boa Vista Serviços
With more delinquency, credit supply may also decrease
With defaults on the rise, financial institutions tend to be more selective when releasing new loans or rolling over overdue debt, experts say.
The so-called spread — the difference between the cost of money for banks and what they charge customers — increases as defaults grow. This difference, which was 19.1 percentage points in September last year, rose to 21.8 percentage points last February.
In this environment, the negative person ends up having to seek extra credit in places that charge even higher interest rates.
To give an example: in the non-consigned personal credit line, the fees charged start at 13.09% per year, but reach 904% per year, in the most expensive option, according to a survey by the Central Bank.
Average interest rates per year (source Central Bank, in February)
revolving credit card: 355.2%
credit card in installments: 174.3%
Overdraft: 132.6%
Non-consigned personal credit: 83.4%
consigned: 22.9%
over-indebted
This difficulty in paying and rolling over debts fuels the emergence of new super-indebted people, those who cannot honor their commitments.
The percentage of families that reported outstanding debts (post-dated checks, credit cards, overdrafts, store booklets, payroll loans, personal loans, car and house payments) reached 77.7% in April, the highest level since January 2010, beginning of the historical series of the Consumer Indebtedness and Default Survey. A year ago, the proportion of indebtedness was 67.5%.
But the economist responsible for the research, Izis Ferreira, highlights the increase in the percentage of Brazilians who say they are heavily indebted, which rose from 14.4% in April last year to 17.8%, now -the second highest percentage in the series, behind only the one recorded in July 2011.
She warns that 21.5% of indebted households have more than 50% of their income committed to debt, the highest percentage since January 2021.
Share of income committed to debt (CNC source, in April)
Less than 10% of income: 22.1% of families
From 11% to 50% of income: 52.8% of families
More than 50% of income: 21.5% of families
Don't know / Did not answer: 3.6% of families
We do not expect a reduction in indebtedness this year. If it is difficult to carry the debt, the person will renegotiate. But this will be done in an environment of increasingly higher interest rates.
Izis Ferreira, economist at CNC
Interest rates affect consumption and impact GDP
Higher interest rates reduce Brazilians' purchasing power and, by extension, weaken the Brazilian economy, say economists, because household consumption accounts for about 60% of the country's Gross Domestic Product (GDP).
Therefore, experts point out, economic activity in the second half of the year should not have the strength to take off. This is one of the reasons why the projections for the GDP this year point to a modest growth, around 0.7%, practically a stagnation.
The new interest rate increase should worsen the situation of industrial activity, says the chief economist at Fiesp (Federation of Industries of the State of São Paulo), Igor Rocha.
With this increase in interest rates and, worse, the signs that this movement will not stop there, we see an even more challenging scenario in the second half of the year for the industry, which is heavily dependent on credit.
Igor Rocha, chief economist at Fiesp
Fiesp's projection for industrial production in 2022 is for a fall of 1.2%, which, if confirmed, will be the sixth industrial retraction in Brazil in a period of ten years.