Sports
Renato Augusto decisive and Cantillo avoado; see notes from Corinthians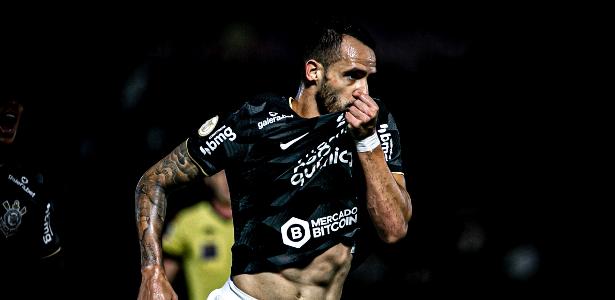 Playing away from home on Sunday night (8), Corinthians beat RB Bragantino, 1-0, for the fifth round of the 2022 Campeonato Brasileiro Série A. The only goal of the match was scored by Renato Augusto, in the second half. . With the result, Timão reached 12 points and remained in the isolated leadership of the competition.
On Corinthians Live, broadcast by UOL Esporte after the games of Timão, journalists Vitor Guedes and Ricardo Perrone analyzed the individual performance of the players commanded by Vítor Pereira in Bragança Paulista. (See notes below)
cassio
Vitor Guedes: It was necessary when required – 7.5
Ricardo Perrone: There was little demand, but he made important saves – 7
Rafael Ramos
Vitor Guedes: He was very shy in the support. I didn't think there was a lack of race in defense, but football and positioning in defense were lacking – 4
Ricardo Perrone: Apart from the aerial part, he was a guard dog in defense. In the attack, he was a little ghost- 6
Robson
Vitor Guedes: No rating
Ricardo Perrone: Unrated
Raul Gustavo
Vitor Guedes: He proved to be correct and safe – 6.5
Ricardo Perrone: It was firm and sure today. Passed the point in a few plays – 7
Gil
Vitor Guedes: He performed safely. It's far from its best phase, but it's very useful, especially in big games – 6.5
Ricardo Perrone: I liked it a lot – 7
Bruno Melo
Vitor Guedes: He is a very discreet and common player to play for Corinthians. did not commit – 5
Ricardo Perrone: He was very demanding in defense and he didn't deliver the rapadura. Didn't have a brilliant performance from a side – 5.5
Du Queiroz
Vitor Guedes: He played very well in marking and provided an assist. He managed to play with Cantillo by his side- 7.5
Ricardo Perrone: Every day I see more evolution in him. He scored well, assisted and supported well- 8
Cantillo
Vitor Guedes: It has nothing to do with Corinthians. Live in a different world – 3
Ricardo Perrone: Played in his wonderful world. Inattentive and missed passes. He doesn't fit the profile of what the VP wants for the team – 4
Maycon
Vitor Guedes: He came in and helped Du Queiroz – 6
Ricardo Perrone: Note 5 – 5
Renato Augusto
Vitor Guedes: Scored the goal that decided the victory in a difficult bid – 8
Ricardo Perrone: I hadn't been performing at his level, but Renato Augusto was standard when he had the chance to submit. decisive – 8
Gustavo Mosquito
Vitor Guedes: No rating
Ricardo Perrone: Unrated
Gustavo Mantuan
Vitor Guedes: Sorry, he created almost nothing – 5
Ricardo Perrone: Very discreet. Need to participate more in the game – 5
Junior Moraes
Vitor Guedes: I don't remember any of his plays as a striker – 4
Ricardo Perrone: Note 5 – 5
William
Vitor Guedes: His less technical is more than most. He donated himself as if he were a worker- 7.5
Ricardo Perrone: Another great game from him. It was very demanding to help with the marking, but it did the job well. Up front, he did what he knows how to do. He lacks a partner for him to score and follow his rhythm – 8.5
Roger Guedes
Vitor Guedes: Again he was scattered and making silly passes. He missed some chances to finish. If you want to play ball, you have talent – 4
Ricardo Perrone: He didn't follow the reasoning. Very low – 4.5
john victor
Vitor Guedes: He entered and participated less than the others in the defense – 6
Ricardo Perrone: Maintained the pattern of the defense during the match – 6
Victor Pereira
Vitor Guedes: I liked the changes and the way Corinthians fought for the result. His changes avoided the tie, the team defended better – 7.5
Ricardo Perrone: With the starting lineup, he managed to neutralize Bragantino. He did his homework well studying the opponent. I didn't understand the reason for putting Cantillo in, I understood the changes, but I think Corinthians got too far back in the end – 6
The next edition of Live do Corinthians will be on Wednesday (11), right after the match against Portuguesa-RJ, for the Copa do Brasil. You can follow the live on the Channel UOLin the Score app UOLon the Corinthians page on UOL Esporte or on the UOL Esporte channel on Youtube.