Sports
São Paulo takes the lead, but allows Fortaleza to draw for the Brazilian Championship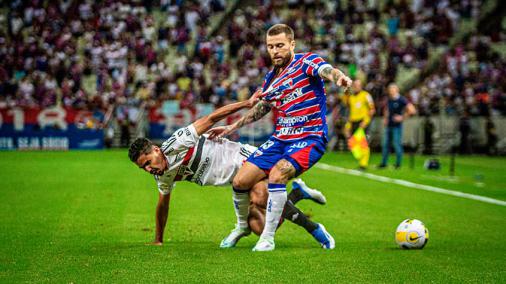 fortress and Sao Paulo drew 1-1 on Saturday night, at Arena Castelão, for the fifth round of the Brazilian Championship. The two goals came in the first half – Luciano opened the scoring for the visitors and Yago Pikachu equalized for the people of Ceará.
GALLERY
> Which clubs had a surplus and deficit in Brazilian football in 2021? check out

TABLE
> See the Brazilian Championship table and simulate the next games
Match starts balanced
​
The match at Castelão started evenly and without many scoring opportunities. At five minutes, São Paulo's Alisson gave the first shot of the match, when he received a ball from the left and hit it straight into the goal and goalkeeper Max Walef saved it.
The first stage continued in this vein. Diego Costa received a yellow card in the 15th minute of the game. Hanging, the defender will not be able to face Cuiabá next Sunday (15).
At 23′, Calleri managed to dribble the defenders of Fortaleza and hit a cross to Alisson, who again took a risk, but failed to score.
Toward the end, Fortaleza encountered one of its most dangerous counterattacks. Silvio Romero, scorer of the team's goal in the last match played against River Plate, for Libertadores, tried a cross, but had the ball hit by Diego Costa.
Second half more intense and with goals
​
The final stage began with another dynamic, more intense when compared to the first. After just five minutes, Jandrei made a good save after Juninho Capixaba tried to head in after receiving a ball from Lucas Lima.
Luciano managed to open the scoring for São Paulo in the 11th minute.
Igor Gomes gave a great pass to the forward, who received the ball in the area and hit it in the cross. The shirt 11 entered the interval when replacing André Anderson and made the difference. It was his third goal at the 2022 Brasileirão, leaving him as São Paulo's vice-top scorer in the competition.
Afterwards, Leão reacted by supporting the crowd. After a long exchange of passes in the area of ​​Tricolor paulista, Yago Pikachu received a cross from Juninho Capixaba and hit the angle, tying the match.
After the tie, São Paulo tried the counterattack looking for the second goal, but found it difficult to find spaces in the defense. Luciano tried again to hit the goal, but Max Walef saved it.
The last dangerous move of the duel came in injury time, when Hercules took advantage of a space in the marking and took a risk. However, it was defended by Jandrei.
With the result, Fortaleza obtained its first point in the Brasileirão table, but remains in the bottom. São Paulo reached eight and is in fifth place.
Tricolor paulista returns to the field next Thursday (12) against Juventude, for the Copa do Brasil. The team needs a simple victory to advance, since in the first leg the teams drew 2-2, in Caxias do Sul. Leão faces Vitória on the same day and for the same competition
DATASHEET
FORTALEZA 1 x 1 SÃO PAULO
Local: Arena Castelão, in Fortaleza (CE)
Date-Time: 5/8/2022 – 7pm
Referee: Ramon Abatti Abel
Assistants: Kleber Lucio Gil and Eder Alexandre
VAR: Rodrigo Nunes de Sa
Audience/Income: 25,518 / BRL 364,700.00
Red cards:-
goals: Luciano (11'/T2), Yago Pikachu (23'/T2)
STRENGTH: Max Walef; Ceballos (Lucas Crispim, at 34´/2ºT), Benevenuto, Titi; Felipe, Zé Welison (Hercules, at 12´/2ºT), Lucas Lima (Robson, at 25´/2ºT), Juninho Capixaba, Pikachu; Moisés (Depietri, at 25´/2ºT) and Silvio Romero (Renato Kayzer, at 11´/2ºT). Technician: Juan Vojvoda
SAO PAULO: Jandrei; Diego Costa, Arboleda, Rafinha and Welington (Reinaldo, at 28'/ Q2); Nestor (Patrick, at 1'/ 2nd T), Igor Gomes, André Anderson (Luciano, at 1'/2nd), Andrés Colorado (Pablo Maia, at 31'/1st), Alisson and Calleri (Eder, at 37'/ 2nd). Technician: Rogerio Ceni