Sports
UFC 274: After epic victory, Charles do Bronx reveals: "The hardest thing was hearing my father cry" | combat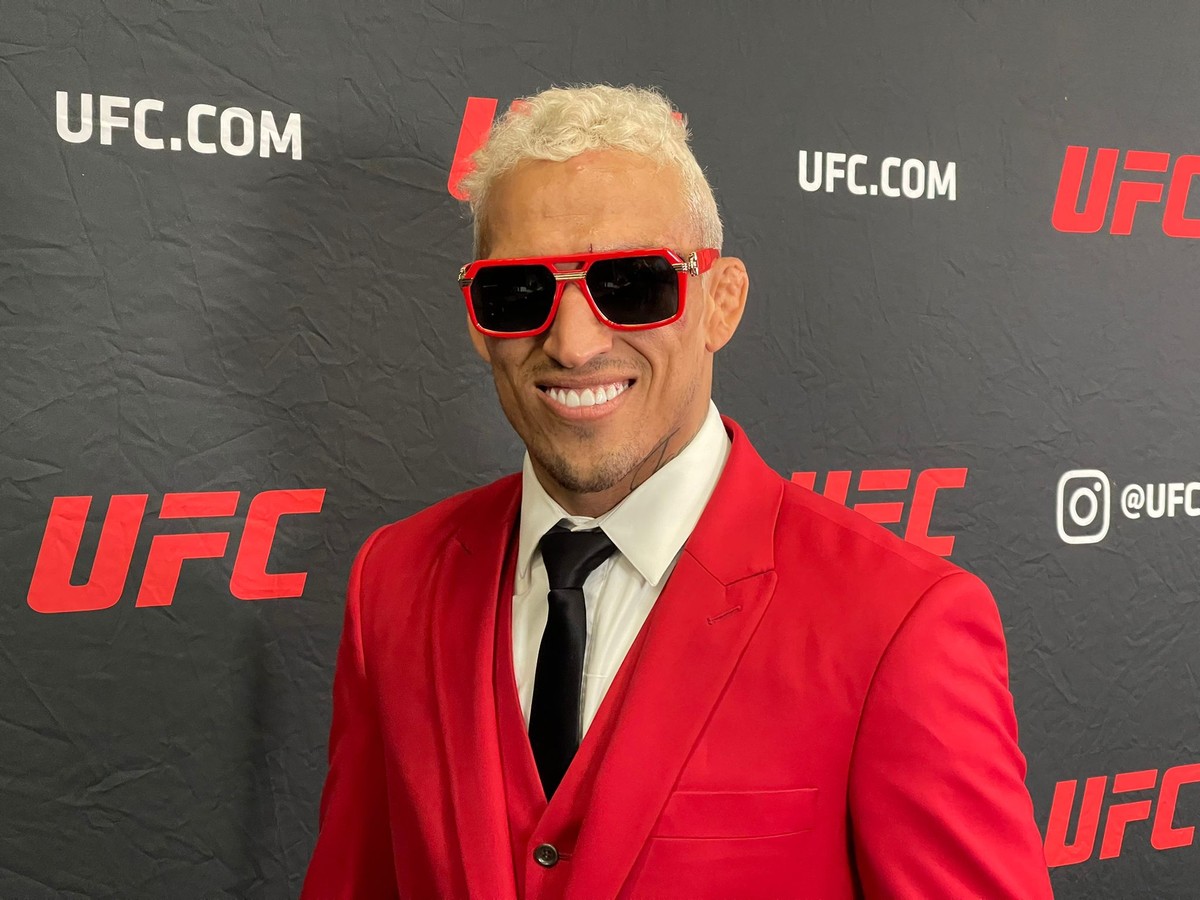 Light and with the feeling of accomplishment. This is how Charles of the Bronx's state of mind can be described after his crowning victory over Justin Gaethje in the main event of UFC 274, last Saturday. The fighter spoke exclusively with Combate after the event, and revealed that the hardest moment of the week was talking to his father, who is in Brazil, and hearing him cry because he lost his belt.
Charles do Bronx smiles after winning the main event of UFC 274 — Photo: Evelyn Rodrigues
– The hardest part was listening to my father cry. It was the hardest part. But we are a giant team and family. They knew how to calm me down and say all the time that the champion has a name, and it's Charles Oliveira. We hit the weight on Thursday, we're pretty sure of that, but unfortunately it turned out well. But it's over. What I came to do, I did. We've increased our winning and finishing streak once again, and we're going to continue this hype. I'll keep saying: they'll talk and I'll come here and do it. They're going to say I'm going to give up, and I'm going to show that I'm not. I took three knockdowns in a row, got up, knocked down and submitted. What will they talk about more? This time it was the scales. Next time they'll tie me up to see if I don't come to fight…
UFC 274: Charles do Bronx vs Justin Gaethje
The certainty of having beaten weight on Thursday, as he has done in all his fights since his move from featherweight to lightweight served to calm Charles of the Bronx on Friday. The support of the team and the distance from social networks in the hours following the incident were also essential, according to the Brazilian, to make his head calmer.
Charles do Bronx team UFC 274 — Photo: Getty Images
– When we got to the room, on the day that all the trouble happened, Monkey already sat next to me and told me to forget about social media and not look at anything. I stayed closer to them myself, talking, trying to eat and stay focused. I woke up Saturday morning and the first message I went to see was from my daughter. She sent me the video I posted saying I was the champion. I tried to talk to my father, my mother, my friends and people who really want the best for me. Ever since I moved up to lightweight, every time I come to the US to fight, no matter where it is, Thursday afternoon I'm already at weight. Against Tony Ferguson I was at weight on Thursday morning. I've always been professional. That's what I told Dana in the face that I'm a professional, I wouldn't touch him. The most important thing was to keep my head centered, and to do what they asked of me the most, which was to be bold, cheerful. I told them all over camp that I was going to break up with this guy, that I was going to hit hard too. They told us to make it as easy as possible, I agreed, but when the grid closes, I want to show my value and how much I'm growing.
Describing the moment of his victory, Charles revealed that he was very reckless on Justin Gaethje when he managed to take him down with a right hand. Even passing the point on the ground, the fighter says that having listened to the instructions of Jorge "Macaco" Patino, one of his trainers, calmed him down to wait for the right moment to find the gap and finish the fight.
Charles from the Bronx lands a blow on Justin Gaethje at UFC 274 — Photo: Getty Images
– I managed to connect my hand to it, and I believe a lot in the firepower I have in my hands. When I landed the blow and saw that he fell, I was very thirsty for the pot. My brother always tells me to take it easy, but I went with everything and ended up going too far. Even so, I closed the inverted triangle, and that's when I heard Monkey. There I became calmer, calmer, waiting for the opportunity. When he turned I went to the back, and when I got to the back it was very difficult to get out. I was on the rooster choke and waited for it to explode to close the rear naked choke. When that moment comes, just run for the hug.
Do Bronx also spoke about the request to fight Conor McGregor. According to him, it's a good fight for him, for the UFC and for the Irishman. The category, according to Charles, matters little. If the Irishman wants the bout to take place at welterweight, that won't be a problem.
Charles from the Bronx talks to Dana White after UFC 274 — Photo: Getty Images
– I think Conor wants the fight, as I do too. It's a very good fight for me, for the business and for the UFC. I want to go home and rest, race and fight again in December, like last year. I'll leave it to the team for them to see what the best moment is and who the fight will be with. But what I want most is for the fight to be in Brazil. I think I deserve that and the Brazilian people deserve that. If Conor McGregor wants… He said he's in his division, which is welterweight. But I also fight at 77kg if he wants to. I really want this fight – he finished.
Boxing with Anderson Silva and Floyd Mayweather, in Dubai, live, only in the match! — Photo: Infoesporte
Boxing with Anderson Silva and Floyd Mayweather, in Dubai, live, only in the match!!