Sports
Baptistão tries to help Ricardo Goulart to also be 'reborn' at Santos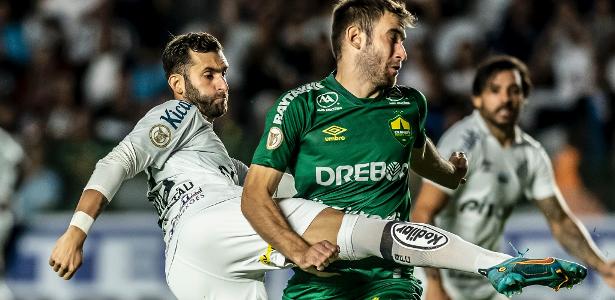 Léo Baptistão was Santos' main signing in 2021, but ended the year on a low. This season, the striker reinvented himself and has shone for Peixe. The expectation now is to see friend Ricardo Goulart follow the same path.
At the age of 30, Goulart arrived this season and soon took the number 10 shirt, with high expectations at the club. He, however, still hasn't avenged. The attacking midfielder was important in his stay in Serie A and in qualifying for the third phase of the Copa do Brasil, but he has struggled to stand out in the Brasileirão and Sudamericana.
Léo Baptistão and Ricardo Goulart have similar trajectories in this passage through Vila Belmiro. Both came from Chinese football, with much lower competitiveness, and had problems with readjusting to Brazil. CT Rei Pelé officials say they are inseparable, even with competition for a spot in Peixe's offensive sector.
After bad performances and distrust, Baptistão is at his peak at Santos. He shares this experience with Goulart and tries to help his friend react too. Ricardo Goulart pushes himself too much and was very upset with his performance in Peixe's 4-1 victory over Cuiabá, on Sunday (8), for the Brasileirão.
In 2021, Léo Baptistão played eight games and did not score or assist. This year, there are two balls in the nets and two assists in 14 matches. The good moment started less than two months ago, on March 16, and was celebrated by everyone at the club. The 29-year-old is very popular and everyone was rooting for him to come back on top. He has never complained about improvising and has had more chances where he prefers to play: open on the right side of the field.
Baptistão scored his first goal for Santos in a 3-3 draw with Ferroviária, in Araraquara, for Paulistão. He entered in the second half of the 3-2 victory over Água Santa, also for the State, and took advantage of the period of almost a month without matches to improve his physical conditioning and stay 100% after a calf injury, suffered in 2021. still contracted covid-19 and injured his thigh in the current season.
Since that hiatus after the Campeonato Paulista, Léo Baptistão has scored three goals and provided two assists in seven games. Against Cuiabá, he scored the first and gave Marcos Leonardo the pass to leave his.
Ricardo Goulart tries to repeat Baptistão's story. Santos sources heard by the UOL Esporte they say that shirt 10 is physically well and the biggest problem is the integration and readaptation to the game and to the Brazilian calendar. In a recent interview, Goulart stated that he plays out of position and that he prefers to be a midfielder in 4-2-3-1. He understands that Fabián Bustos will not always arm the team in this way, so he needs to improve, regardless of the Argentine coach's tactics.
With Léo Baptistão on the rise and Ricardo Goulart looking for better days, Santos will face Coritiba, Thursday (12), in Vila Belmiro, in search of a spot in the round of 16 of the Copa do Brasil. Peixe lost the first game by 1 to 0, at Couto Pereira, and needs to win by two goals to advance in normal time. A win by a goal of difference takes the decision to penalties.