Sports
ESPN journalist uses ruler to 'measure' Gabigol's canceled bid: 'The line is wrong'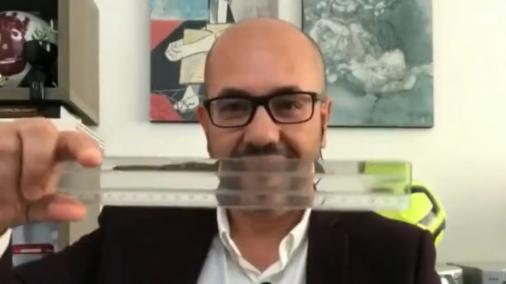 Botafogo's 1-0 victory over Flamengo generated much controversy and repercussion. During ESPN's "Football Zero 67", journalist Cacau Motta used a ruler to analyze a disallowed goal by Gabigol. The commentator's statement caused repercussions on social networks and Botafogo's official profile made a point of "mocking" the case.
+ Flamengo de Paulo Sousa 'runs aground' and enters the top-5 of the club's worst starts in the Brasileirão
– The line is wrong. If they reverse the bid, the line is wrong. I did it with the ruler here on the screen. The line they drew is diagonally across the area. Just see it. Gabigol is on the same line as the ball. The area line is straight and Gabigol's line is crooked. The line was poorly drawn. It's a detail. This proves that it was a very small detail and a big controversy – said Cacau Motta.
After the journalist's statement, Botafogo's official profile published a sentence mocking the analysis made.
– I'll launch the 'disguised'. There's no way, the administrator is going to cut his hair today and leave it ON THE RULE – joked the club's official profile.
I will launch the disguise 🎵

There's no way, Adm is going to cut his hair today and leave it ON THE RULE 📏👀

— Botafogo FR (@Botafogo) May 9, 2022
+ John Textor congratulates Botafogo on victory over Flamengo and warns: 'We're just getting started'
Black and white fans were euphoric with the club's "debauched" publication. This past Sunday (05/08), Botafogo ended a four-year fast against Flamengo. The alvinegro club has not won the red-black team since 2018.
Botafogo and Flamengo have been trying to adapt with the arrival of foreign coaches. Paulo Sousa and Luís Castro are Portuguese and were hired to build competitive teams. Regardless of the football presented, Botafogo and Flamenguistas have high expectations for the rest of the season.