Sports
Horford and Tatum shine last quarter, Boston beats Bucks to tie series | nba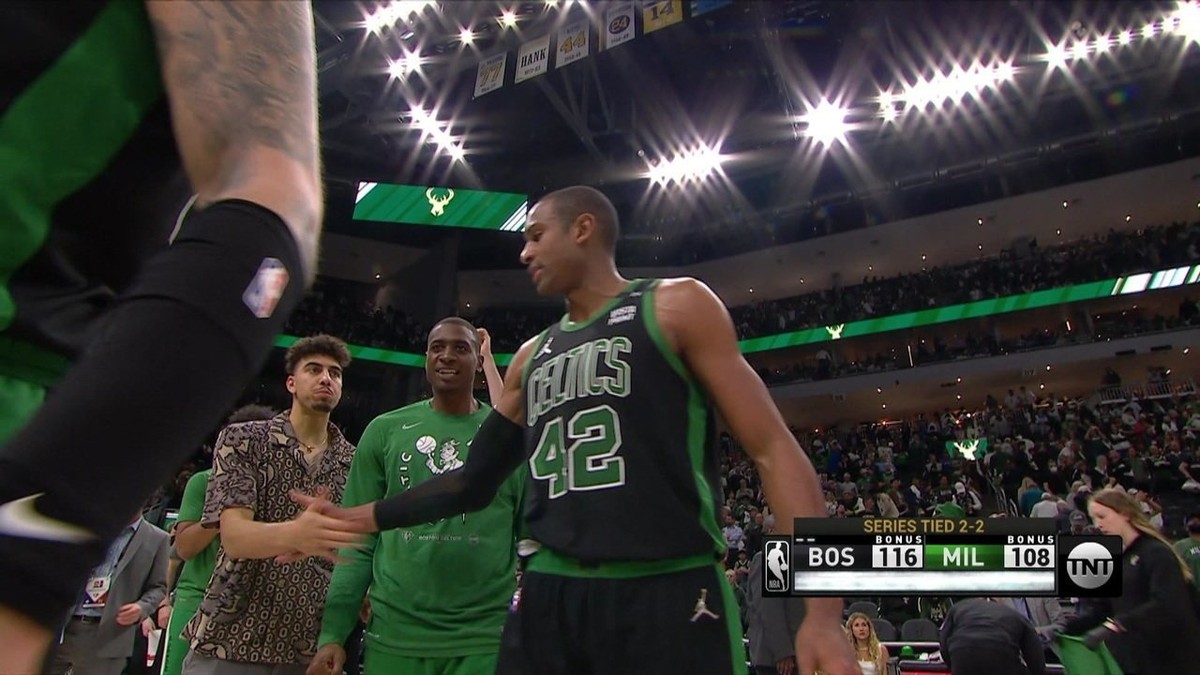 With a 43-28 run in the last period, the Boston Celtics beat the Milwaukee Bucks 116-108 away from home and tied the Eastern Conference semifinal series at 2-2. Al Horford scored 16 of his 30 points in the fourth. decisive. Jayson Tatum made 12 and Marcus Smart, named the best defender of the year, added another 9. Heavy artillery even for the Bucks, who have the most efficient defense of the playoffs so far.
Tatum finished with 30 points in total, as well as 13 rebounds and 5 assists. Smart had 18 points and 8 assists. Jaylen Brown contributed another 18. Boston started the last period behind on the scoreboard by 7 points, but imposed an avalanche in the final stretch. The team did not have center Robert Williams, with a right knee injury, but Al Horford more than made up for his absence in the paint.
Best moments: Milwaukee Bucks 108 x 116 Boston Celtics, for the NBA Playoffs
On the other side, Giannis Antetokounmpo scored 34 points, 18 rebounds and 5 assists, but it wasn't enough. Brook Lopez collaborated with 17 points and 7 rebounds. Jrue Holiday with 16 points, 7 rebounds and 9 assists. The team held off the Celtics as long as they could, but the defense was unable to sustain their level for the last 12 minutes. Khris Middleton remains out with a knee injury and will not return in this series.
The next meeting is scheduled for Wednesday at 8 pm in Boston. Game 6 is guaranteed and will be back in Milwaukee on Friday. If there is a need for a Game 7, it takes place on Sunday at the Celtics' home. Whoever wins the series faces the winner of the Miami Heat and Philadelphia 76ers, who are also tied 2-2.
Jayson Tatum climbs into the dunk over Brook Lopez — Photo: Stacy Revere/Getty Images
bucks
Giannis Antetokounmpo (34 pts, 18 rebs, 5 asts)
Brook Lopez (17 pts, 7 rebs)
Jrue Holiday (16 pts, 7 rebs, 9 asts, 3 steals)
Wesley Matthews (12 pts)
Pat Connaughton (11 pts, 7 rebs)
Celtics
Jayson Tatum (30 pts, 13 rebs, 5 asts)
Al Horford (30 pts, 8 rebs, 5 baskets of three)
Marcus Smart (18 pts, 8 asts)
Jaylen Brown (18 pts)
Derrick White (11 pts, 4 rebs)
assistance
Bucks 18
Celtics 25
Turnovers
Bucks 7
Celtics 11
Points generated by turnovers
Bucks 17
Celtics 11
Jayson Tatum climbs to the pitch — Photo: Stacy Revere/Getty Images
points in the bottle
Bucks 52
Celtics 48
second chance points
Bucks 12
Celtics 5
Transition points
Bucks 13
Celtics 16
field shots
Bucks 39/94 (41.5%)
Celtics 42/84 (50%)
three shots
Bucks 9/27 (33.3%)
Celtics 14/37 (37.8%)
free throws
Bucks 21/27 (77.8%)
Celtics 18/20 (90%)
Scoring chart — Photo: NBA
First period – Bucks 25 to 18: Milwaukee started hot and led from start to finish. Giannis had 6 points and grabbed 5 rebounds. Horford scored 7 on the other side. Boston abused turnovers (5-2), which generated 7 points for the Bucks against just 2 for the Celtics. The visitors tried 9 shots from the perimeter and only hit 2.
Second period – Celtics 29 to 23: Boston was more effective in the second half, with 4 of 11 from the perimeter and just 2 turnovers. Star of the company, Tatum did not exceed 9 points in the first half and has been suffering in the series. Giannis had 9 in the second quarter alone for a total of 15, in addition to 11 rebounds. Score from 48 to 47 for the Bucks at halftime.
Giannis Antetokoumpo dunks for the Bucks — Photo: Michael McLoone-USA TODAY Sports
Third period – Bucks 32 to 26: Giannis scored 13 points in the partial and led the home team in the best offensive fourth so far. On the other side, Tatum scored 9 for a total of 18. Jaylen Brown committed his fifth late foul and had to leave the court. The Bucks' defense has shown again why it's the best in the playoffs. Score from 80 to 73.
Fourth Quarter – Celtics 43 to 28: Al Horford had scored 14 points in the first three quarters combined. He scored 16 in the last quarter alone. Tatum had 18 and added another 12. Smart scored 9 points. The green avalanche was too much for Milwaukee to handle. The Celtics overcame the Bucks' defensive power and regained their home field advantage in the series.
Game 1 (5/1) – Celtics 101 x 89 Bucks
Game 2 (5/3) – Celtics 109 x 86 Bucks
Game 3 (5/7) – Bucks 103 x 101 Celtics
Game 4 (05/09) – Bucks 108 x 116 Celtics
Game 5 (5/11) – Celtics v Bucks at 8pm
Game 6 (13/05) – Bucks v Celtics, at 8pm
Game 7 (5/15) – Celtics v Bucks, time to be determined (if necessary)