Sports
Wild Tour 2022: Suits presents mother and grandmother with title and exalts spot in Icons groups | lol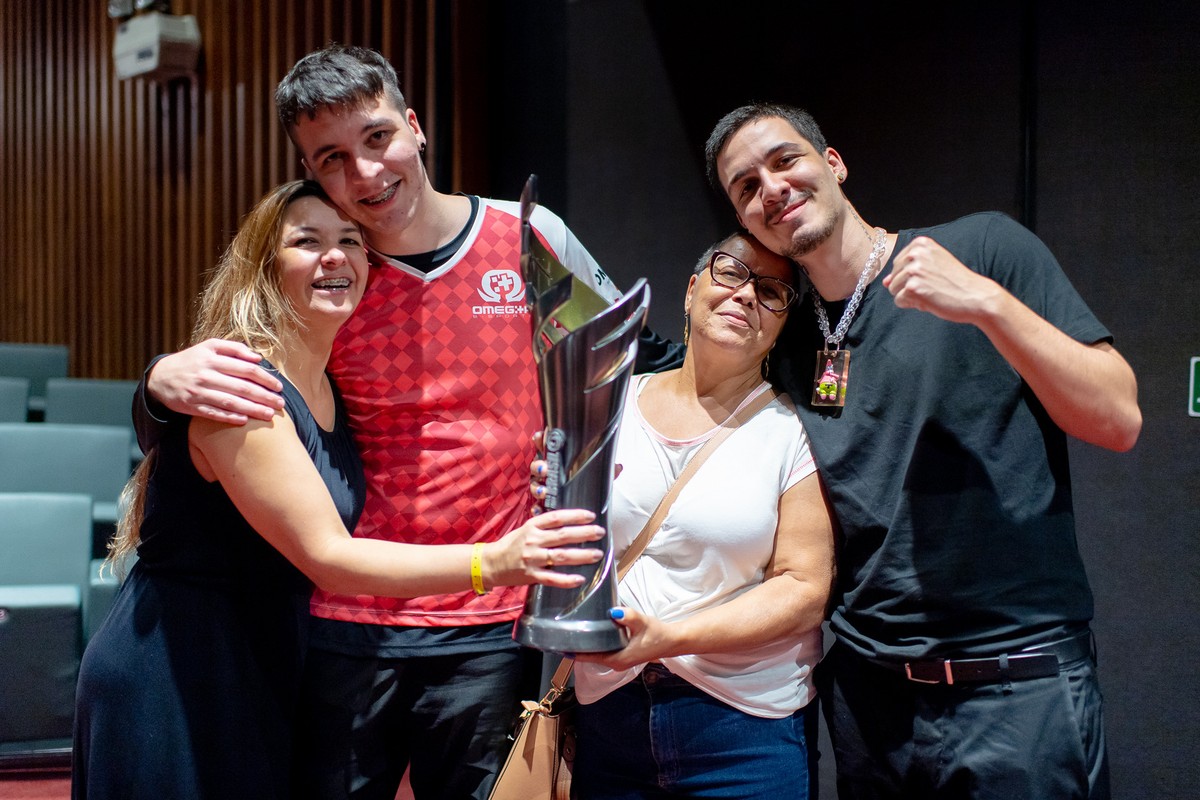 Omegha won the Brazilian Wild Rift title by beating Vivo Keyd 4-3, in the grand final of the Wild Tour Brasil 2022, with a squad that includes two brothers, player Patrick "Suits" and coach Peterson "Wonder". In addition to giving away BRL 220,000 in prizes and a direct place in the group stage of the Icons Global Championship 2022, the achievement was of special importance to the brothers as it took place on Mother's Day, this Sunday, at an event at the Minascentro theater, in Belo Horizonte. Horizon (MG). Their mother and grandmother were present.
+ Wild Tour 2022: audience of finals in BH gathers from newcomers to LoL fans
+ Riot director preaches Wild Tour independent of LoL and previews format change
Michele (left), Suits, Lenira and Wonder with the Wild Tour Brasil 2022 trophy — Photo: Riot Games
The brothers' team had an average qualifying phase, but stood out in the playoffs, to the public's surprise, with victories 2-1 against Los Grandes, 2-0 against B4 and 3-0 against Liberty. In the decision, played in the best of seven matches (md7), the team was losing 3-1 to Vivo Keyd, but won three games in a row and turned the score to 4-3.
Wild Tour 2022: Mother of Omegha Player Suits and Coach Wonder Cry Over Title
As soon as the triumph happened, Suits and Wonder's mother, pedagogue Michele Alexandrino Gomes approached the stage as close as she could and cried copiously for minutes, watching her children vibrate and also get emotional in front of hundreds of people in Minascentro and others. so many in the online broadcast. Their grandmother, Lenira Alexandrino, celebrated and hugged Michele.
Minutes later, Michele had a quick chat with the ge and commented on the Mother's Day gift she had received.
"My children are warriors!" Playing with a strong crowd like VK, lifting the players like that, and they still turn… It was a discredited team there at the beginning and I, for a moment, was afraid that it wouldn't be possible, but they are very deserving .
About the support he gave Suits in his career as a professional esports player, Michele commented:
"In the beginning it was difficult. Suits dropped out of federal university to choose that dream. I felt like he blamed himself a lot, like he was letting me down. Until he went into depression and I, between seeing my son in a bed, I preferred to support him in his dream. It is a privilege for me to see my son with a smile on his face today. This scream has been stuck since last year. My son took that scream from the people that was in the throat.
At the press conference after winning the title, Suits commented on the meaning of the victory on Mother's Day:
— I have to control myself not to cry, because my mother always supported us. Since last year, when I joined Só Agradece, my mother followed very closely. She was our number 1 fan, she always campaigned for everything. Several times she went to GH [gaming house] attend training. This year, at Omegha, every time we lost, she would go there to hug a friend, a family member, and when we won, she would go there to celebrate too. She is part of it. Besides being my mother, she is very close to us. For me it's surreal, especially on Mother's Day. It's quite a gift! My mother and grandmother are here. So Mother's Day is twofold.
With the title, Omegha qualified directly for the Icons group stage, the Wild Rift world championship, while the runner-up and 3rd place in the Wild Tour Brasil, Vivo Keyd and Liberty, will have to start the tournament at the stage input.
At the press conference, Suits praised the direct vacancy:
— Along with the title, which we will take forever in our careers, this direct qualification to the group stage was the most important stop of winning this Wild Tour. First, because we will have a week to see all the teams play in the entry stage and study them. And second, because we escape a situation that could be getting three Chinese teams and three Korean teams in the entry stage. Obviously it would be very difficult. It's very important to go straight to the group stage, it will help us a lot.
The Icons Global Championship 2022 will be held from June 14 to July 9 at the Suntec Convention and Exhibition Center in Singapore, with 24 teams participating.
— The biggest lesson we learn from here and will take to the world is unity. We saw that the saying is true: union is strength. We came together and, thanks to our resilience, managed to stay on our feet until the end and be champion. The bond of union and family is what we will take to the world to do our best work there," commented coach Wonder.