Sports
Fans promise to return stolen car if coach leaves team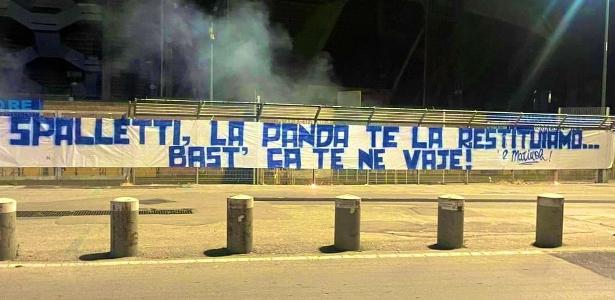 Italian coach Luciano Spalletti was the target of a serious and unusual protest last night (11). A banner in Napoli's colors was hung in a square, with a promise to return the coach a car stolen seven months ago if he leaves the club at the end of this season.
"Spalletti, we'll give you back the Panda [um modelo de carro]but it's time to go", says the banner, which still has the date October 16, 2021, has a signature that says "the thieves" and was hung in a square right in front of the Diego Armando Maradona stadium.
It could be a joke with the now-disliked technician, it could be a clear message, the fact is that the references are obvious: the date in question was precisely the one on which Spalletti's car was stolen, last year. The car was parked in front of the hotel where the coach lives in Naples and disappeared overnight. He even registered the incident with the police at the time, but the investigation came to nothing.
Part of the crowd asks for Spalletti's departure after a frustrating season, in which Napoli was eliminated early from the Coppa Italia and the Europa League and even fought for the national title, but dropped out of contention after three straight setbacks in April. With two rounds to go in the Italian Championship, the team has already secured qualification for the next Champions League.
(function(d){ var js, id = 'twitter-script', ref = d.getElementsByTagName('script')[0]; if (d.getElementById(id)) {return;} js = d.createElement('script'); js.id = id; js.async = true; js.src = "https://platform.twitter.com/widgets.js"; ref.parentNode.insertBefore(js, ref); }(document));
(function(d){ var js, id = 'facebook-script', ref = d.getElementsByTagName('script')[0]; if (d.getElementById(id)) {return;} js = d.createElement('script'); js.id = id; js.async = true; js.src = "https://connect.facebook.net/en_US/sdk.js#xfbml=1&version=v3.2"; ref.parentNode.insertBefore(js, ref); }(document));