Sports
"Leclerc immediately felt the pressure of Verstappen"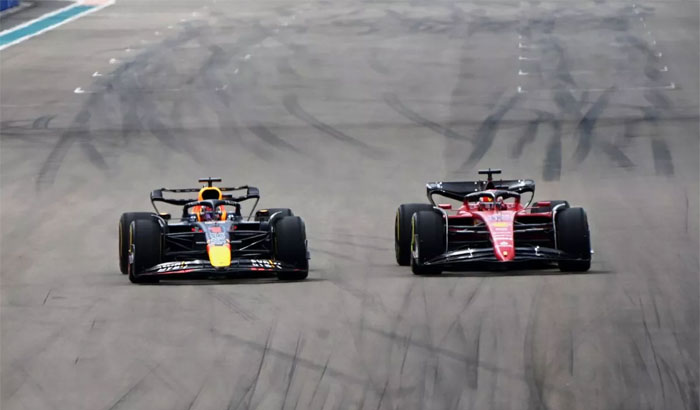 Jolyon Palmer says Ferrari must be worried after Max Verstappen overtook the team's duo to win the Miami GP.
"The concern for Ferrari at the moment should be how Verstappen manages to beat them, even when starting behind both cars and at a circuit where most other drivers found it difficult to overtake without a significant tire difference," Palmer wrote. in your most recent column for the F1.com.
"Verstappen didn't depend on the team's strategy to win either, he overtook (Carlos) Sainz at the first corner and immediately separated the Ferraris. Sainz was a little hampered by getting stuck behind (Charles) Leclerc on the inside line, but could he have been a little more aggressive and squeezed Verstappen before the braking zone?"
"This maneuver was essential for Verstappen's victory. A front row double is a dangerous advantage for a team because it provides the strategic options to cover the nearest threat in the pit-stops phase."
With Sainz out of the way, Verstappen charged Leclerc and took the lead on lap nine with a turn 1 maneuver. Palmer thinks the Monegasque's defense was even worse than the Spaniard's.
"At the end of lap 8 Verstappen was in Leclerc's DRS zone with a faster car on the straights, the pressure on Leclerc was starting to build up because he was showing signs of difficulty with his front tyres," he said.
"Leclerc felt it immediately, missing the track at Turn 17 as soon as Verstappen appeared in the Ferrari's mirrors. This gave the Dutchman a brilliant opportunity to pass, made even easier when Leclerc gifted him the inside line for Turn 1".
"Overtaking for the lead is never easier than that, in particular against a rider who is almost certainly Leclerc's main rival in the championship."
Late in the race, Leclerc had an opportunity to try to regain the lead when the field rallied behind the safety car after Lando Norris and Pierre Gasly crashed.
The Ferrari driver was unable to seize the chance as Verstappen got off to a good start and went on to claim his second consecutive victory. With that, he reduced the gap to Leclerc in the drivers' championship to 19 points.
"After all the drama of his title fight with (Lewis) Hamilton in 2021, Verstappen must be enjoying this dispute so far, with both drivers showing tremendous mutual respect, but Leclerc was certainly too generous in Miami," added Palmer.
"Maybe he was hoping to have the DRS on the long straights on the next lap, but unlike Bahrain and Jeddah where the tactic worked, the next DRS was not at the exit of the turn, but seven corners later. Verstappen was able to open up and that's exactly what he did."
ATTENTION: Comments with unintelligible texts or that lack respect to the user will not be approved by the moderator.