Sports
Summary points yellow for Turco and Victor's complaint in a canceled penalty for Atlético-MG | athletic-mg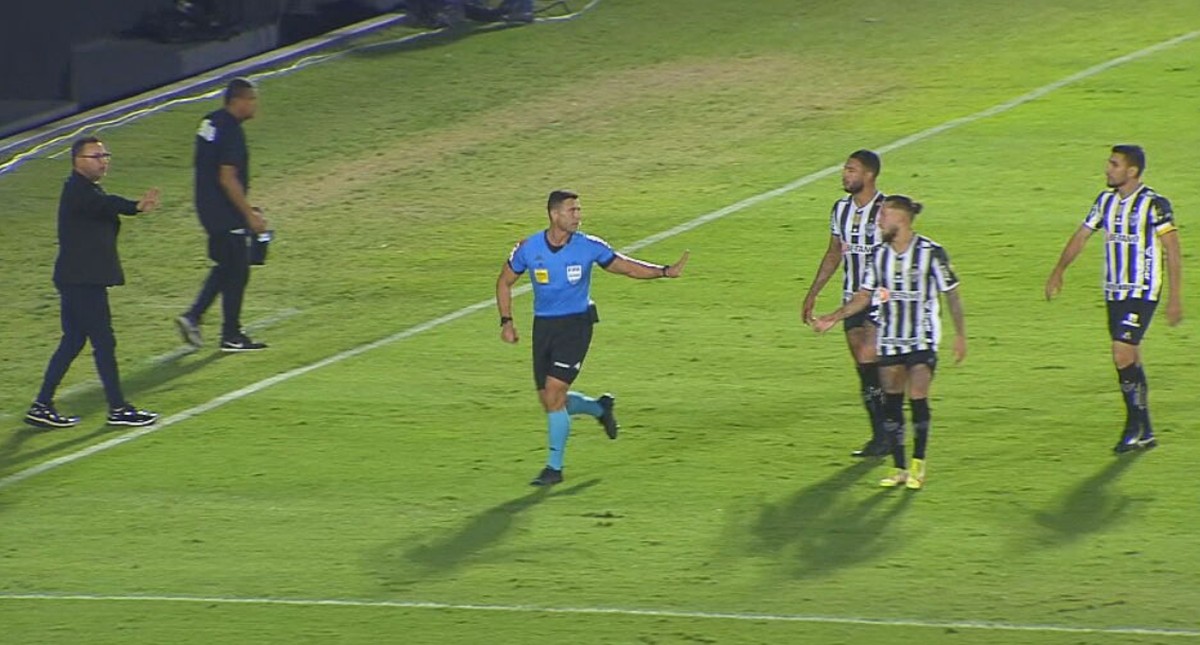 Coach Antonio Mohamed and physical trainer Cláudio Kenny received yellow cards from referee Braulio Machado, after he went to the monitor to review the bid involving Guilherme Arana and defender Léo Ortiz (who was sent off). The owner of the whistle saw Arana offside in the move, even though Hurtado had deflected it before.
Mohamed was yellowed by "unsportsmanlike conduct upon entering the field of play at the end of the first half, blatantly protesting against the referee's decisions". It is worth remembering that yellow for coaches can also generate suspension, if there is an accumulation of three cards.
Referee goes to VAR and cancels penalty for Atlético – Photo: Globo
Still in the summary, the football manager and Atletico idol, the former goalkeeper Victor, is accused of protesting against the referee on the return of half-time:
"It wasn't an impediment, you are untouchable" (Victor would have complained)
"Let's go Brasileirão! The biggest offer of games for a price that gives game. Sign the Premiere!"
Premiere Brasileirão banner — Photo: Reproduction
– I was informed by the 4th referee, Mr. Lucas Caletto Bellote, that at half-time, when the teams were returning to restart the game, in the vicinity of the field of play, he was approached by Mr. Victor Bagy, football manager of Clube Atlético Mineiro, who blatantly protested against the referee's decisions, uttering the following words: "It was not an impediment, you are untouchable". Afterwards, he left the surroundings and went to the area intended for visiting officials.
Reports of the scoresheet of Bragantino x Atlético-MG — Photo: Reproduction/CBF
At the press conference, Antonio Mohamed was approached about the referee's decision after a call to VAR. Atlético's coach avoided commenting, but said that the referee's decision was one of the vital figures of the match, alongside Bragantino's goalkeeper Cleiton.
Regarding Atlético's complaints against arbitration decisions, the club scheduled an interview this Thursday, at 10:15 am, in Cidade do Galo, with football director Rodrigo Caetano. On the agenda: the post-VAR decision against Bragantino, the non-expulsion of Danilo Barcelos against Goiás, and the complaint to the STJD of Hulk's kick against Coritiba.
Watch: all about Atlético on ge, Globo and sportv
In the Bragantino-Atletico scoresheet, the referee also reported cursing from the Braga executive, Thiago Scuro, and also reported that he expelled full-back Ramon, after the final whistle, for having offended him and complained of unmarked fouls in favor of Massa Bruta. .
The ge Atlético podcast is available on the following platforms:
🎧 Spotify – click here to listen!
🎧 Google Podcasts – click here to listen!
🎧 Apple Podcasts – click here to listen!
🎧 Pocket Casts – click here to listen!
▶️ Hit play!
Partner Galo na Veia – Atlético-MG — Photo: Disclosure