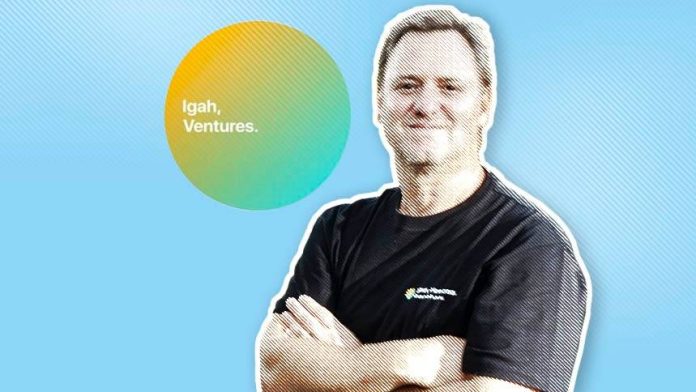 Pedro Melzer, managing partner at Igah Ventures
Pedro Sirotsky Melzer, co-founder and managing partner of venture capital manager Igah, has received some calls from investors curious about the change in the market's direction. Three questions have predominated: Will companies that need money be able to raise money? What will the manager invest in from now on? Will it be possible to raise for new funds?
Melzer, with more than ten years of experience in the segment, remains calm and responds with data and, of course, facts for those who question him. After raising funds for three funds, the first with R$100 million, the second with R$200 million and the third with US$130 million, Igah now has a Net Asset Value (NAV) of more than R$ 2 billion.
It is now preparing to raise a fourth fund of $200 million. "We already have signs of important interest from many investors", says Melzer to the NeoFeed. The ambition to raise for a new fund leads to another issue. How to do this in an adverse scenario? "We have track record pto show," he says.
It is rare for a venture capital fund manager to break down his key figures in detail – both the successes and the failures – but Melzer, in a frank conversation with the NeoFeed, shared them. "By combining fund one and fund two, we have already returned BRL 220 million to cash investors. We distribute that value."
Fund one invested in 16 companies and has already left 13. "It has a markup above five times the invested capital and it could be six times. It's just not bigger because Infracommerce was impacted", says Melzer about the logistics company that went public last year and has lost more than 80% of its market value since then.
Igah still has 85% of its position in Infracommerce, a stake of just over 10% in the company (which at the price of Tuesday, June 7, is worth R$ 111 million), and maintains stakes in Ingresse in its portfolio. and at Prontmed.
In fund two, the manager invested in companies such as Sanar, Labi, Trybe, Contabilizei, among others. Contabilizei, by the way, is one of the cases that Melzer likes to highlight. Igah has just disposed of its stake in the company. "We invested less than R$9 million at the end of 2017, and we sold it for R$90 million," says Melzer.
Bottom three, on the other hand, is still new. It was created in 2020 and raised $130 million. "This fund has an internal rate of return of 108% in dollars since its inception," says Melzer. In it, Igah has assets such as idtech unico, valued at US$ 2.6 billion; fintech Avenue; healthtech Conexa; CRM Bônus, EmCasa, among others. "We are going to think about divesting this fund from 2024."
Judging by the appreciation of the shares, the harvest should be successful. Igah entered unico with R$ 30 million and today that same stake is worth R$ 500 million. Do you regret not having allocated more? "Discipline of allocation. I'm not in one business to show emotions. I'm in one business to present consistency", says Melzer.
He gives examples of investments that the fund failed to make and has no regrets. "We had the opportunity to join Rappi when it was worth $200 million. But we understood that it was a very risky business model, which would require a lot of cash and we would not be able to keep up with the investments." Rappi is now worth $5.2 billion. "We don't get yellow with the investor for not having entered."
Igah also had the chance to invest in Gympass, but did not enter because it had doubts about the model that, before being B2B, was B2C. At unico, it could have allocated R$100 million, but preferred to keep R$30 million. "I didn't know the size of my fund, exposing more than R$30 million at that time, it would be imprudent. It's great, it's discipline."
Who, after all, are the stars of the portfolio? "Infracommerce, RockContent, Contabilizei, unico, Avenue and Conexa." At Contabilizei and RockContent, companies that Igah has already left, the return was more than ten times the invested. Good stories, of course, are easy to tell. But not all investments were successful. After all, this is the venture capital industry.
In the case of the jewelry company Juv, the idea was to take advantage of the huge network of Avon and Natura sellers and sell the semi-jewels through this channel. Igah, at the time e.bricks, invested R$ 7 million that turned to dust. "We underestimated the product return rate, the cost of training these people, the economics did not sustain themselves and we had to close the company", says Melzer.
Another famous case is that of one of the most popular fintechs that emerged in Brazil: GuiaBolso. "We were their first institutional investor, our stake was worth R$70 million, and we sold it for R$3 million. It was an unsuccessful case of our portfolio", says Melzer, about the fintech that ended up being sold to PicPay.
"There is no sense of guilt, but of right and wrong. Our team has to learn from mistakes to get more right." And go on. "Investors don't expect us to only get it right, but that we get it right more than we miss. And that we are transparent with the information", he says of the 111 investors in his funds, of which 90% are multi family offices.
As the venture capital world enters a kind of winter, with more cautious allocations, one wonders how high-growth companies will be able to sustain their operations with the sparse VC faucet.
"We saw companies that had super interesting business models, with interesting growth and interesting entrepreneurs raising money. And we also saw companies with uninteresting business models, with artificial growth and articulate entrepreneurs raising money."
Now, he says, this second type of company, which surfed on the abundance of capital, taking advantage of the talent and articulation of entrepreneurs who managed to raise money on the lips, will have no capital. "All investors will have to resort to a more fundamentalist view to invest in assets", says Melzer, who has an experienced team, formed by Márcio Trigueiro, Camila Sangali and Thiago Maluf, in this evaluation task.
"Companies that need cash will only be able to raise money if they prove they have sustainable business models. And that's not in the gogó, it's with data", says Melzer. Companies that relied only on growth not knowing how to monetize, they will suffer.
In the executive's opinion, there will be a purification in the market. "It will be a cleanse of foreign investors looking at Brazil, local investors looking at venture capital and entrepreneurs jumping on opportunities. What will happen is fewer opportunities with more serious entrepreneurs."
He continues: "The entrepreneur who has set up a business with the logic of enchanting the investor, that his concern was to show aggressive growth at any cost to be able to capture multiple rounds, appreciating his investment and at some point he expected that he would have a great exit and become a billionaire, there is no more time. Ended. Game over."