Photo: reproduction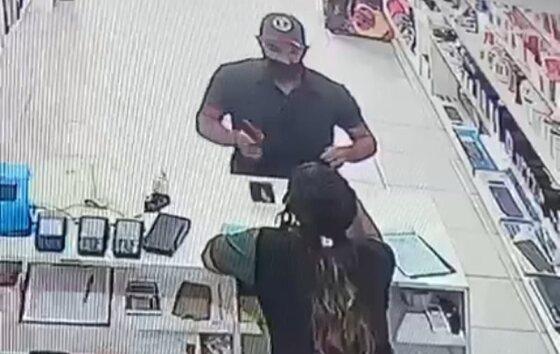 A cell phone store was robbed on Thursday morning (09), around 10:36 am, on Av. das Araras, Alto da Colina neighborhood, in Nova Mutum/MT.
According to information, a man arrived at the scene asking about a charge connector, the attendant said she would call the boss to check if he would just change the cable, the suspect said he didn't need to call him because he had already spoken to him the day before.
Then the suspect asked to see two cell phones in the window, an iPhone 11, white and an Iphone XR, red, the attendant took the devices, put them on the counter, the suspect took the devices and put them inside the backpack, then he took out a firearm, pointed it at the attendant and asked her to be quiet.
The action was recorded by the security cameras of the place;
Then he left the store, walked towards a blue Honda CG Titan motorcycle, and left in an unknown direction.
If anyone knows or has information on the whereabouts of this element, contact the police authorities, Military Police 190 or Civil Police 197.
The Civil Police investigate the case.
JOIN OUR WHATSAPP GROUP AND STAY INFORMED (NEWS, JOB VACANCIES, PUBLIC UTILITY) – CLICK HERE
LIKE OUR FANPAGE ON FACEBOOK – CLICK HERE