Two women were found dead in a luxury apartment in Flamengo, in the South Zone of Rio, on Thursday (9). The son of one of them told g1 that painters who did a job at the house tried to extort the owner of the house days before the event. "A cruelty without size"lamented Adriana da Silva Nunes, a relative of one of the victims.
The day worker Alice Fernandes da Silva, 51, and her employer Martha Maria Lopes Pontes, 77, died in a fire in their employer's apartment. The Fire Department reported that the first call for help occurred at 16:55. After the fire was controlled, firefighters found the two charred bodies and called for expertise to the scene.
"There was a threat from the painters against Dona Martha", said Diogo Fernandes, the employee's son. According to him, the victims had cuts on their necks. Security cameras in the building caught two men entering the building around 1 pm on Thursday.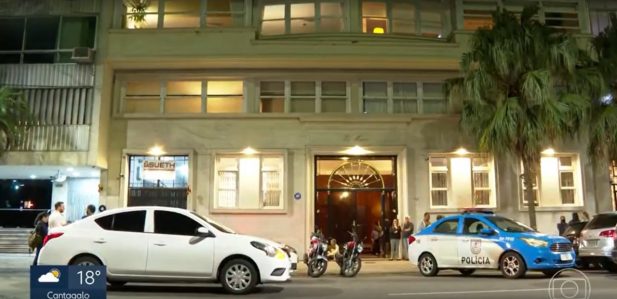 Diogo reported that the painters had been working on Martha's house for three weeks and that everything had already been paid for. A fortnight ago, the two returned to the building, this time for a service in another residence. The young man said that, at the time, the pair tried to bribe the boss. Diogo exemplified the onslaught: "One of them started to say that his father was feeling sick and asked if [Martha] could help with some amount".
"There was another episode where Miss Martha was alone. He went there again, put his foot in the door and threatened her, wanting money. But she didn't."he narrated. "Yesterday (Thursday), my mother was working. The painter known as Carlos arrived with another boy who had never been there and said he would talk to Dona Martha", continued. Diogo also pointed out that the men had their faces covered.
"That's when this tragedy happened. They stole their cell phones and probably more.", pointed. According to a report by TV Globo, other relatives and witnesses have already started to be heard by the police. The building's concierge is open 24 hours a day and all visitors need to be identified to enter the building. It has been confirmed that the two painters entered with Martha's permission on the day of the deaths. The Homicide Department is investigating the case to find out if there was an arson.
A video published by the newspaper Extra showed the state of the apartment after the incident. In the stretch, it is possible to see all the furniture and walls completely destroyed by the fire. The apartment was also partly filled with water. Watch:
Images show state of apartment destroyed by fire in Flamengo, Rio de Janeiro pic.twitter.com/i6drpVFeSW

— Only Media (@MidiasSo) June 10, 2022
"Alice was a very strong woman, kind, dear, mother, pillar of the house. A woman of fiber, very careful with everyone, kind and every day she had a word of love and affection. Sad to know that the violence of Rio made such a cruel victim. This was not a death, it was a cruelty without measure to a person who did not deserve such an end." Adriana da Silva Nunes, a relative of Alice Fernandes da Silva, told the publication. Check out the story:
Family member of victim found charred in apartment in Rio talks about what happened pic.twitter.com/RjNGT7fcR9

— Only Media (@MidiasSo) June 10, 2022