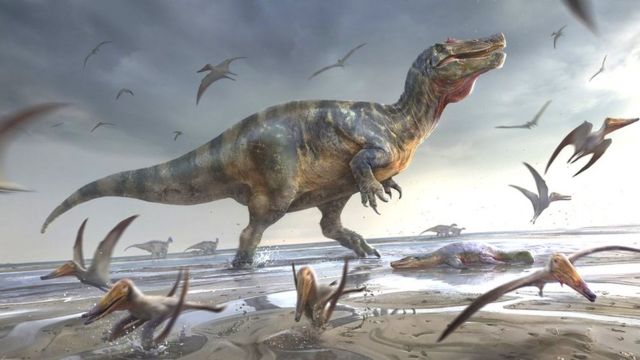 Fossils of what may have been Europe's largest land-dwelling dinosaur have been discovered on the Isle of Wight in the UK.
Paleontologists at the University of Southampton in England identified the remains as being that of a creature that measured more than 10 meters in length and lived 125 million years ago.
The prehistoric fossils belonged to a bipedal, crocodile-faced, predatory spinosaurid dinosaur.
According to doctoral student Chris Barker, who led the research, it was a "huge animal".
The remains, which include pelvic and caudal vertebrae, were discovered off the southwest coast of the Isle of Wight.
The carnivore has been nicknamed the "white rock spinosaurid" due to the geological layer in which its fossils were found.
"It was a huge animal, over 10 meters long and weighing probably several tons," said Barker.
"Judging by some of the dimensions, it appears to represent one of the largest predatory dinosaurs ever found in Europe — perhaps even the largest known."
He would have lived at the beginning of a period of rising sea level and would have roamed lagoons and sandy plains in search of food.
"As it is only known from fragments at the moment, we have not given a formal scientific name. We hope that additional remains will appear in time," says Darren Naish, co-author of the research.
Most of the fossils were found by Isle of Wight dinosaur hunter Nick Chase, who died shortly before the Covid-19 pandemic.
"I was looking for fossils of this dinosaur with Nick, and I found a piece of pelvis with perforated tunnels — each the size of my index finger," said Jeremy Lockwood, another co-author of the study, who is a doctoral student at the University of Portsmouth at the University of Portsmouth. United Kingdom, and the Natural History Museum.
"We think they were caused by bone-eating larvae of a type of scavenger beetle. It's interesting to think that this giant killer ended up becoming a meal for a bunch of bugs."
The discovery follows previous work on spinosaurids by the University of Southampton team, who published a study on the discovery of two new species in 2021.
Have you watched our new videos on YouTube? Subscribe to our channel!