Education and Technology
There are also reports by customers from other regions of the country, such as Mato Grosso, Goiânia and Rondônia
By Karine Alencar | 06/10/2022 19:03

Users of the mobile phone company Claro, are facing difficulties in the signal since 5 pm this Friday (10) in Mato Grosso do Sul. There are also reports from customers in other regions of the country, such as Mato Grosso, Goiânia and Rondônia.
On the Downdetector platform, many people complained about the lack of service, between telephony, general failure and fixed internet. In the comments, one man asked, "Anyone from MS without signal too?", while another said, "I'm from Campo Grande and I've had this problem for a while, it seems like it's in the entire Midwest", he reported.
On social media, a woman commented "I don't have a signal and I need to work, @ClaroBrasilnão do this to me for God's sake", as well as another man who regretted the situation and wrote, "It is increasingly difficult to count on Claro".
The company is one of the main telecommunications operators in Brazil, created from the purchase of the structure of Americel. The report of Campo Grande News tried to contact the operator but did not get a response until the closing of this material, however, the space remains open for placement.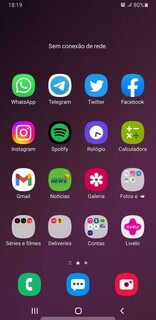 follow us on