Photo: Djeferson Kronbauer/Power Mix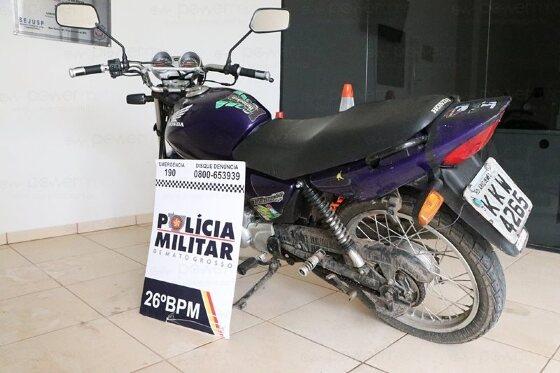 Military Police located and seized the motorcycle used in the robbery of a cell phone store that took place last Thursday (09), on Av. das Araras, Alto da Colina neighborhood, in Nova Mutum/MT.
The garrison was making rounds through the Lírios do Campo neighborhood when they spotted a Honda CG 150 motorcycle, blue in color, with stickers on the front, rear and tank fenders, just like the motorcycle used in the store robbery.
When the military was investigating the motorcycle, the suspect's father came forward and confirmed the similarities of the vehicles, asked who used the motorcycle the most, he said it was his son.
It was found that the motorcycle seal was broken, and on the day of the robbery the motorcycle was without a plate, the military showed the footage of the robbery to the suspect's father, who immediately recognized him as his son.
In the face of the situation, searches were carried out at the suspect's father's house, and in the young man's room, the jeans, cap and airsoft pistol box used in the robbery were found. The helmet the suspect wore that day was also found at the scene.
Photo: Djeferson Kronbauer/Power Mix
Cap, pants, helmet and possible weapon used by the suspect in the robbery of the cell phone store
The suspect's father told the police that his son was not in the city, and that he had traveled to the state of Goiás, and did not know when he would return.
In the face of the facts, the motorcycle was sent to the Civil Judicial Police Station, with the other objects, for appropriate measures.
The Civil Police investigate the case.
JOIN OUR WHATSAPP GROUP AND STAY INFORMED (NEWS, JOB VACANCIES, PUBLIC UTILITY) – CLICK HERE
LIKE OUR FANPAGE ON FACEBOOK – CLICK HERE