Let's get the white elephant out of the room: Megan Fox is excellent in Until death. She plays Emma, ​​the trophy wife of businessman Mark (Eoin Macken). Trapped in a gilded cage with her luxurious but repressed life, she looks appropriately shaken when her husband takes her to a secluded cabin in the middle of a blizzard to celebrate their 11th wedding anniversary. The apprehension proves justified when Mark handcuffs his wife and shoots himself in the head, leaving her attached to her corpse while two hired assassins he hires arrive to kill her.
In the moments before Until death To fully introduce her survival premise, Fox hits right the icy demeanor of a woman who has learned to diminish herself, to limit herself within a marriage. In the sidelong glances and the shock of each turning point, the actress exposes the hidden wounds of years in a relationship of crooked dynamics and without autonomy. And when the movie becomes an intensely physical thriller of confinement and constant danger, Fox embodies a tremendously believable action heroine whose strength comes from a palpable yearning for freedom.
So yes, Megan Fox is excellent at Until death. But, despite being the anchor of the feature, she is not the only virtue that makes it so engaging. in the script, Jason Carvey deftly weaves a bitter satire of marital and gender dynamics with the straightforward narrative of a very specific subgenre, that of suspense limited to a single setting. He knows how and when to introduce characters and complications, what to do with them so they don't seem like futile distractions, and especially how to hold onto the plot.
With 1h28, Until death it's a refreshingly nimble film, but it's not shallow. It stays on screen long enough to make an impact, but not long enough to show its weaknesses. in the direction, SK Dale modulates the sparse scenarios in which the story takes place to create an elegant film, expressive in how it challenges the asceticism of the icy relationship between husband and wife, invading it with the chaos, the blood, the increasingly open violence of this last act that defines it.
It is even curious to know that Until death was filmed in Bulgaria, on a studio with artificial snow made of paper, because the sterility of the film is essential for it to work, on an emotional and visceral level. As Emma is driven to more extreme acts and reaches that status of final girl shattered near the end, her fury and the pungent flavor of her survival-shaped revenge disrupt this sterility in a way that makes it impossible not to root for her.
That's the magic of a good thriller, in a way: it makes you root for the person who defies the natural order of things to seek their own happiness, who refuses to die in order to live as they wish. In Until deathMegan Fox embodies one of the most striking versions of this essential archetype in recent memory – and it's only natural that she does, given her own status as a challenger to retrograde notions of female stardom in Hollywood.
It's a curious and rare synergy between actress and character that makes this small, competent and tense film even better to watch.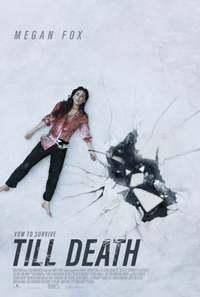 Year: 2021
Country: USA
Duration: 88 min
Direction: SK Dale
Road map: Jason Carvey
Cast: Callan Mulvey, Jack Roth, Eoin Macken, Megan Fox, Aml Ameen