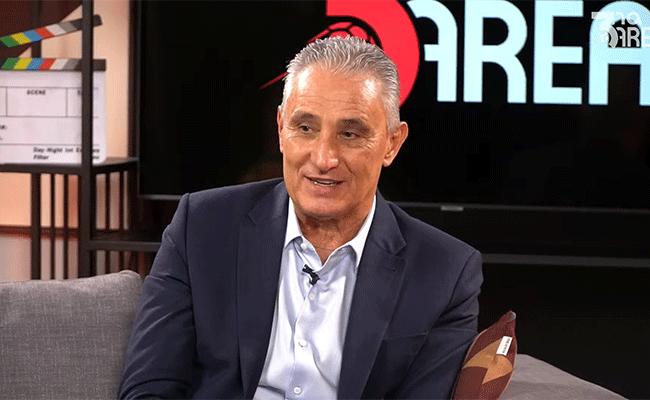 Coach of the Brazilian National Team, Tite revealed, in an interview with channel 3 in the area, on YouTube, this Monday (22/8), that he talks directly with some athletes and cited Guilherme Arana as an example. In a dialogue with the Atlético full-back, the Brazil coach pointed out a correct action by the winger during a Galo game, but also highlighted a movement that the athlete should pay attention to.
Summoned by coach Tite on the last FIFA date, in June, Guilherme Arana is looking forward to participating in the Qatar World Cup, in November this year. Therefore, the coach keeps in touch with the athlete, observes his performances for Atlético and revealed a dialogue after observing the full-back playing for the Minas Gerais club.
"For example, with Arana, in a specific move, the same tactical pattern as the Atltico: 'Arana, you did well here. Pay attention with that other move.' I paid attention to the line, I didn't follow along,'" said Tite.
Atltico's absolute titleholder since his arrival, Guilherme Arana has entered the field on 136 occasions for the Minas Gerais team, scored 14 goals and lifted six cups. The winger was an important player in the conquests of the Brazilian and Copa do Brasil in 2021 and also won the Supercopa do Brasil and three editions of the Campeonato Mineiro for the Galo.
Tite go to Brazilian clubs after the Cup?
On Monday afternoon (22), in an interview with 'Flow Sport Club', Tite explained why he will not stay in Brazil and also stated that he will not accept any invitation from Brazilian clubs in 2023.
"At the [tem chance de seguir na seleo]. a moment of personal maturity, there are cycles. (…) We fight so hard to have a beginning, middle and end of a process. We made a lot of mistakes in four years and now we have reached the best version of the Brazilian team, with an impressive generation of wingers. These constructions are all decisive", began the coach, before stressing that he would not accept proposals.
"Next year, I will allow myself to look outside the selections, from other situations, and stay with Dona Rose, who is my wife. I don't know how long she will be happy with this (laughs). at Tite as a coach [em 2023], he will not train. He can write wherever he wants, call me a liar, whatever he wants. he will not have [Tite em 2023]. It's been a year that I need to see my brother, my sister, my in-laws," she added.
---