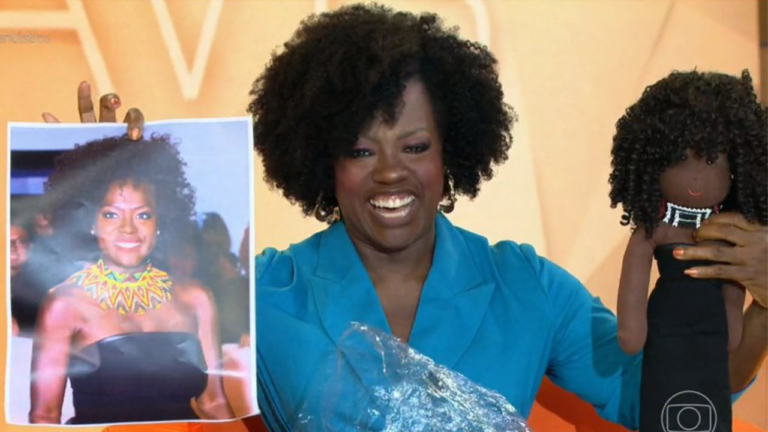 At the end of the interview with American actress Viola Davis, broadcast by TV Globo on "Fantástico" this past Sunday (18), journalist Maju Coutinho presented the artist with a rag doll that looked like the protagonist of "A Mulher Rei" , a film that Davis came to promote in Brazil.
The gesture impressed, as did the doll, who had the clothes and hair similar to what Viola wore during an event. For those who were curious, we discovered that the gift was made by the São Paulo brand Preta Pretinha, founded by Joyce Venancio and whose partners are Lucia Venancio and Maria Cristina Venancio, the brand's designer.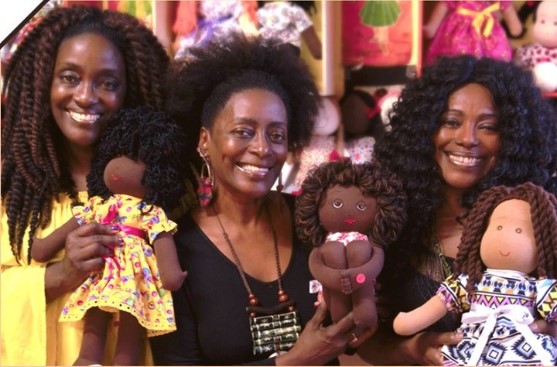 To the Black World, Lucia Venancio talked about how the invitation to make the doll came about. "It came about through the journalist Maju Coutinho, who is a regular customer of Preta Pretinha and really likes the quality of our dolls. So when she has events, and she's a gift-giving person, she always comes to us. We've already made dolls of Sadi's children [jornalista], which the children enjoyed a lot, including Andréia Sadi's husband, who liked it a lot and was a gift from Maju for the twins. As well as other dolls, by the vice president of Colombia, Francia Márquez, we also made the custom doll. And now, lastly, when it comes to celebrity, we did Viola Davis. and for her [Maju Coutinho] to like our production, because we treat all the details with great care, the designer always researches how to make the doll to keep it very close, for this reason she always looks for us. We made other dolls too, Lázaro Ramos has already contacted us. And it is for the quality, for the perfection that it is very close", he explains.
Preta Pretinha is known for the work it has carried out for over 20 years in the search for diversity among dolls, creating, in addition to black dolls, pieces that represent other ethnicities. "We created the diversity and inclusion line to contribute to education, to launch this tool for educators who deal with the anti-racist issue, which is very important, through play, to leave a message of non-differences", she detailed. "Within this line called diversity, we have the ethnic line and we also have the inclusive line, from molestation, wheelchair user, Down Syndrome, vitiligo, any disability and also, in the construction of these dolls, we always ask for the guidance of a professional to inform all the details that we have to have for us to do it right and we realize that this is very good because the inclusive line is fundamental these days and especially for children who have some kind of disability, because they are in the reference of the cute doll and they are not poor because they are part of this universe. And through play it is much better and much easier to explain that there can be no prejudice".
On the importance of knowing that Viola Davis received a doll made by Preta Pretinha, Venancio emphasizes: "The importance is world, right, it's world. Because our dolls cross borders and the fact of crossing borders is what always carries this message of reference, of the handmade, of art, and when it reaches our black audience it is interesting because it is the reference that is so much sought after and the reference of the black doll is essential. Now we have it too, with this movie about the princess who is the mermaid [A Pequena Sereia], we also did, we took advantage of this moment because the movie is going to be released. We try to work on these themes, always focusing on the dark side, because it is essential for a black child to be able to see himself in the toy that ends up contributing to the cognitive, ends up contributing to self-esteem and all this is part of our purpose", he says.
"We have been in this segment for a long time, 22 years. We work very hard. And this Black Money situation that has been happening is extremely important. Just as Maju chooses Preta Pretinha, we also choose our suppliers, always preferring black suppliers. We try to dress the black dolls in the Afro print, buying from black suppliers and all this has contributed to us forming a sustainable network", concludes Lucia Venancio, commenting on the importance of buying and sharing business with black people.
Comments