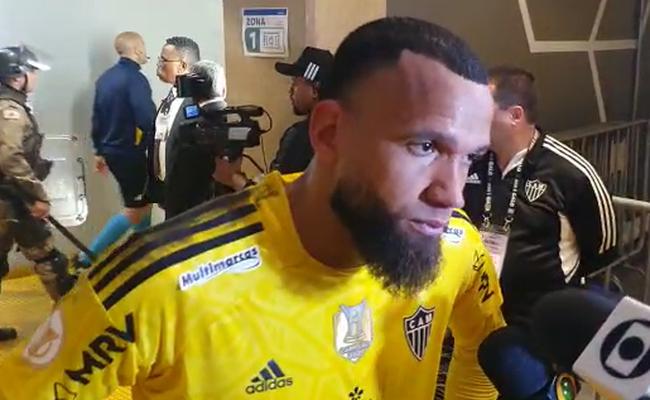 Goalkeeper Everson vented in the face of the bad phase experienced by Atltico. "Tired of giving the face slap", said the archer on the night of this Wednesday (29/8), in Mineiro, in Belo Horizonte, after the defeat of Galo against Palmeiras.
"I'm even tired of coming here and slapping the fans in the face, but we played a good game. We had a first half in which the ball hit the post twice. We needed a bit of finishing work, but we had volume, we had intensity. Unfortunately, the ball did not go in. Three months in this bad phase. The opposing team, in a rehearsed play, the guy (Scarpa) misses the kick, the defender ends up finishing and scoring", he lamented.
"Sorry, but sometimes we don't have anything to say. We come, work, put in the effort, play better than our opponents, but unfortunately we don't win. 2 to 0", he added.
Boos and recipe for bad phase
During the match against Palmeiras, Atltico fans booed players. Nathan Silva and Nacho Fernndez were the two main targets of the protests. Everson assessed the situation with one word: "They're pissed off, and so are we."
"It was the first game in which the crowd booed some players in the middle of the game. We know they are hurt. They're pissed, as are we. We didn't want to go through that. Fans have every right to, after the game , boo, because he came here and encouraged us. He played along with us. The ball is insisting on not going in", he analyzed.
Finally, the goalkeeper said he believed in a simple recipe to get out of the bad phase: working "doubled". He expects the team to have a high conversion rate of chances created again, like in 2021.
"First, to score goals again. Last year, we arrived twice, three times, finished and won the game. Today, unfortunately, we are in a bad phase, where we have five, six clear chances of goals and we ended up not scoring goals. We are not giving up work, we are not giving up our efforts, but unfortunately we are going through a bad phase. We have to work twice as hard", he evaluated.
Atltico's next match against Fluminense, for the 29th round, again at Gigante da Pampulha. The match will take place at 3 pm on Saturday (1/10).
---