In an electrifying game at Arena Castelão (CE), with two comebacks, two goals from Gabigol and two goals from Pedro Rocha, Fortaleza beat Flamengo 3-2 – with a goal in the 48th minute of the second half by Caio Alexandre – and moved away from the relegation zone for good. Rubro-Negro was even further away from the dream of the Brazilian title and is out of the G4.
In the dynamics of the match, Fortaleza opened the scoring in the 17th minute of the first after an eventful start to the game. Flamengo, however, did not give up and continued fighting. With an inspired Gabigol, he turned around in the initial stage with two goals from the striker, one of them in a penalty kick.
In the second half, however, Tricolor went up and with good moves from coach Vodjvoda, it reached the incredible turnaround with Pedro Rocha again and the goal in the 48th minute by Caio Alexandre, which set the Castelão Arena on fire.
On Saturday (1) both teams return to the field. Fortaleza visits Goiás, in Goiânia (GO), and Flamengo receives Red Bull Bragantino at Maracanã (RJ).
For this match against the Bragança Paulista (SP) team, coach Dorival Júnior will have eight reinforcements: the selectable Pedro, Everton Ribeiro, Arrascaeta, Varela, Vidal and Pulgar, in addition to Marinho and Everton Cebolinha, who were suspended today in the capital. Ceará
The best – Pedro Rocha and Gabigol decisive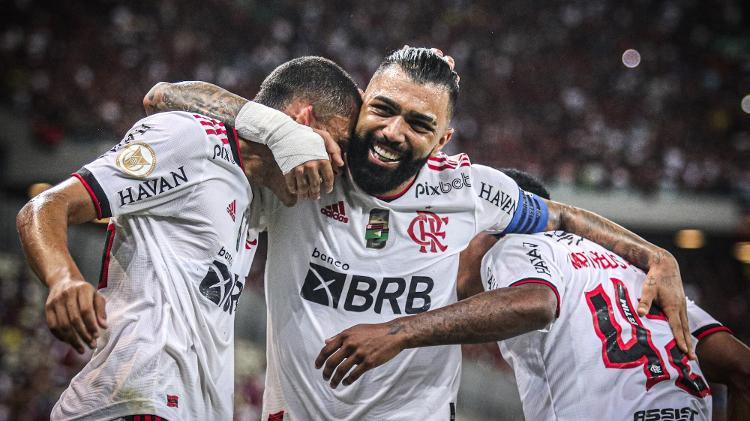 Without his attacking partner Pedro, who was serving the Brazilian national team, Gabigol took the spotlight on himself. He scored two goals, helped with the marking, created plays and was the great highlight of Flamengo. For Fortaleza, Pedro Rocha also shone and was another who scored two goals, one of them being a great goal.
The worst – Fernando Miguel and Benevenuto fail
Fortaleza's goalkeeper failed in Gabigol's first goal, kneeling down and not putting firmness in his hands to hold the kick of the red-black striker. Defender Marcelo Benevenuto failed in the second by committing a child penalty in Matheusão.
Filipe Luís leaves the field feeling sick
The experienced left-back of Flamengo, Filipe Luís, left the field in the second half feeling ill. He was replaced by Ayrton Lucas.
Pedro Rocha opens the scoring with a great goal
In a great individual move, Pedro Rocha started from midfield in the 17th minute of the first half, gave a beautiful dribble to David Luiz, passed João Gomes, cut Léo Pereira and kicked cross to open the scoring for Fortaleza.
Gabigol equalizes in Fernando Miguel's fault
Flamengo's equalizing goal came in the 31st minute, when Gabigol dribbled into Marcelo Benevenuto, invaded the area and kicked hard, on top of goalkeeper Fernando Miguel, who didn't put firmness in his hands and missed.
rain of objects
During Gabigol's celebration, Fortaleza fans threw objects towards Flamengo players, who pointed them and the referee took a bottle of water to the auxiliary room.
Flamengo turns with a penalty goal
Flamengo's comeback happened when Marcelo Benevenuto committed a child penalty in Matheusão. In the charge, Gabigol hit with precision, displacing goalkeeper Fernando Miguel and making it 2 to 1 for Rubro-Negro.
Pedro Rocha scores again and equals for Fortaleza
Fortaleza did not return with their heads down for the second half and after six minutes, Thiago Galhardo and Tinga made a great move and the ball was rolled with affection for Pedro Rocha, who kicked in place and scored his second and Tricolor's second.
Otero enters on fire
Ex-Corinthians, Otero entered the straight at the end of the second half, but managed to give Flamengo work with his main characteristic: the poisonous dead balls, whether in free kicks or corners.
Goal at 48 gives victory to Fortaleza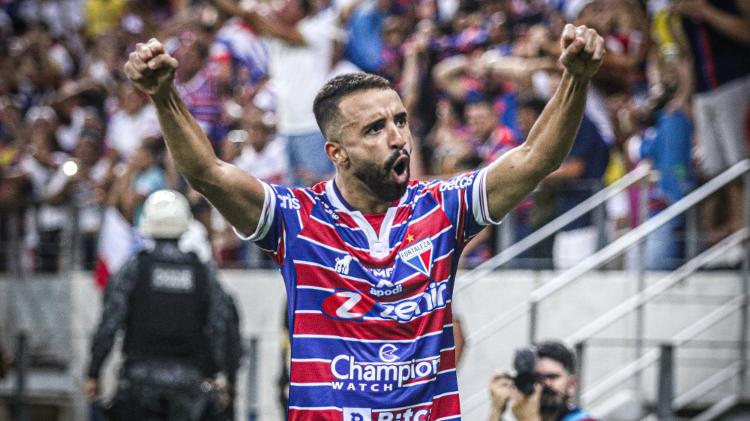 When the match was already on its way to a 2-2 tie, Fortaleza came under pressure and Moisés dropped a bomb from outside the area in the 48th minute. Santos made a partial defense, but gave the rebound and Caio Alexandre, as he was surprised, arrived at the back of the goal, driving Arena Castelão crazy.
Leo Pereira suspended
The Flamengo defender received his third yellow card and is suspended from Flamengo's next match in the Brazilian Championship.
Fla fans are present
Flamengo fans were present in large numbers at Arena Castelão. The estimate was about 15 thousand people in the red and black sector.
DATASHEET
FORTALEZA 3 X 2 FLAMENGO
Place: Arena Castelão, in Fortaleza (CE)
Competition: Brazilian Championship (28th round)
Referee: Flavio Rodrigues de Sousa (SP)
Auxiliaries: Neuza Inês Back (SP) and Alex Ang Ribeiro (SP)
VAR: Thiago Duarte Peixoto (SP)
Yellow cards: Pedro Rocha (FOR); Léo Pereira, Thiago Maia, Matheuzinho, João Gomes, Diego Ribas (FLA)
red cards: None
goals: Pedro Rocha, 17 minutes into the first half (FOR); Gabigol, in the 31st minute of the first half (FLA); Gabigol, in the 49th minute of the first half (FLA); Pedro Rocha, 6 minutes into the first half (FOR); Caio Alexandre, 48 minutes into the second half (FOR).
Strength: Fernando Miguel, Tinga, Marcelo Benevenuto, Emanuel Brítez and Juninho Capixaba; Ronald (Moses), Caio Alexandre, Hercules (Lucas Sasha) and Lucas Crispim (Otero); Pedro Rocha (Depietri) and Thiago Galhardo. Technician: Vojvoda.
Flamengo: Santos, Rodinei (Matheuzinho), David Luiz, Léo Pereira and Filipe Luís (Ayrton Lucas); João Gomes, Thiago Maia, Victor Hugo (Diego) and Matheus França (Pedrinho); Gabigol and Matheusao (Petterson). Technician: Dorival Junior.