Aliro Barrera stated that his protest was caused by the 20 bills that restrict the use of animals in different professional activities.
Reproduction/website/infobae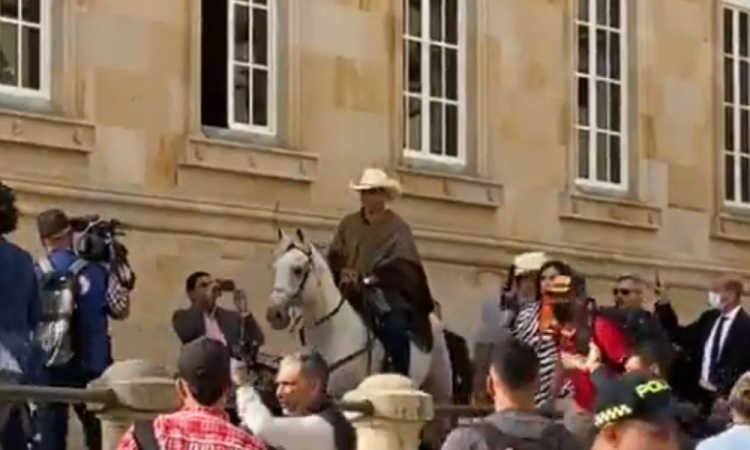 Colombian Senator Protests Against Animal Liberation in Congress

the senator of Colombia Aliro Barrera took pet friendly seriously and took a horse to Congress this Tuesday, 27th. The act was a satire on the order of the President of the House, Ruy Barreras, who determined that the building would accept animals inside. "The President of the Senate said we could bring our pets. Some have cats, dogs. I have my little horse," he told the radio. RCN. The new congressional rules authorize the entry of pets, provided that, "by their behavior or aggressiveness, they do not affect the order and tranquility of the premises". The senator's gesture had repercussions on social media and in the local press and was well criticized by some co-workers and animal rights advocates. "He is trying to ridicule a symbolic measure taken in favor of animals," Senator Esmeralda Hernández said in a video shared on Twitter. But, according to Aliro, her attitude was a form of protest against the 20 bills debated in the House that restrict or veto the use of animals and different professional activities. "There are more than 15 million rural workers in Colombia. It would be unfair because this is the mode of transport that many families have," she said. The horse in question, which goes by the name of Passporte, is used on his farm and Aliro said he "wouldn't miss the chance to show it to his colleagues" in the face of animal permission in Congress.
The senator @JAlirioBarreraR seeks to join the Congress with his horse arguing that he is 'pet-friendly'.
What a shameful pantomime, it seems that they are causing so much ideological confusion to the CD🤦🏻‍♂️
This is an absolute mockery of the animal defenders of this country. pic.twitter.com/DAB0MXvSpO

— Juan Carlos Losada (@JuanKarloslos) September 27, 2022
Alirio Barrera, the same senator who says that the bulls and the roosters are to sacrifice them, arrives today mounted on a horse in the Senate plenary.

A mockery of the advances proposed by this new Congress in defense of life and rights of animals. pic.twitter.com/DJKxoBWxBb

— 🍃Esmeralda Hernández🍃 (@EsmeHernandezSi) September 27, 2022