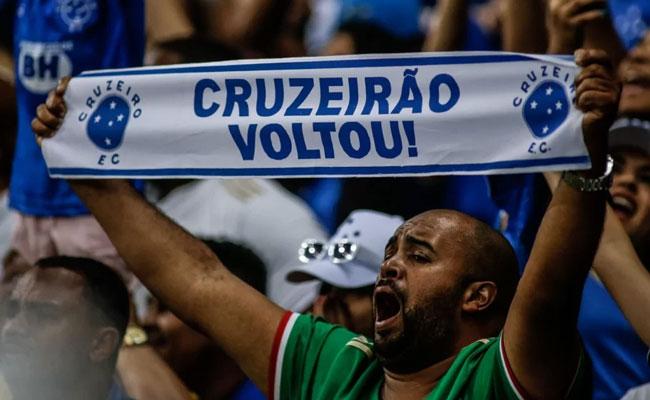 It will not be in the game against Ituano, on Wednesday (5/10), at 9:30 pm, in Mineiro, for the 33rd round, that Cruzeiro will lift the Serie B championship cup. The Brazilian Football Confederation (CBF) informed that the ceremony for handing over the trophy to the national champion will only be in the last match of the competition.
On November 6, a Sunday, at 6:30 pm, Cruzeiro will host the CSA in Mineiro, in Belo Horizonte, for the 38th round, and only then will it be able to lift the mug and go around the Olympics.
The president of the entity, Ednaldo Rodrigues, congratulated Cruzeiro on the conquest and return to Srie A in 2023.
"I congratulate Cruzeiro's fans for the anticipated conquest of Serie B of the Brazilian Championship. I also congratulate Ronaldo and his entire team who have shown their talent also off the field by modernizing and restructuring one of the most traditional clubs in the history of Brazilian football," he said. .
"Cruzeiro's excellent campaign added value to the competition, which grows in importance every year. Even with Cruzeiro's title, the championship remains exciting with several clubs vying for the last three spots until the end", added the CBF representative.
Cruzeiro secured access to the national elite and the Serie B title in record time.
The Serie A comeback was confirmed on September 21, with a 3-0 victory over Vasco, in Mineiro, for the 31st round.
The conquest was confirmed in the 32nd round. After beating Ponte Preta 4-1 on Wednesday (28/9), in Campinas, Cruzeiro had defeats by vice-leader Grmio and third-placed Bahia this Friday (30/9) to seal the title.
See, below, Cruzeiro's next games in Serie B:
5/10 (Wednesday) – 21:30 – Cruzeiro vs Ituano (33rd round)
9/10 (Sunday) – 16h – Sport x Cruzeiro (34 rounds)
10/14 (Friday) – 20:30 – Vila Nova x Cruzeiro (35th round)
10/18 (Tues) – 19h – Cruzeiro x Guarani (36th round)
10/27 (Thursday) – 19h – Novorizontino x Cruzeiro (37th round)
6/11 (Sunday) – 18:30 – Cruzeiro vs CSA (38th round)
---