Two candidates for the government and supporters of Bolsonaro chose the avenue as a point of concentration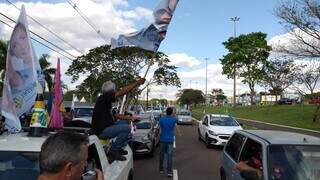 Avenida Afonso Pena was the place chosen by two candidates for the state government to promote motorcades before the elections, tomorrow (2). Eduardo Riedel (PSDB) and Renan Contar (PRTB) took to the streets in search of votes from the undecided.
The two opponents share another dispute, that of the support of the President of the Republic, Jair Bolsonaro (PL), candidate for reelection. In the last electoral debate, on Globo, Bolsonaro decided to ask Contar for votes, surprising the Tucano electoral base of MS.
Today, Riedel began to concentrate at the tops of the avenue, close to the Pantanal Biopark. At around 2 pm, a long line of cars was seen from the old Natal City to the roundabout of Parque das Nações Indígenas.
Riedel arrived around 3 pm, greeting the participants of the motorcade. The group will walk along the avenue to the headquarters of the CMO (Comando Militar do Oeste), in Duque de Caxias, Vila Alba.
Three BPTran (Traffic Police Battalion) vehicles were positioned along the construction site, following the movement.
In the sound car, Riedel is accompanied by his family, Senate candidate Tereza Cristina (PP), state deputy Paulo Corrêa (PSDB), also candidate and campaign coordinator, and the director-president of Agems (State Regulatory Agency). and MS Public Services), Carlos Alberto Assis.
On the avenue, it is also possible to see those who will participate in the Bolsonaro HQ demonstration, made by supporters of the President of the Republic, candidate for reelection. As those who will walk the route with Riedel are passing through the avenue, at this moment, everyone is "together and mixed" until they reach the respective points of concentration.
When calling supporters, they said that everyone could participate as they wished, by motorcycle or car. Most opted for a four-wheeled vehicle.
While the cart didn't start, a horn was used to get the attention of those who were on the avenue. Announcer said that many are fasting for Bolsonaro's victory. The National Anthem was played and then the group started to leave.
On Avenida Afonso Pena, it is also planned to gather the motorcycle of Renan Contar, who will travel the road this afternoon.
(Collaborated by Jessica Benitez)