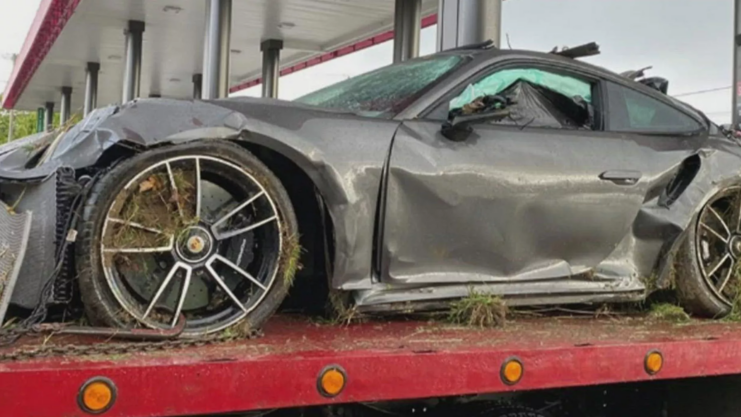 Myles Garrett, star of the Cleveland Browns, American football team, was involved in an accident last Monday (26), in Sharon Township, Ohio, in the United States. Luckily, the athlete, who flipped his 2021 Porsche 911 Turbo S, left with only minor injuries.
Garrett was with a passenger driving the sports car when the vehicle veered off the road and ended up wrecked on the grass beside the road.
Check out the video below captured by the body camera of one of the police officers:
The footage shows the 26-year-old sitting on the grass, with a torn shirt and blood on his hand, being treated by doctors. The passenger, meanwhile, can be seen in the background, lying on the grass.
Both were taken to hospital after the accident. The football player was released from the Cleveland Clinic Akron General on Monday night. He was left with a sprained shoulder, cuts and a strained bicep.
The damage suffered by the Porsche 911
From the images, it can be assumed that the Porsche 911 rolled over at least once. The vehicle ended up badly damaged, with dents and cracks along practically its entire length.
The damage starts at the front, where the bumper was ripped off the car and one of the headlights was lost. The hood is bent and the front panels have been ruined.
On the sides of the Porsche 911, the doors and the bodywork in general ended up quite crushed. The rear didn't escape the damage either.
The reason for the accident has not yet been discovered.
Police found that Myles Garrett was not under the influence of drugs or alcohol, but they are still investigating the reason for the accident.
It is not yet known how fast the car was being driven on the road. However, it is assumed that the athlete was above the permitted speed, as the Ohio State Highway Patrol had given him a notice for apparently using "unsafe speed for the type of road travelled".
In addition, investigations have already shown that a report from WKYC, the local television station, recorded that the Browns star, since joining the team in 2017, had been fined at least six times for driving more than 160 km/h. h (with a maximum of 193 km/h) in the Cleveland area.
In one of the cases, Garrett was stopped twice in 24 hours: once for going at 193km/h and another for 169km/h. This player's history alone says a lot about his accident…
Check out, in the video below, the images of the Porsche 911 after the rollover: