The Metaverse is closer than you think. To give you an idea, by 2026, according to Gartner Group, more than 25% of the world's population will be on this platform, which will serve to create applications and social interaction tools in a new phase of the web. By 2030, according to data from the Metaverse and Moneythis market will move US$ 13 trillion dollars worldwide.
But what is the Metaverse and why is now the best time to pay attention to this digital world? "They are virtual platforms that replicate the real world. I say 'are' because there is not just one Metaverse, but several. We need to pay attention now, because it is inevitable, in a very short time, that these Metaverses will replace several activities that we do in our daily lives on the internet", explains Professor Marcel Cohn, coordinator of the postgraduate course in Metaverse at Centro Universitário Iesb, first educational institution in Brazil to offer postgraduate courses 100% within the platform.
Among the impacts, the professor explains that there are already studies that demonstrate that the Metaverses will replace our social networks. "Soon, the most effective way to meet people, talk to them, find out about news and news will be within these platforms", adds Marcel.
Transformation also in the professions. The professor reinforces that all areas that wish to have an online presence are already being impacted by these platforms. According to a survey by the KPMG audit, 92% of respondents say that Metaverso increases learning opportunities in professional training, school and higher education. Additionally, 86% report that these platforms provide new opportunities for entrepreneurship, including marketing and sales. "Law students, for example, can simulate hearings with real situations within the Metaverse, better preparing themselves for real life when these situations happen. Doctors will also be able, within the Metaverse and through augmented reality technology, to share diagnoses and work together to cure diseases that are still unknown today."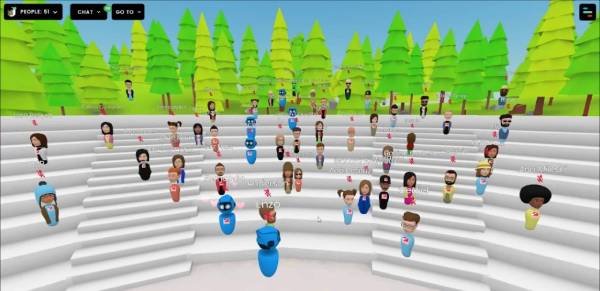 Training opportunity
According to Professor Marcel, the best way to prepare for the Metaverses is to enter them. "Many believe that only those who have virtual reality glasses can be part of this scenario, but this is not true. Nowadays, to be part of this universe we just need a tablet, computer or cell phone and an internet connection", guides Marcel, reinforcing the importance of training for these platforms.
The curiosity to understand this new world that is exploding before our eyes was what motivated architecture student Monya de Souto Jarjour to take the professional qualification course in Metaverso at Iesb. "I can already see how these platforms can contribute to architecture in different ways, such as in the development and presentation of projects, including offering a better experience for our future customers. Looking at the marketing side, it also contributes to the dissemination of our work", emphasizes Monya.
She also highlights the experience of taking a 100% immersive course. "I was impressed that the classes would not be taught on traditional online platforms, but within the Metaverse. Another point that I really like is that the professor brings a lot of numbers and real research on what is already happening in the market and how companies are using these new tools", adds the student.
Graduated in Fashion Design and specialized in sales in the luxury market, Juliana Ribeiro Ferreira is also participating in the new digital revolution. "I believe that the use of Metaverso in the training of luxury brands and in customer experiences will delight everyone even more, generating more business and credibility for companies", says the student, sharing her experience in the classes. "It's been amazing to be able to know all the applicability of these tools. My head is bubbling with ideas for innovations that could be implemented using the Metaverse."
unprecedented postgraduate
The success of the professional qualification led Iesb to launch an unprecedented postgraduate course in Metaverse and Digital Disruption, lasting 12 months and focused on training managers of the future. "In this course, we will teach, not only about Metaverse, but about the main technologies that exist today and are used for better management, productivity and business results", explains Professor Marcel.
With open enrollment, the course is ideal for professionals graduated in any area of ​​knowledge and who want to develop disruptive business models for companies or startups, using technologies such as virtual reality, internet of things, artificial intelligence, blockchain, data science, among others. , applying agile methodologies and so-called soft skills. In the curriculum, the student will learn about Disruptive Business Models; Fintechs and New Businesses; Digital Strategic Planning; Lean Startup; Design Thinking; Augmented Reality; Virtual reality; Gamification; Smart City; Artificial Intelligence and IoT; Chatbot and Machine Learning; Blockchain; and Big Data.
More information in the link.