Policy
According to the Electoral Justice, more than 697 thousand voters are able to vote abroad, an increase of 39.21%
By Felipe Pontes, from Agência Brasil | 10/02/2022 13:01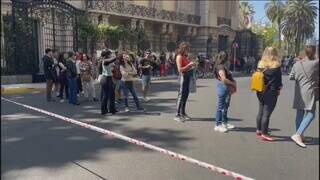 As of 12 pm today (2), in Brasília time, voting in the first round of the 2022 Elections had already ended in 59 countries, informed the Superior Electoral Court (TSE). Voters abroad only vote for the post of President of the Republic.
This year, polling stations were set up in 181 foreign cities. According to the Electoral Justice, more than 697 thousand voters are able to vote abroad, an increase of 39.21% compared to the previous general elections in 2018.
The organization of elections abroad, such as sending ballot boxes and opening polling stations, is the responsibility of the Regional Electoral Court of the Federal District (TRE-DF). The agency informed that it has already started to receive the first ballot papers from other countries. The release of official results, however, should only start at 5 pm.
This year, for the first time, all polling stations in Brazil are open from 8 am to 5 pm Brasília time. In localities with another time zone, therefore, the time is adapted according to the local time.
The rule, however, does not apply to voters at polling stations abroad, where the polls are open from 8 am to 5 pm local time. Check below the countries with the most advanced time zone in which the voting for president has already ended:
South Africa
Germany
Saudi Arabia
Australia
Bahrain
Belgium
Bulgaria
Qatar
China
Hong Kong (Province of China)
Cyprus
South Korea
Denmark
Egypt
United Arab Emirates
Slovakia
Slovenia
Spain
Estonia
Philippines
Finland
France
Greece
Netherlands
Hungary
India
Indonesia
Will
Israel
Italy
Japan
Jordan
Kuwait
Lebanon
Luxembourg
Malaysia
Mozambique
namibia
Nepal
Norway
New Zealand
Oman
Palestine
Poland
Kenya
Czech republic
Romania
Russia (Russian Federation)
singapore
Sweden
Switzerland
thailand
Taiwan
Tanzania
East Timor
Turkey
Vietnam
Zambia
follow us on