Elizabeth Olsen gave a candid interview to the portal Variety, in celebration of the special edition of Power of Women. The eternal Wanda, from the Marvel universe, spoke a lot about her experiences in the MCU – ranging from appearances in films and even the series itself, available on Disney +.
In the conversation, the actress did not fail to comment on a scene that she felt very ashamed to record during the production of "Avengers" – and explained why she was so embarrassed. She even revealed some secrets on how the studio keeps the script safe, preventing spoilers from leaking.
In a more intimate part of the interview, Elizabeth also talked about mental health and talked about dealing with panic attacks a few years ago and how she managed to overcome them. Check out the highlights of the interview!
Elizabeth Olsen was ashamed of the scene in "Avengers": "It's silly"
In one of her final scenes in "Avengers", Wanda faces a great challenge, having to maximize her powers. However, in epic moments like this, it is common for a large part of the result to be inserted digitally, through CGIs – which, when not well done, yield good reviews of the production.
"It's really embarrassing to shoot these scenes because the world depends on you doing it. And we did some impromptu stuff, which is really hard at the moment. […] you look like this [coloca mão para frente]. And I was doing it in public. You have one hand, which is stopping something with energy, and another hand, which is extracting this fake thing from a dotted face. And it's all painful and exciting," she explains.
Elizabeth sums up what filming intense scenes is like: "It's just silly. A lot of the stuff is silly, actually. I've always wanted a version of the movie released without any special effects, because then you'd understand how ridiculous it is. spectacular is the work to create the final result".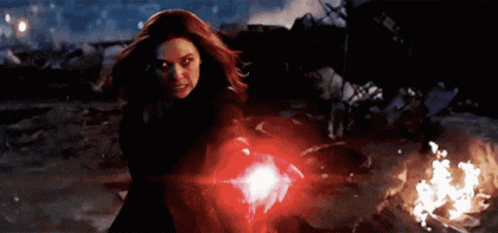 Elizabeth Reads MCU Scripts Under Security Guard
We know that Marvel is careful to avoid spoilers in their scripts – Tom Holland knows that well. In the conversation, Elizabeth told more about the protection of the pages, which also affect the actors in the cast, constantly watched.
"In these movies, you read the script in an office, with a security guard watching and on a specific iPad. So I was like, 'Can you guys just give me what I need?' I didn't really need to know what was going on with Robert Downey. Jr. in the movie," he said. However, she explains that she already knew about Iron Man's death before the film's release, as she participated in the recording.
Olsen says that, most of the time, the production reveals great endings in the last minutes. "I didn't know it was going to be bleeped until we recorded it. We were told the day. We were in a van, with gear, me, Scarlett Johansson, Chris Hemsworth, Chadwick Boseman and Sebastian Stan. And they just came, 'This is what's going to happen. You will disappear."
'Wanda' actress recalls struggle with mental health
Elizabeth Olsen's conversation with Variety wasn't just about Marvel. In addition to talking about other movies and projects in mind – she will star in HBO Max's "Love & Death" series – the MCU artist also opened up about her struggles with mental health, which began when she was 21. Currently, Olsen is 33.
"[Aos 21] panic attacks began. I had them every hour […] When I was going to cross the avenue, I realized that I couldn't. I was standing against the wall, thinking I was going to die at any moment. If my body went from hot to cold, if I was full and hungry – any change like that – my whole system would think, 'Something's wrong.' And it started to freak out. It was so weird," she explains.
She also comments that she felt a lot of dizziness, which made some doctors suspect vertigo. However, when she was diagnosed with Panic Syndrome, she got the treatment indicated for the disease, controlling the symptoms. "It took a lot of practice to get out of that situation," she says, citing mental exercises she learned to get around crises.