posted on 10/05/2022 17:26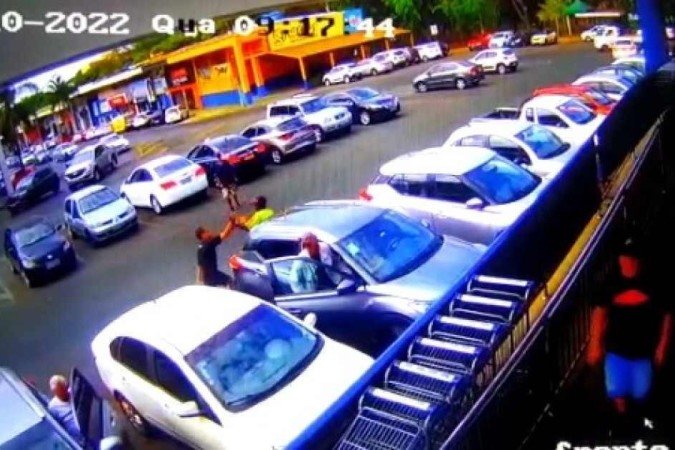 Cameras recorded aggression in broad daylight – (credit: PCDF/Disclosure)
One-way security cameras on 306 South recorded strong scenes of a knife attack on a flannel in the parking lot of a supermarket. The case took place on the morning of this Wednesday (5/10) and the suspect is on the run. Attention, strong images!
The video was made available by the Civil Police (PCDF) to assist in the identification and capture of the author. According to investigations by the 1st Police Station (Asa Sul), the suspect, a homeless person, attacked the boy, who is also a flannel, because of a fight over a point dispute.
The cameras show the moment when the boy in the black shirt approaches with a machete in the hands of the man dressed in the yellow shirt. The attacks happen in the presence of customers leaving the supermarket. A gentleman who appears in the video enters the parked car and does not seem to notice the fight.
The victim is admitted to the Base Hospital. The police ask that, if anyone knows of the author's whereabouts, call 197 or report it on the website.
Coverage by Correio Braziliense
Want to stay on top of the main news from Brazil and the world? follow him Brazilian Mail on the social networks. we are in twitter, on Facebook, Instagram, TikTok and YouTube. Follow up!