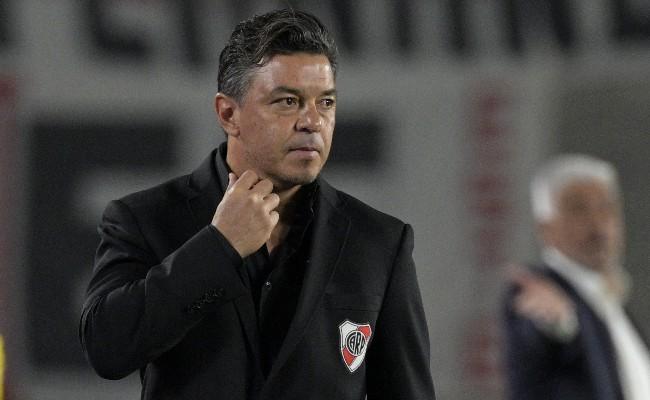 Coach Marcelo Gallardo announced, this Thursday (13), the departure of River Plate. Also a former player for the club, the coach has been in the position for eight and a half years. He will remain in the role until December, when his current contract with the Millionaires expires.
"I inform you that the end of the contract and I am no longer at the club. It is one of the most difficult and heartfelt decisions of my life. It is a very delicate moment to express myself. I will take a short break. I am here to thank the people who trusted me", declared 'Mueco', in a short speech.
"Everything has an end, and it's time to finish closing a beautiful cycle, very valuable and to thank the fans, who in every small tribute they paid me when entering a field of play, especially in these years. It will be an unforgettable, memorable moment. Thank you for the expressions of affection, although I will end my bond as I always thought, as it should be", he added.
In eight years of work, Gallardo became the most successful manager in River Plate's history. Among the 14 titles won, the main ones are two from the Copa Libertadores, one from the Copa Sudamericana, in addition to an edition of the Argentine Championship.
Gallardo has 392 games against River Plate, with 212 wins, 100 of which at home, in addition to 104 draws and 76 defeats. Against Boca Juniors, the opponent he faced the most, there were 26 games, of which he won eight, drew 11 and lost seven. It was against their rivals from Buenos Aires that 'Mueco' lifted the Libertadores title in 2018, in Madrid.
farewell
Eliminated in this edition of the Libertadores by Vlez, River has two more games this year – against Rosario Central, this Sunday, at Monumental de Nuez, and Racing, away, both for the Argentine Championship. Gallardo designed the farewell at home.
"It is possible that on Sunday I will have my last game at the Monumental. Just thank you for the love and affection you gave me", he concluded.
Gallardo titles by River
America's Libertadores Cup: 2015, 2018
Copa Sudamericana: 2014
South American Recopa: 2015, 2016, 2019
Argentine Championship: 2021
argentina cup: 2015/16, 2016/17, 2018/19
Argentine Super Cup: 2017, 2019
Champions Trophy: 2021
---