Merlyn Thomas and Elsa Maishman
BBC News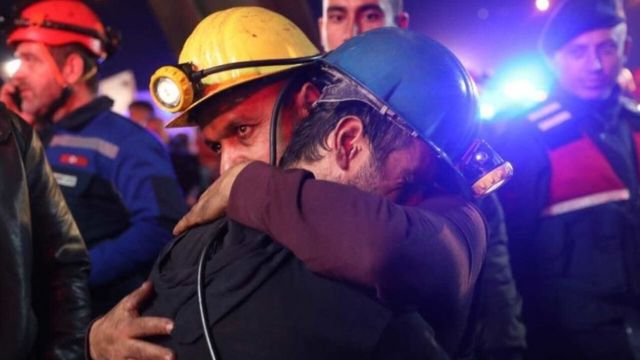 41 people died and 11 were injured after an explosion at a coal mine in northern Turkey's Bartin province on Friday (10/14).
About 110 people were working in the mine at the time of the explosion — nearly half of them at a depth of more than 300 meters.
Amasra Mayor Recai Cakir said many of those who survived suffered "serious injuries".
Videos taken at the scene show workers exiting the mine with their bodies smeared with coal black and bleary-eyed.
The mine belongs to state-owned Turkish Hard Coal Enterprises. The explosion is believed to have occurred at about 300 meters underground. Approximately 49 people were working in the highest risk zone, between 300 and 350 meters deep, according to Interior Minister Suleyman Soylu.
The cause of the explosion is not yet known, and the local prosecutor's office has launched an investigation.
Turkey's energy minister said there were indications the explosion was caused by firedamp, which is an explosive mixture of methane that forms in coal mines.
Also according to the minister, there were partial landslides inside the mine, but there are no records of fires. Ventilation at the site appears to be taking place properly.
Turkish President Recep Tayyip Erdogan visited the site on Saturday (15). Alongside other ministers, he confirmed that the last missing person was found dead.
A worker who managed to escape on his own said "there was a lot of dust and smoke".
In 2014, Turkey experienced its worst coal mine disaster, when 301 people died after an explosion in the city of Soma.
Have you watched our new videos on YouTube? Subscribe to our channel!