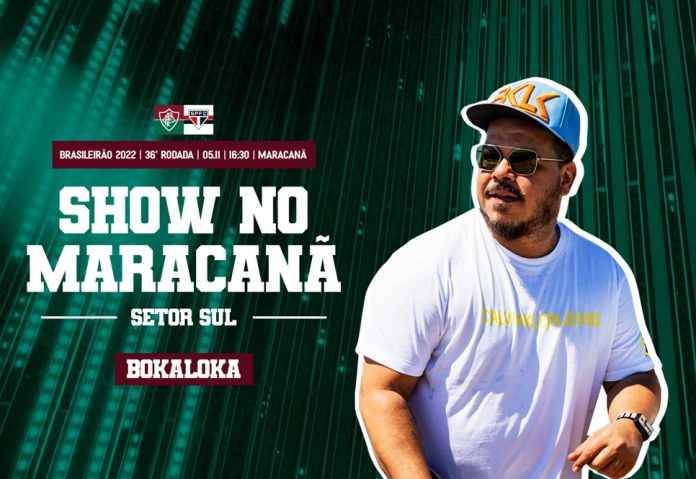 Fluminense faces São Paulo next Saturday, at 4:30 pm, at Maracanã, in their penultimate home game in the Brazilian Championship. To stir up the tricolors that will attend the stadium, Grupo Bokaloka will perform in the inner part of the South Sector of the stadium, starting at 3 pm.
The club announced the news on its social media. But does not stop there. There will also be a DJ and several other attractions for fans, especially children. Check out:
"After the show by the pagode group, which will last about an hour, a DJ will continue to pack the heat until departure time. There will also be the "Coletiva Tricolor", in which fans will be able to simulate an interview and take pictures with the backdrop in the background. For children, there will be toys (jumping, goal kick and penalty play), face painting and distribution of cotton candy and colorful balloons.
In the Lower East Sector, the attraction will be a 360º photo booth, in partnership with AME, sponsor of Maracanã. There will also be toys for the kids (bouncy castle, polka dot castle and human snooker), face painting and distribution of colored balloons. The kids who go to the Maracanã Mais Sector will also have access to toys (bouncy castle, polka dot castle and inflatable geek), face painting and distribution of colored balloons.
Fluminense has been promoting, over the last few months, a series of attractions for its fans in the team's games at Maracanã. The actions aim to provide the tricolors with an increasingly complete experience at the stadium, with shows and services that go well beyond the 90 minutes of the ball rolling inside the four lines.
The attractions are spread over almost the entire Maracanã, with shows in the South, Lower East and Maracanã Mais sectors. Artists such as Fanfarra Festiva Tricolor, Imaginasamba, DJ Nath, Bateria da Mangueira, Gamei, Marvvila, Calma Amor, Robinho, Renata Santiago, DJ Saci, DJ João Rodrigo, among many other attractions, have already taken to the stages set up by Flu at the stadium.