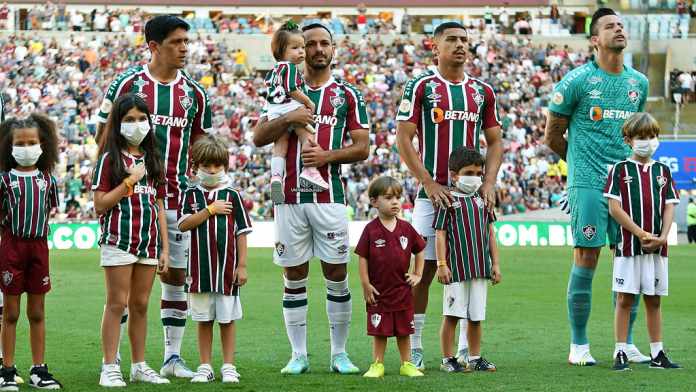 With Fluminense's victory over São Paulo this past Saturday, 3-1, at Maracanã, Tricolor's campaign in the return of the Brasileirão was again superior to that of the first round. Before, it was strictly the same.
In the first half of the tournament, Tricolor had 8 wins, 4 draws and 5 losses, adding 28 points in 17 games. By the way, in the same 17 games, there are 9 wins, 3 draws and 5 losses, with 30 points added, two more than in the turn.
To keep the campaign superior, the Team of Warriors will have to win their remaining two games. In the turn, they beat Goiás (3-2), away, and Red Bull Bragantino (2-1), at home. This time, he receives Esmeraldino and visits the people of São Paulo.
check out the comparison of shift and return campaigns:
1st TURN:
FLU 0 x 0 SAN ⏺️
CUI 0 x 1 FLU ✅
FLU 0 x 1 INT ❌
CTA 3 x 2 FLU ❌
PAL 1 x 1 FLU ⏺️
FLU 2 x 1 CAP ✅
FOR 0 x 1 FLU ✅
FLU 1 x 2 FLA ❌
JUV 1 x 0 FLU ❌
FLU 5 x 3 CAM ✅
FLU 0 x 2 ACG ❌
AMG 0 x 0 FLU ⏺️
FLU 2 x 0 AVA ✅
BOT 0 x 1 FLU ✅
FLU 4 x 0 COLOR ✅
FLU 2 x 1 CEA ✅
SAO 2 x 2 FLU ⏺️
2nd TURN:
SAN 2 x 2 FLU ⏺️
FLU 1 x 0 CUI ✅
INT 3 x 0 FLU ❌
FLU 5 x 2 CTA ✅
FLU 1 x 1 PAL ⏺️
CAP 1 x 0 FLU ❌
FLU 2 x 1 FOR ✅
FLA 1 x 2 FLU ✅
FLU 4 x 0 JUV ✅
CAM 2 x 0 FLU ❌
ACG 3 x 2 FLU ❌
FLU 0 x 2 AMG ❌
AVA 0 x 3 FLU ✅
FLU 2 x 2 BOT ⏺️
COLOR 0 x 2 FLU ✅
CEA 0 x 1 FLU ✅
FLU 3 x 1 SAO ✅